For those who mastered hyperrealistic painting, shiny and reflective surfaces are, for the most part, a real treat to depict. This might as well be the case with Kip Omolade, who we can say is now quite recognizable for his paintings of chrome masks.
The Jersey-based artist will now have a debut show at the nearby Jonathan LeVine Projects, proudly presenting the Diovadiova Chrome series he's been developing over the past few years.
Carrying an interesting symbolism, these artworks are bound to introduce us to the stunning technique of this talented creative as well.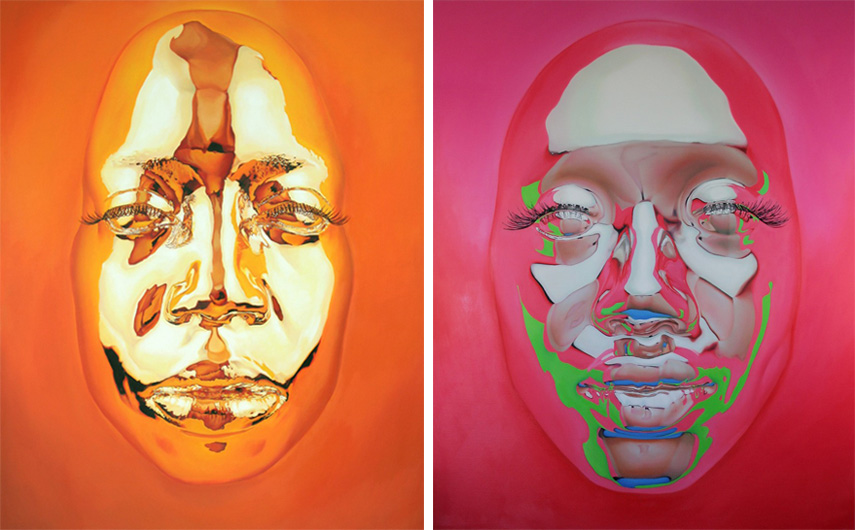 Diovadiova Chrome
Although at first they might seem as photographs, Kip Omolade's Diovadiova series features hyperreal oil paintings of chrome portrait sculptures. Typically, these pieces are juxtaposed against a brightly colored, monochrome background and, apart from showing the "face" of his models, he also depicts the environment surrounding them in the masks' reflection.
The name Diovadiova is a name that Kip Omolade created by merging the Italian word for god - 'dio', with the historical word for goddess - 'diva'. Initially set out to analyze the relationship between deities and celebrities, the series went on to become a psychological study, one that investigates mortality among other things.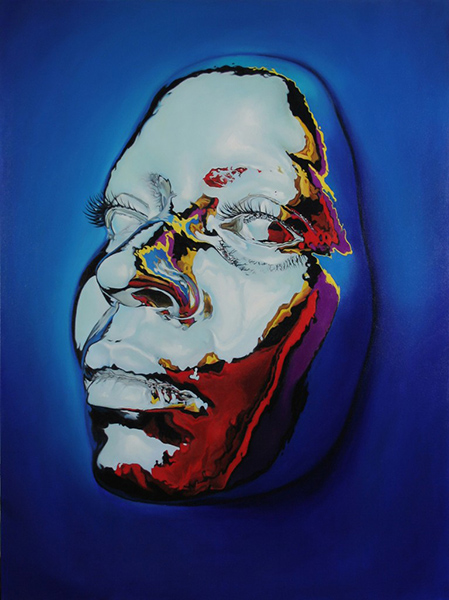 Reflecting
Kip Omolade begins each of the works by making a mold and cast of a model's face, which he then turns into resin. This is subsequently adorned with a chrome layer and artificial eyelashes, and serves as a reference for the painting.
In essence, Kip Omolade's Diovadiova Chromes draw a parallel - between ancient African sculpture, such as Ife bronze heads and Benin ivory masks, which also require highly skilled craftsmanship; and contemporary notions of beauty and luxury, as invisible veils of our society.
While these artifacts represented actual people, there was a connection to a timeless, higher power. Similarly, my work does not attempt to capture an exact likeness but rather something deeper. I am trying to paint my soul.
Kip Omolade - Diovadiova
Kip Omolade at Jonathan LeVine Projects
Starting off on the graffiti Scene, Kip Omolade was an intern at Marvel Comics and The Center for African Art - all of which could perhaps be seen as influences in his work. His creations can be found in galleries around the world, many magazines, and as part of special projects with Sony Music, Red Bull and Nike, among others.
Diovadiova Chrome, an exhibition of works by Kip Omolade, will debut at Jonathan LeVine Projects in New Jersey on November 18th, and will stay on view through December 16th, 2017. In conjunction with the show, the gallery will present a selection of work by the artist at SCOPE Miami Beach, to be held between December 5th and 10th in Florida.
Along with the paintings of models and their chrome masks, he will also present a selection of self-portraits. In them, he explores the artist's place in art history, one from a standpoint of an African American male.
Featured image: Kip Omolade in the Studio. All images courtesy Jonathan LeVine Projects.