Just a few days ago, Gustav Klimt's painting Bauerngarten was sold at a Sotheby's evening auction of Impressionist, Modern and Surrealist works in London for $59.3 million. The news echoed through the art world, raising hope that art market could recover and strengthen amidst the still present economic crisis. The painting by this famous Austrian Art Nouveau artist takes the third place on the list of the most expensive paintings sold in Europe, just after Alberto Giacometti's Walking Man, which sold for $104.3m in 2010, and Peter Paul Rubens' The Massacre of the Innocents, which sold for $76.7m in 2002.
Bauerngarten is Klimt's oil painting from 1907, showing a field of poppies, daisies and other flowers in a relative close-up. The viewer is not introduced to the surrounding, or the location of the garden, but is instead immersed into a rich color field created by flowers where reds, oranges and shades of white and purple are splashed over a green background. There is still a formal coherence preserved in the shape of some flowers and grass leaves, while the others are just dots of color that complete this dynamic constellation.
As one of the dealers specializing in German and Austrian modernist art stated, Bauerngarten is "a bit loose. There's not a lot of definition, just lots of floating color…But where do you find another?"[1] Pointing at trend that secondary-quality works by first division artists are now a higher-value lots due to masterpieces being increasingly sold at private deals, this does not undermine the historical significance of the painting which stands on the verge between realism and abstraction, being part of neither of the styles fully.
Klimt's Bauerngarten belongs to a tradition of botanical representations in art that ranged widely in purpose and subject. From ancient civilizations, through the Middle Ages, the Renaissance and Modern art, botanical imagery had its function that surpassed the pure decorative purpose.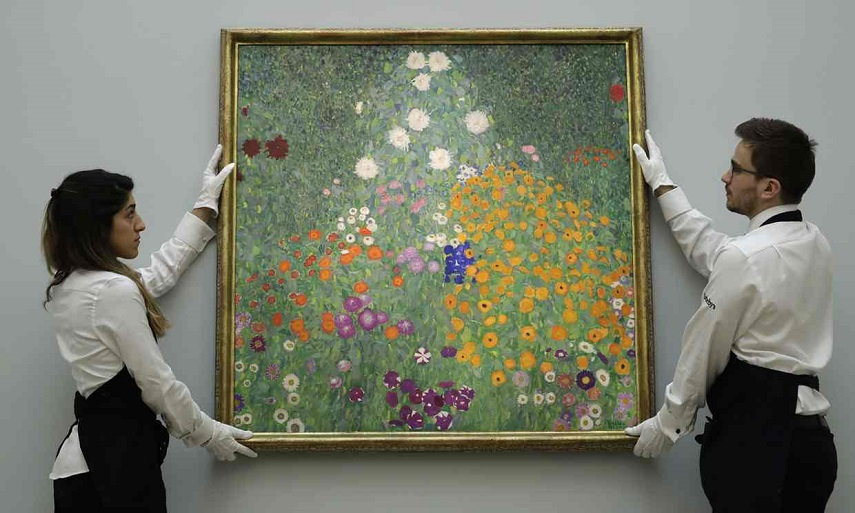 Botanical Imagery in Art
Plants, flowers, and trees were inseparable part of many visual representations since the inception of Western art. Artists found in them useful allies that did not just help in increasing pictorial appeal of each image and its decorative effect, but also served as containers of symbolic meanings relative to the identity and attributes of the subject, or the represented person. They could also serve as moral and philosophical annotations on the subject.[2]
Botanical imagery was not strictly linked to one type of subject, but was instead present in a wide variety of artworks, ranging from portraits, representations of secular history and mythology, to still lifes, devotional images and scenes from the Scriptures. Present from ancient times, this type of imagery proliferated in the 15th and 16th centuries following the increased artistic interest in representation of the objects from the natural world as realistically as possible.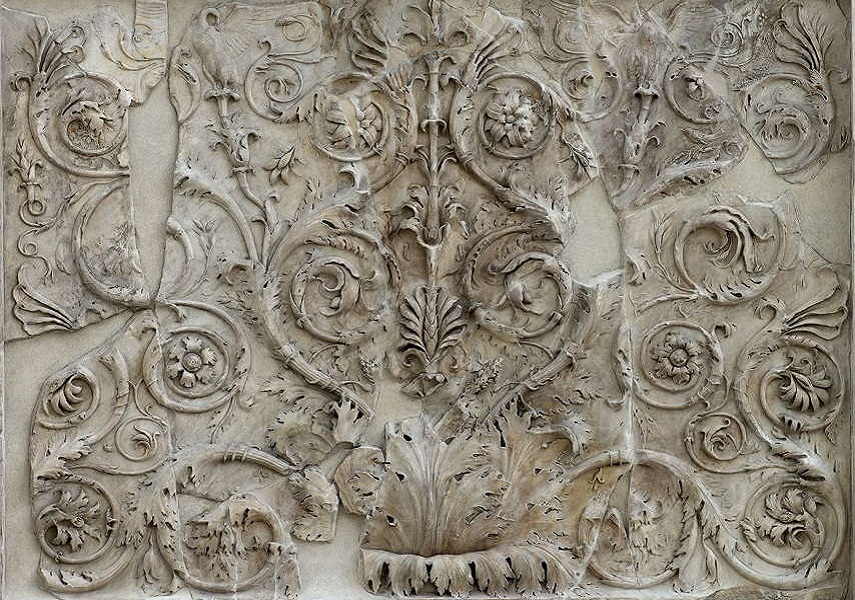 From Narcissus and Jupiter, to Christ and Vanitas
The literature of antiquity is full of botanical symbolism. Plants in these texts are often metaphors for certain values, and quite often human beings in them are transformed into plants either as a reward or punishment. Perhaps the most famous story is the one of Narcissus who was changed into a flower that bears his name as a punishment for his vanity. Gods were also associated with certain plants. For example, Ceres was linked with corn, while Bacchus' plant was grape. Many of these ideas were visually recorded in Greek and Roman art but also in the later centuries as well.
References to trees, flowers and fruits are also mentioned in religious writings, in which plants had symbolic meaning. Moralizing similes and parables from the Bible and other texts mention a wide variety of plants. Artists who studied these texts in the Middle Ages and later periods developed a symbolic system in which each plant has its moral value and meaning, although sometimes one plant could mean several things such is the case with carnation. Often used as a symbol of divine love, carnation also had a much more secular meaning linked to earthly love and marriage.
Many plants associated with ancient gods were later adopted in Christian symbolism as well. Beech tree, once a symbol of Jupiter, became the attribute of Christ. However, plants and flowers were not exclusively linked with religious figures, but were also added to portraits of important secular persons in order to emphasize their attributes. Withered flowers, present on Baroque still lifes, reminded the onlookers of the transience of life in a classical theme of Vanitas or Memento Mori.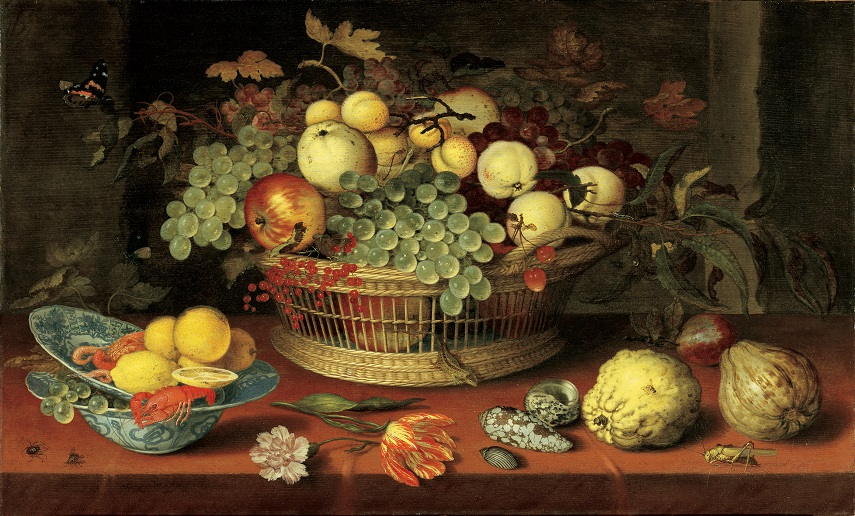 Flowers on Minoan Frescos
Minoan civilization, one of the oldest in Europe, was not unfamiliar with botanical representations. On the contrary, the preserved frescos from the Minoan houses show a great interest in flora, although the correct attribution of each plant is not possible.But why Minoans showed such a distinct interest in botanical images?
The recent suggestions emphasize the visceral effect these images had on the viewers. As Sharon Staub explains, if the aim was to represent a physical flower than the frescos would be done in a more realistic way that would allow the viewer to identify each plant. Instead, the aim was to represent the 'experience' of the flower; to expound "the smell, the taste, and the psychotropic or medicinal power of the plant."[3] The visual medium thus stimulated phenomenological, embodied and mnemonic memories through a very visceral engagement with the viewer.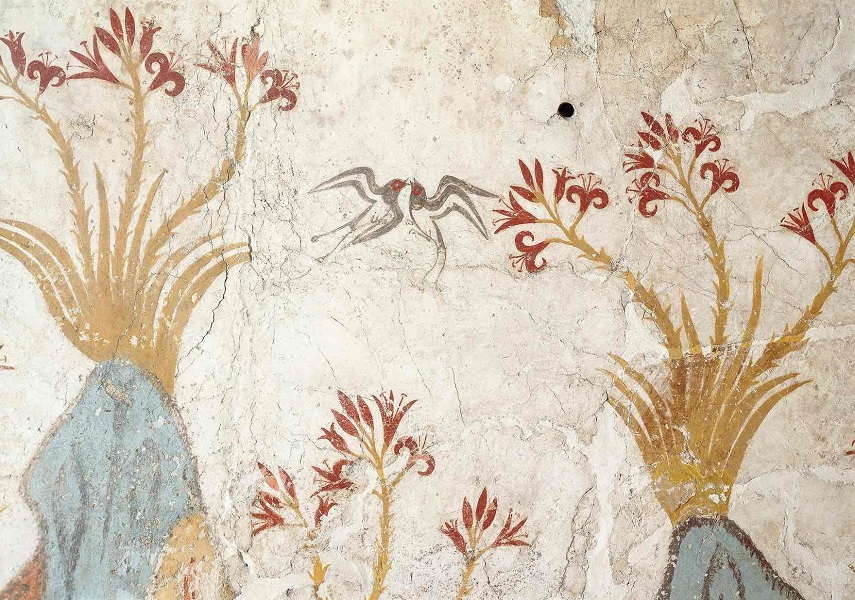 Divine and Royal Lilies
The violet of humility, the rose of charity, the lily of chastity, are just some of the flowers and attributes linked with the Virgin Mary. Medieval and Renaissance scholars often associated Madonna with flowers, including Venerable Bede, a Benedictine monk who described her as a white lily, where white petals symbolize here purity while golden anthers stand for the radiance of her soul. Lily is commonly present in the scenes of Annunciation, such as the one made by Pre-Raphaelite painter Dante Gabriel Rossetti, on which angel Gabriel presents a lily to Mary.
Read as a symbol of divine power, the flower was also adopted by monarchs in Europe, in order to emphasize the divine provenance and authority of their secular power. Perhaps the most famous representation of this kind is Hyacinthe Rigaud's portrait of Louis XIV. The king is shown in all his royal glory, bedecked in coronation robe embroidered with golden fleur-de-lis, a stylized lily which is a symbol of the French monarchy.[4]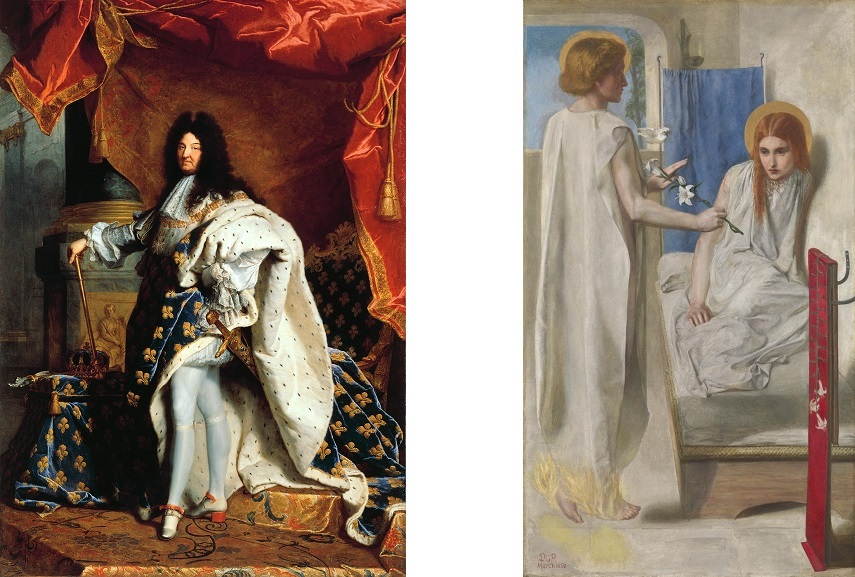 Klimt's Painting Bauerngarten and Modern Art
Returning to the painting with which this exploration into the botanical imagery in art started, Klimt's Bauerngarten represents a mixture of the old and new.  It could be read through the symbolism of flowers, a typical motif of Art Nouveau. At the top of his pictorial garden, Klimt positioned daisies that traditionally stand for innocence and sincerity. They are 'supported' by poppies and other flowers that are the symbols of peace, sleep, but also death. However, the painting also shows a turn to pure expressive power of colors and disintegration of form that will come with Modern art.
Although the traditional meanings ascribed to flowers were lost over time in art - for example, the Monet's Water Lilies series is first and foremost a masterful expression of the momentary effects of color under a certain light - contemporary and more personal meanings can still be traced in modernist representations of plants and flowers.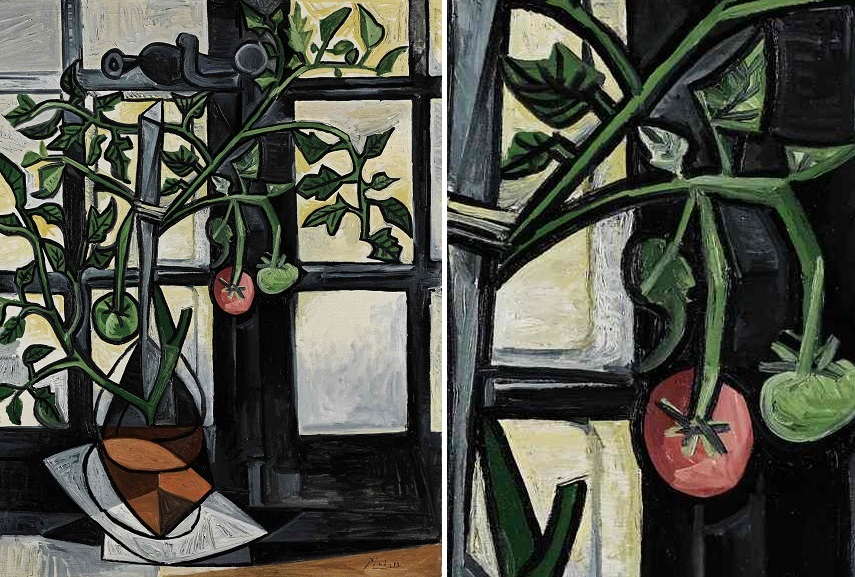 To Conclude: Picasso's Plant de Tomates
During the same auction evening in London, where Klimt's Bauerngarten fetched $59.3 million, another painting with a plant as its main protagonist was sold for $21.1million to a telephone bidder. It was Picasso's Plant de Tomates from 1944. Created during the Nazi occupation of Paris, it shows a tomato plant that grew on the windowsill in Picasso's apartment. Belonging to a still life genre, the painting shows a plant that for a painter symbolized a wartime resistance and hope.
Intricate and often contrasting meanings were ascribed to botanical imagery in art over the centuries. Klimt's painting that recently caught attention of art lovers due to its high auction sale is among the ones where tradition of symbolic inscriptions and novelty of pure formal expression create an exquisite result.
References:
Featured image: Gustav Klimt - Baurengarten, 1907, detail. Image via theguardian.com