The famous Belgian painter Koen van den Broek is having his third solo exhibition in New York, and it's an important one. Alongside the works painted in his familiar style, The Light We Live In displays Van den Broek's new work that appears somewhat similar to film stills. The pronounced play of light and shadow in the context of human subjects brings the intrigue, storytelling and emotion to Van den Broek's oeuvre.
Van Den Broek: Fascination With Urban Sceneries
Koen van den Broek has a degree in Architectural Engineering and his paintings mostly depict urban landscapes, streets and roads. Aesthetically, he's influenced by photography and film – genre-wise, namely neo-noir and horror. These influences are very visible in his new works, where a lot of images look like they belong in a suspense film. These new works show the evolution of Van den Broek as an artist. His paintings are changing from an objective plan to a subjective one. The inspiration for that is drawn from the artist's recent commissioned work. Koen van den Broek has created scenographies for the Ballet of Flanders and the Belgian Opera House. It's no wonder that his new paintings look like they're parts of a wider story. The suggestive choice of locations and human figures brings the notion of movement and transition, while the urban scenery no longer appears objectively depicted and abstract.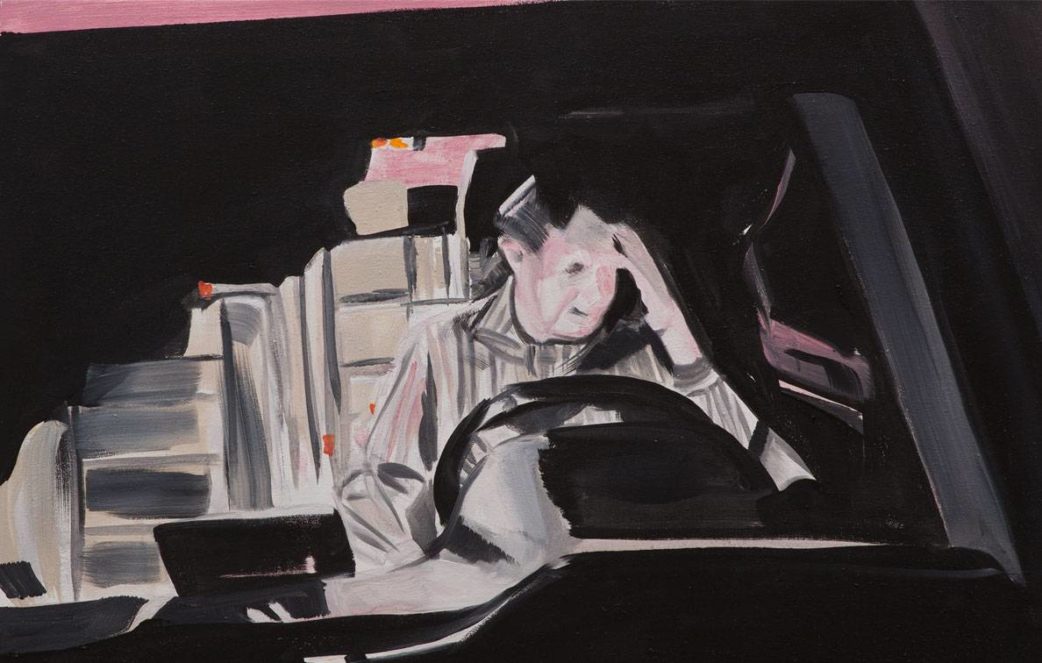 The Light We Live In: the Evolution of the Artist
The Light We Live In brings the artist's well-known fascination with urban motifs, curbs, roads and shadows. The exhibition encompasses a group of works in Van den Broek's signature style, and a group of new works with a quantifiable human presence. The painter's style evolves in front of our eyes. Unlike his older works, where the landscapes were elevated from mundane to a universal pane by omission of any human figures, the new Van den Broek's paintings utilize an opposite approach. The human figures brought a new kind of intensity into his work. The new series is, therefore, dramatic, cinematic and carefully composed. The images offer a re-evaluation of the topics such as escapism and migration and put a predominantly american urban landscape to scale. The presence of actual characters brings new narratives into a familiar style.
The Light We Live In at the Albertz Benda Gallery
The Light We Live In by Koen van den Broek will be on view at the Albertz Benda gallery in New York. Albertz Benda is a joint project by two galleries – Thorsten Albertz and Marc Benda, opened in fall 2015. Koen van den Broek's third solo exhibition will last from Thursday, February 25 through Saturday, April 9. The opening reception is at February 25 from 6 to 8 p.m.
Featured image: Koen van den Broek – Sunset, 2015 – oil on canvas. All images courtesy of Albertz Benda gallery.