The shape of the circle has been used as a symbol since the beginning of time, and its universal meaning has left an apparent mark on geometry, religion, astrology, and of course art. Representing the Sun, wholeness, revolution, protection, and even God, the interpretations of the circle and its implications have varied in the past, and are rediscovered even to this day. The analogy between it and the wheel is obvious, and the Los Angeles-based artist Kori Newkirk uses both elements to unite the artistic practice with history, technology and socio-economical considerations. Returning to this basic shape and form, Kori Newkirk revisits the symbolical meaning of the circle and puts its rigidity as a core element of geometry on display, using a number of different techniques and materials.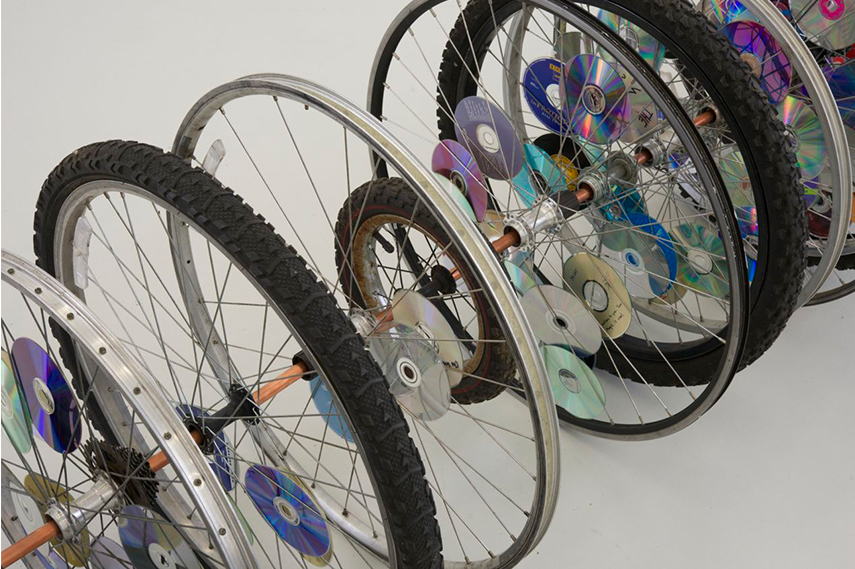 The Art of Kori Newkirk
Receiving his MFA from the University of California, Irvine in 1997, Newkirk has since used such obscure yet provocative materials as hair extensions and pony beads in his pieces, trying to prove himself on the L.A. art scene. Painting a life size silhouette of a police surveillance helicopter on the wall of the Studio Museum in Harlem in pungent hair pomade, he has drawn the attention of the art world in 2001. Having a lot of doors opened, the artist known for exploring issues of race, gender and place in his work has had both solo and group exhibitions in the United States and abroad. In addition to a monographic survey at the Studio Museum in Harlem (2008) and the Pasadena Museum of California Art (2008), he has had solo exhibitions at LAXART, Los Angeles (2008), The Project, New York (2006, 2009) and The Museum of Contemporary Art, San Diego (2005), among others. Some of his group exhibitions include Meet Me Inside, Gagosian Gallery, Los Angeles (2010), Blues for Smoke, MOCA, Los Angeles (2013) and DAK'ART: 7th Dakar Biennial, Dakar, Senegal (2006).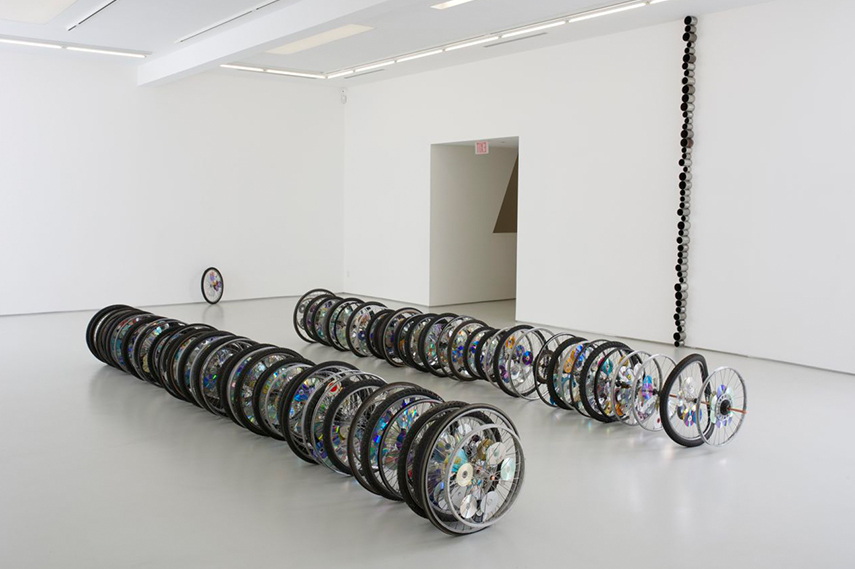 Turning the Wheel
After a 10-year retrospective of his portfolio held at the Studio Museum in Harlem, Newkirk is looking to take some unexpected new directions. For his new body of work displayed at the start of 2016, he turns to the wheel and its circular shape, using it as both literal and metaphorical vehicle for narrative. Applying a conjunction of unusual and traditional materials with an equally diverse set of technical strategies, Newkirk goes back to this simple, yet powerful shape, reexamining the abundance of symbolic meanings and values it holds. The exhibition includes sculptures, mixed media photographs and works on paper, all portraying tension between the visual gravity of materials and formal abstraction.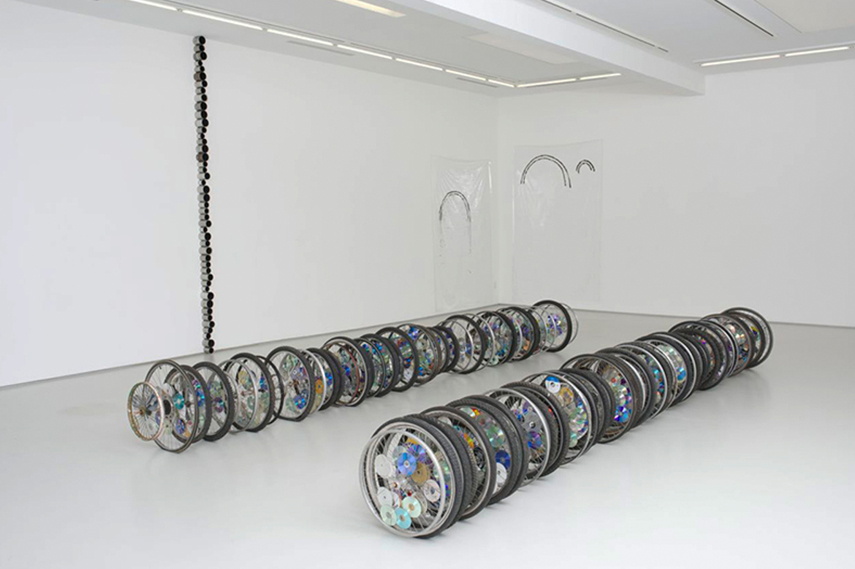 Kori Newkirk Exhibition at Roberts and Tilton
Revisiting one of the most simple, yet most powerful shapes since the beginning of time, Kori Newkirk shows just how impactful a wheel and its circle can be. Using its simplicity and rigidity, he manages to merge history, technology and science with visual pleasure. Taking a new direction, Kori Newkirk exhibits his new set of work at Roberts and Tilton Gallery starting January 9, lasting until February 6 2016.
Featured image: Kori Newkirk Installation View, 2016. All images courtesy of the artist and Roberts & Tilton, Culver City, CA.