Intricate and ornate three-dimensional compositions of Kris Kuksi serve as reminders of human frailty in an age of consumption gone wild. Inspired from sources such as classical art and architecture, he creates eerie, graceful pieces that pull directly from Rococo and Baroque. Including a bit of weirdness and the macabre, his works carry a certain familiarity of history, with elements drawn from religion, culture, war, industry, or sex juxtaposed to seek out new meanings through new visual relationships. The latest body of work by this Kansas-based artist will soon be on view at Joshua Liner Gallery. Titled Hallucinatory Enhancements, this will be Kuksi's sixth exhibition, and largest exhibition of the artist to be shown at the gallery.
The Hallucinatory Effect
Inspired by the universes of endless opposition and dichotomies, the works of Kris Kuksi are at ones peaceful and violent, beautiful and grotesque. Taking from a boundless world of infinite narratives, they evoke, but also rewrite history as we know it. The title of this latest show takes aim at the way the viewer examines each piece, contemplating the work as a whole. The artist equates this individual perception of the work to a hallucinatory journey. His seemingly infinite assemblages show extreme density and multiplicity, allowing for the personal and private experience, as one explores them and imbues them with meaning. As we engage with these works, we take a journey inward, sensing a hallucinatory effect.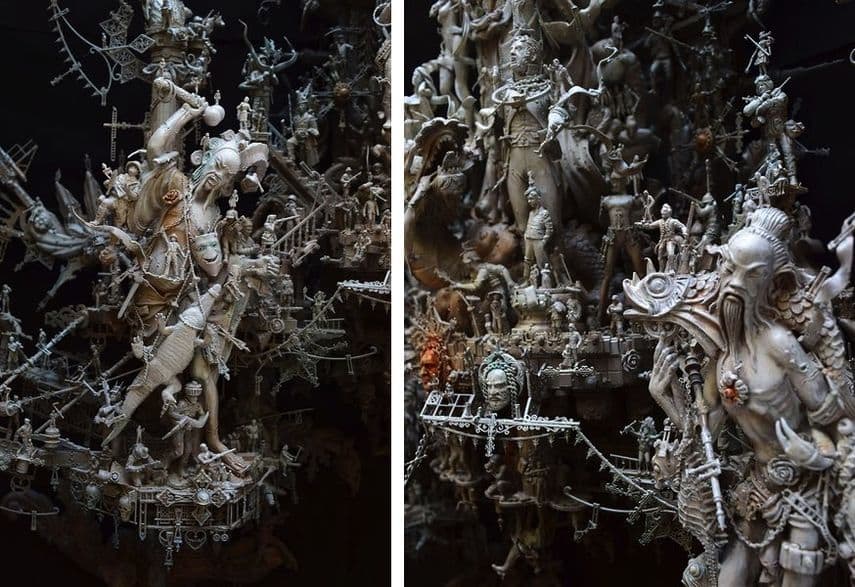 The Painstaking Process
The process in which Kris Kuksi eventually comes to the perfect conclusion it painstaking and timely. After sourcing the parts for his works, he meticulously hand-paints, arranges, and secures each element into the larger whole. These elaborate pieces seem to splinter out like sculptural fractals, each component fused to another object or detail even smaller and more intricate. In this latest show, Kuksi expands this idea by including multiple, major figures. Depicting the goddess of compassion and mercy, Guan-Yin, the piece Maneuvering Tranquility is widened with three supporting figures. The goddess sits in a possible judgment in the center between two opposite figures - one engaging in an intense, ongoing struggle, and the other exuding tranquility.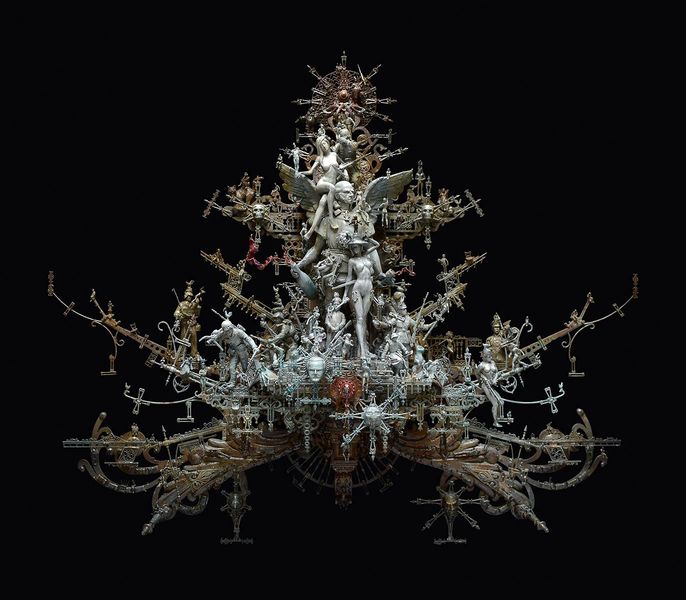 Kris Kuksi Art Exhibition at Joshua Liner Gallery
Building upon his previous shows, the artist describes this latest exhibition as more expansive, incorpo­rating more architectural elements and form than previously, while breaking away from his usual symmetry, to explore a new kind of balance. The exhibition Hallucinatory Enhancements will be on view at Joshua Liner Gallery in New York from October 12th until November 11th, 2017. The opening reception will be held on Thursday, October 12th, from 6 to 8 p.m. The artist will be present.
Featured image: Kris Kuksi - Maneuvering Tranquility, 2017 (detail). All images courtesy of Joshua Liner Gallery.