Described by Guillermo del Toro as a post-industrial Rococo master, Kris Kuksi falls into a league of his own when it comes to the genre of fantastic realism. The Kansas-based creator comes back to Joshua Liner Galley for the fifth time with a solo exhibition entitled Amalgamation. The show will present new work of Kuksi, comprised of eight pieces created in the artist's signature medium of mixed media assemblage. Heavily influenced by the ornamental details of the Late Baroque and Rococo, artwork of Kuksi reveals a hint of darkness, chaos and anguish, displayed through highly intricate work. As Kuksi explained, he is presenting a unique balance of chaos vs. symmetry, which is very time-consuming to even design and arrange, let alone bring to life in such detail.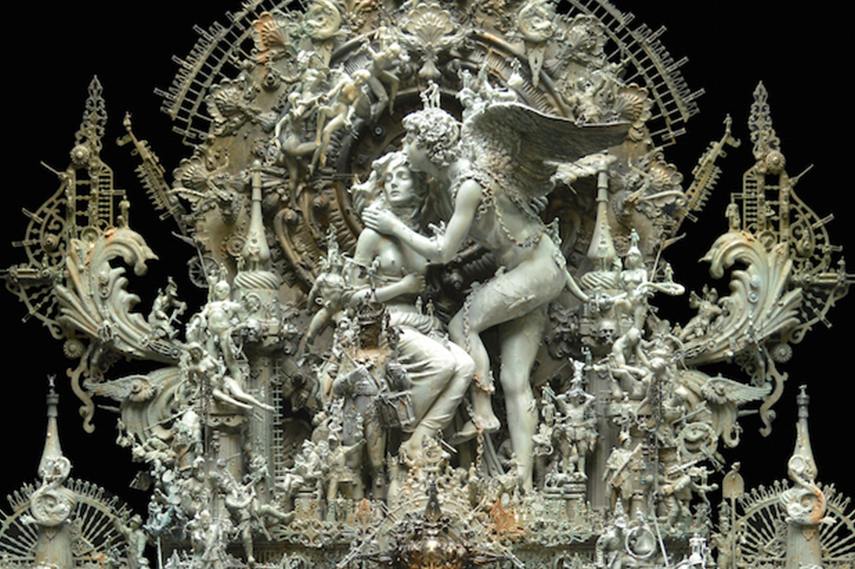 From Lego and Toys to Stunningly Intricate Artwork
With over one hundred exhibitions worldwide, including a number of major art fairs (Art Basel, Scope, Pulse etc.), Kris Kuksi's work has garnered global recognition and acclaim. The American artist is specialized in creating complex installations which mesmerize the viewer with its extreme intricacy and focus on details. The artwork he creates has been described as "a study in timelessness and reminiscent of lost civilizations, deities and ruins – perfectly preserved."
Living in a rural setting in Kansas, where there probably isn't much to do for a youngster, can prove to be a positive thing for a future artist. With the absence of other forms of entertainment, Kuksi spent a lot of time playing with toys such as lego, spaceships, castles and with materials like bricks from the nearby barn to create dioramas and landscapes. Not having grown up surrounded by the overwhelming presence of technology of today, not even by the television, Kris Kuksi developed a vivid imagination. With the lack of external stimulation or distraction, Kuksi fostered a keen creative force within his mind. The impeccable sense for details is evident in all of his works. When observing his delicate wall assemblages, the viewer is awestruck by the intricacy and the excessive details.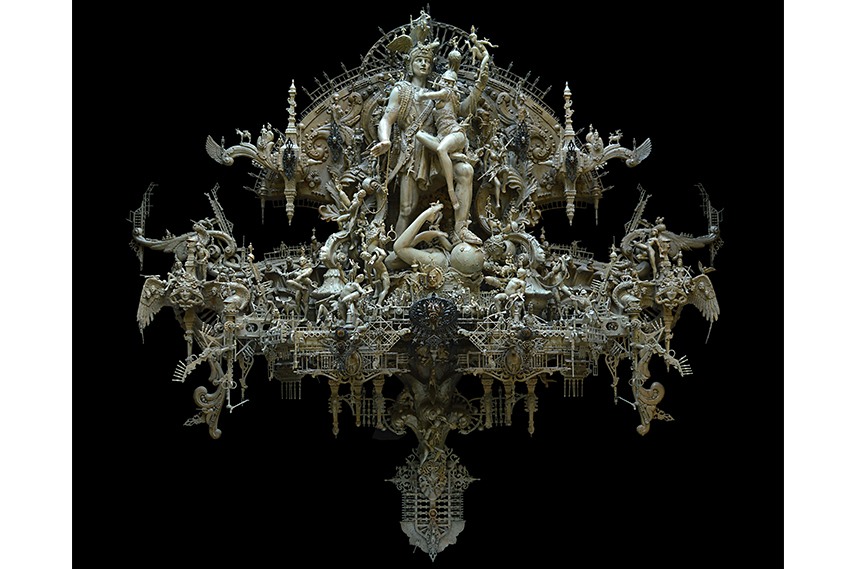 Kris Kuksi Believes There is Hope for Humanity
Serving as a commentary on the social, political and spiritual issues of humanity, Kuksi's miniature models are presented in a plight filled with chaos and anguish, spiraling into an endless downfall. Many of the figures resemble deities, rising above the utter chaos and turmoil that is drowning them. The clear difference in size between some of the characters signifies the unattainable distance between the mortals and humanity against the godlike figures which are in total serenity. In spite of the atmosphere of hopelessness and sorrow, Kris Kuksi stated that he believes humanity to have the power to embrace our dark impulses and, ultimately, overcome them.
The artist can take even months to fit the right pieces together in order to form the desired balance between chaos and symmetry. The complex and time-consuming process of construction of these assemblages is often a marathon run without a clear finish line. As Kuksi elaborated, the final result is unknown and it is the creative process alone that builds the narrative and speaks to him.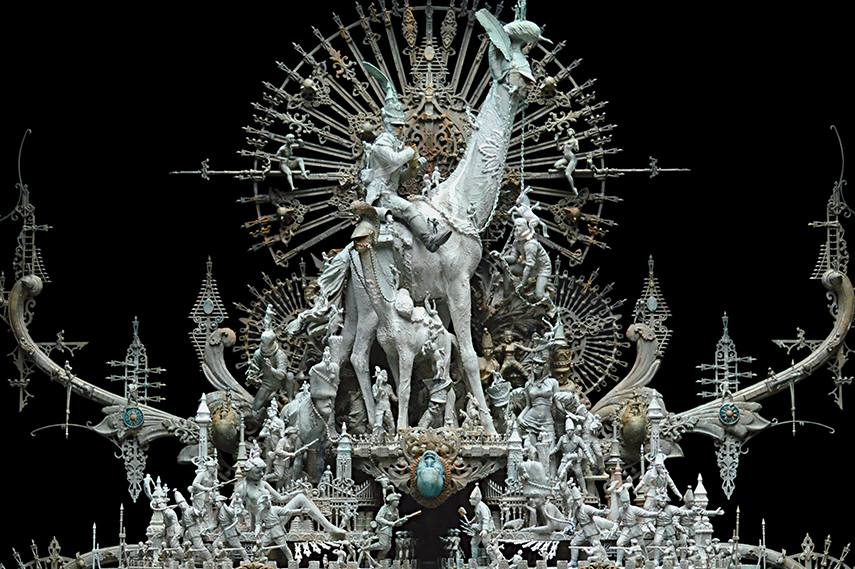 Amalgamation by Kris Kuksi at Joshua Liner Gallery
With so much time and effort invested into each piece, Kuksi explained that he develops a certain kind of fondness and connection with each work. The solo exhibition Amalgamation will display new artwork by Kris Kuksi at Joshua Liner Gallery, New York. The show is on view from October 15th – November 14th, 2015. Kuksi will be present for the opening reception scheduled on Thursday, October 15, 6-8pm. In his latest series of work, Kuksi aims to underline the greed and carelessness of the human beings, stating that we are limited by these issues, yet, fully aware of the fact. Amalgamation is an invitation to embrace our dark impulses, so we could overcome them.
Sign up for free to My Widewalls, and stay informed about the upcoming exhibitions!
All images courtesy of Joshua Liner Gallery
Featured images:
Kris Kuksi - Psychoactive Animalia
Kris Kuksi - Sedation