A true artisan of contemporary art, Kris Kuksi infuses our world with plethora of subjects that somehow seem to make sense when put together on his sculptures. All of the elements he explores, coming from different historical periods and cultural backgrounds, converge into a harmoniously organized and emotionally powerful art that surprise and delight with copious details. Although the focal point of each of his artworks is clearly established, moving away from it rewards the viewers with numerous microcosms that exist in its surroundings. Best defined if we evoke the whirlpool of dark and rich Baroque imagery, Kuksi's sculptures take a unique place on the contemporary art scene.
Bridging a gap between past and present, Kris Kuksi shows us that the world of visuals is there to be experimented with, and that historical trajectories and boundaries between genres and periods are the artificial ones. Baroque aesthetics did not end with the historical Baroque; it is perhaps even more alive and present today than ever before, and the overflow of images, messages, and information in contemporary era of spectacles reflects in Kuksi's art. He was born in Springfield, Missouri and grew up in a rural setting in Kansas. From an early childhood he was interested in creating new assemblages out of his toys, which he transformed into dioramas and landscapes. Educated in art, he picked sculpture as his main medium. He cuts, reshapes, and combines different found and acquired objects, small toys, and mechanical components into sculptures that have been exhibited in over 100 shows worldwide.
In this talk, we asked Kris Kuksi to tell us more about his plans for 2017, how art market has been treating him thus far, but also about his aesthetics, Baroque as a constant inspiration, and his background.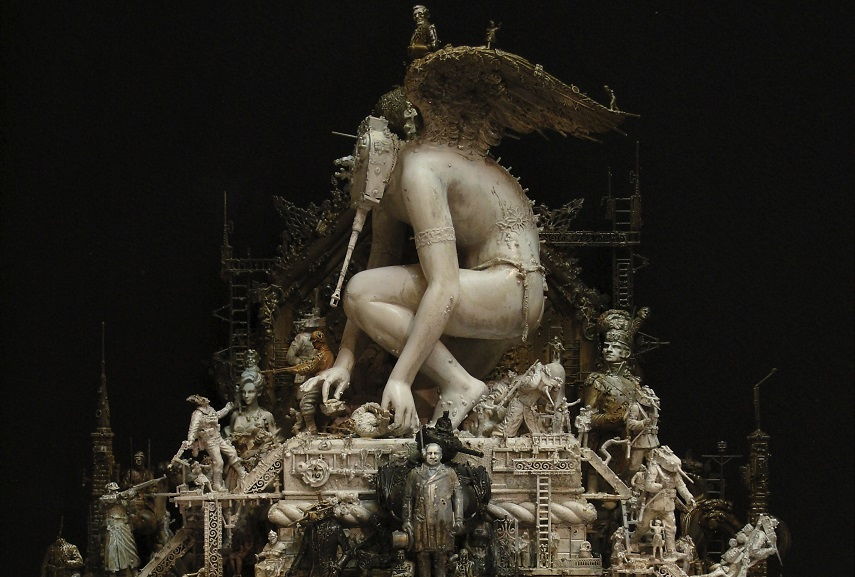 Artistic Beginnings and Education of Kris Kuksi
Widewalls: Before we go into discussion about the style and aesthetics of your art, can you tell us something about your education? You studied art, and started out as a painter. Can you tell us more about this period in your life?
Kris Kuksi: I have a Bachelors of Fine Arts and a Masters of Fine Art, however, I did also study Old Master painting techniques in Florence, Italy. This technique builds the form using white paint over a neutral base such as burnt sienna or raw umber. The color is then glazed over with many thin layers to create a rich translucent look. I painted with acrylic and then I modified this painting application to acrylic. I do however have a minor in sculpture although it was not until I was out in the real world that it would dominate my career.
Widewalls: How your paintings differ from what you do now in sculpture? What motifs you explored in them?
KK: I was really into portraiture and also floral works such as orchids, irises and roses. All of these incorporate the Old Master painting technique. I also got into painting people's dead pets as memorials.
Widewalls: Has your upbringing influenced your decision to create art? Can you talk more about it?
KK: Not sure if my upbringing had anything to do for it. It certainly allowed for artistic ability to develop. I grew up in a rural setting which was very isolating; there were only four television stations to watch, so I had to be one of those weird kids that uses imagination to entertain himself.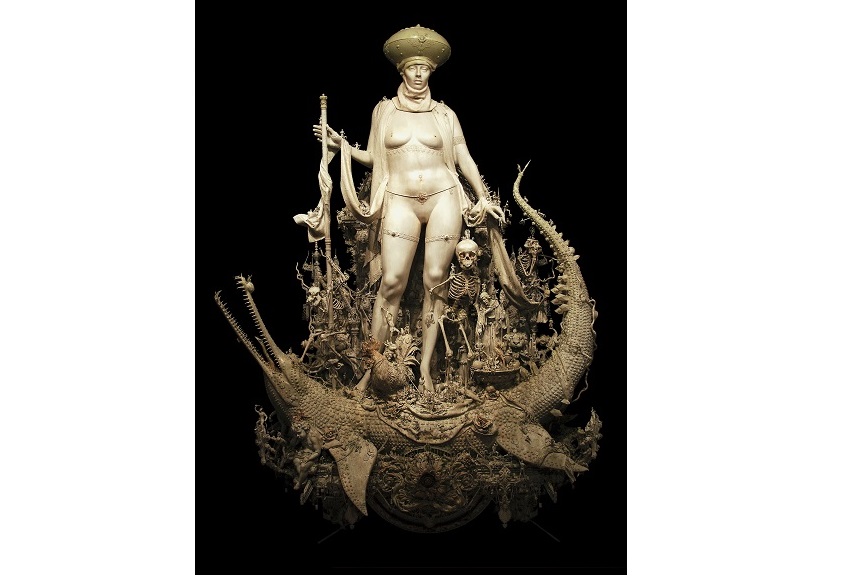 Macabre Beauty of Kuksi's Baroque Sculptures
Widewalls: Turning to your present practice, your art has been defined by different theorists and critics, but how would you define what you do? Can you talk a bit about your aesthetics?
KK: I describe it as the Baroque meets the modern world in a mash up. I have always leaned towards a macabre but beautiful aesthetic, much like Old Masterworks have a melancholic touch yet are alluring at the same time.
Widewalls: Your sculptures are commonly referred to as Baroque sculptures. We would say that they belong to a broader Neo-Baroque aesthetics of our times. Can you comment a bit on this historical referencing? What Baroque represents to you, and how you got inspired by it?
KK: I think the Baroque aesthetic is imprinted on my mind. When I have done psychedelics I see Baroque like patterning in visual hallucinations. I have done many trips to Europe visiting museums and Old World Gothic cathedrals; this does seem to be a time and place that is familiar to me.
Widewalls: You mention Hieronymus Bosch, Caravaggio and H.R. Giger on your webpage as some of your influences. What is it that you find engaging in their artworks?
KK: Again, it is that dark and beautiful appeal. It's mysterious, surreal and with emotional vigor. It's all of the engaging factors that I am drawn to as well as the craftsmanship and detail.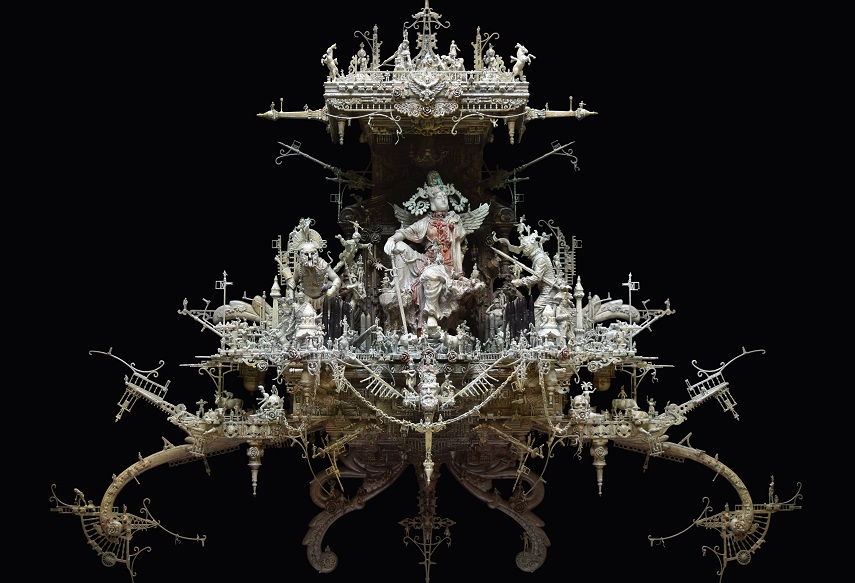 Eros and Thanatos Done in Delicate Details
Widewalls: Your iconography is extraordinarily complex. You employ motifs from different cultures and historical periods, including ancient sculpture and contemporary machines, like tanks. However, it seems that there is an underlying theme of Eros and Thanatos that guides your work. Would you agree with this? How death and love figure in your art?
KK: Yes, that sums it up nicely. I have always been interested in polarity between good and evil, beautiful and ugly, moral and immoral, so that shows up in my work.
Widewalls: Going into visceral aspects of your practice - can you walk us through your creative process? What tools you use to make micro details, and how long it usually takes? You also rarely use color. Why is that?
KK: My hands are very crafty for delicate details, however I do use forceps to place tiny objects. One medium sized work will take about a month, provided that I have all of the right materials. I do use settle color; rust tones, pale blues and greens. Most works are more colorful than others but there is something I love about the statuesque black, white and grays. "Eros at Play" is an example of this color use.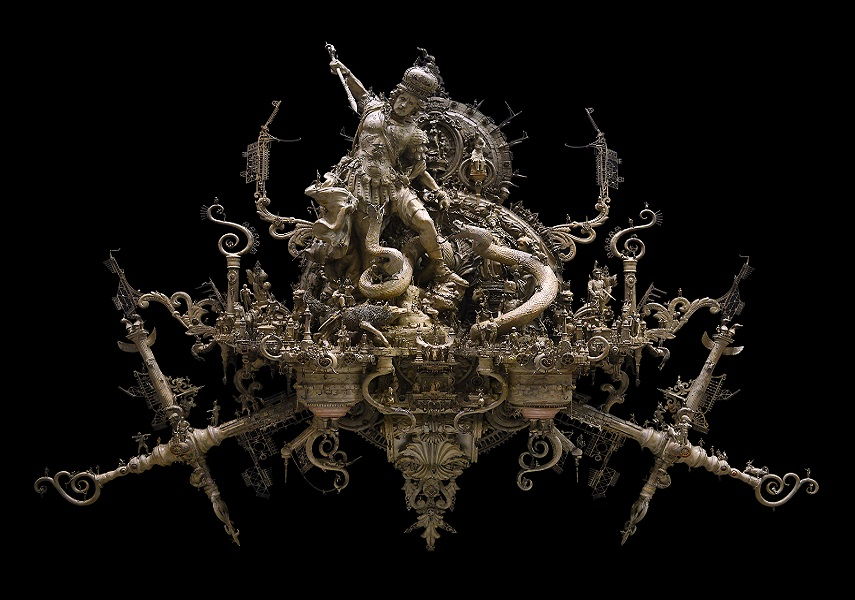 Past Exhibitions, Art Market, and Plans for 2017
Widewalls: How has the art world and market been treating you thus far?
KK: I have sold nearly everything I make. There have been a couple of works that haven't but understandably, in that they have been more installation type works which are not always practical to private collectors. I have built a strong market for my work over the last ten years. I have been able to build my prices slowly and consistently.
Widewalls: You had an exhibition at Cornell University a few months ago with Neil Spiller. How did it go? In what other events you participated recently?
KK: It was a beautiful exhibition, Neil Spiller's works complimented very nicely together with my own. The show got a lot of attention. I had a solo exhibition in Los Angeles this last summer at the Mark Moore Gallery, displaying my largest work ever. It was the fifth installment of my latest series called the "Plague Parade" which was over 20 feet long and 12 feet tall.
Widewalls: What are your plans for 2017? Can you share with us some of the projects or sculptures you are currently working on?
KK: I am currently working on three sculptural works for one of the armed forces. Which is very challenging because of the highly specific nature of the elements that have been assigned. I have a brand new book coming out next year with a major publisher, and my biggest exhibition yet in New York City, October of 2017 at Joshua Liner Gallery.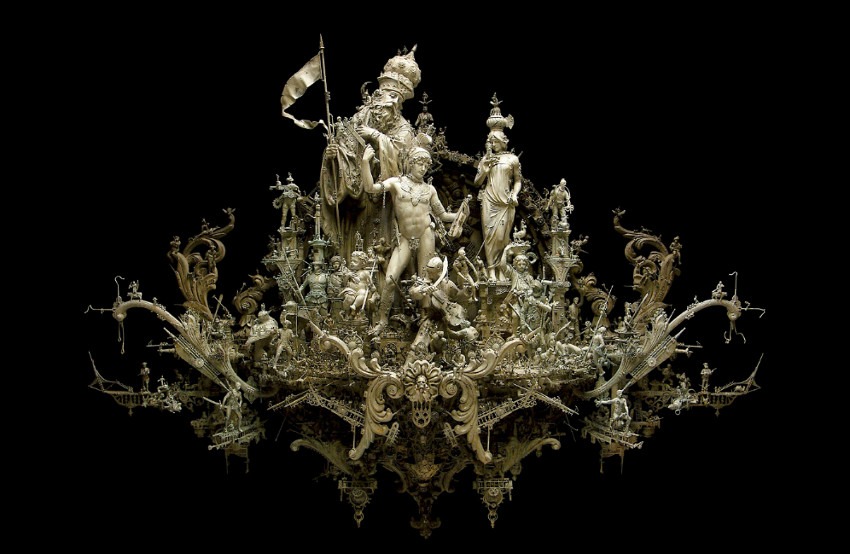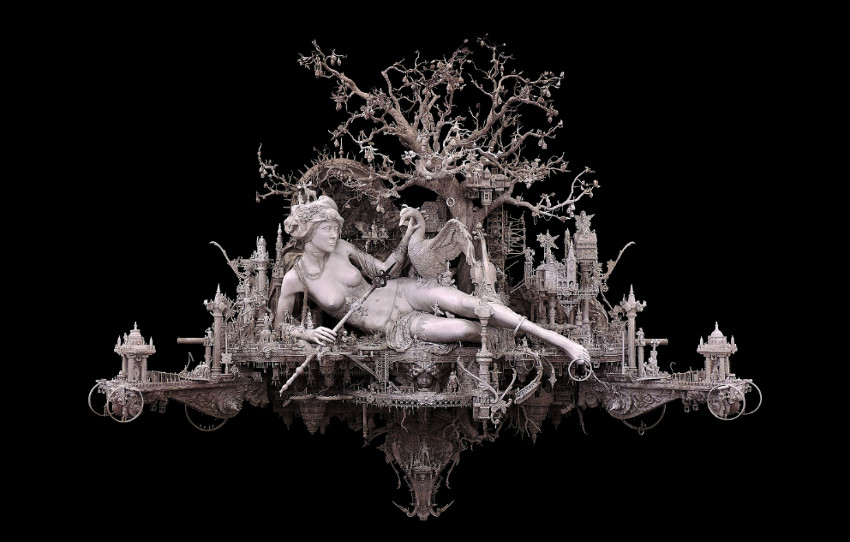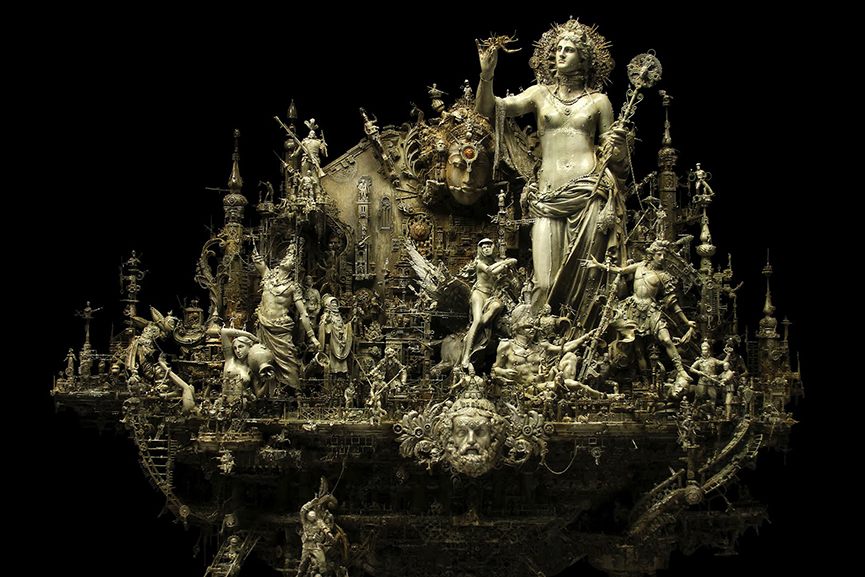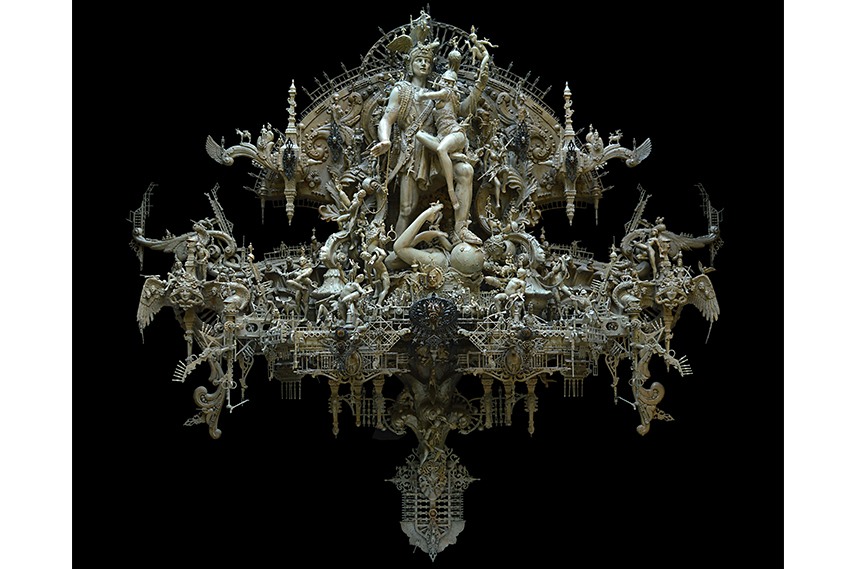 Featured images: Kris Kuksi - Rapture. Kris Kuksi with his work. Kris Kuksi - Psychoactive Animalia. All images courtesy of the artist.