Semantics, a solo exhibition of Kristin Bauer art, will open this month at Jai & Jai Gallery in Los Angeles. Bauer's first solo exhibition in LA will feature a series of works in plexiglass and pigment that in a totemic forms address problematic one-point views and emphasize disjointed anti-narrative discourse. Her sculptural forms alter her installations, and besides totemic forms, the exhibition will also feature a selection of multi-panel wall pieces. Being a hybrid between 2D and 3D objects, these works contain 4 plexiglass panes with pigmented text that are anchored in plexiglass frames which add the sense of depth and dimension to them.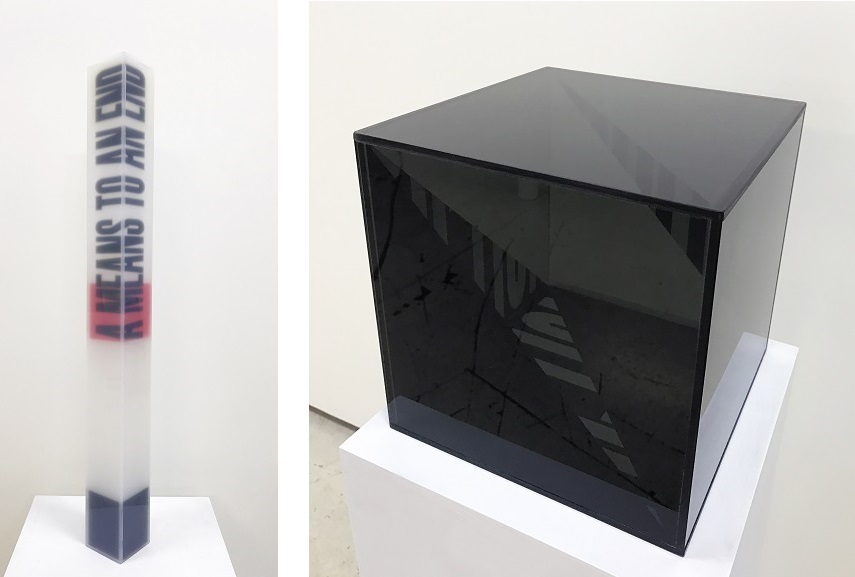 Kristin Bauer Art
Kristin Bauer was educated in cognitive studies, painting and psychology, but also has a background as a poet and writer. Her work is often informed with these versatile inputs, as it spans domains of linguistics, meditation, physics and space-time. She is consistent in use of right angles no matter what type of material she is using, and is preoccupied with sculptural concerns that are tackled in often cubic forms, multi-panel paintings and text-based installations. Bauer mostly uses plastic based products, such as the above mentioned plexiglass, vinyl and polymer pigments, among others. As the artist states herself: "My sculptural objects and installations are a platform to explore human constructs. Perception itself is a human construct I attempt to mold and expand, in my desire to open consciousness, increase dimensionality and re-imagine the mundane, whether it be a window, three monosyllabic words or a simple arc… My work focuses on the dialogue and internal response of viewers that arises from how they derive meaning and interject narrative when presented with composed visual and written information amidst the poetry of movement." Bauer's artworks has been exhibited both nationally and internationally in numerous gallery exhibitions, and were included in several publications.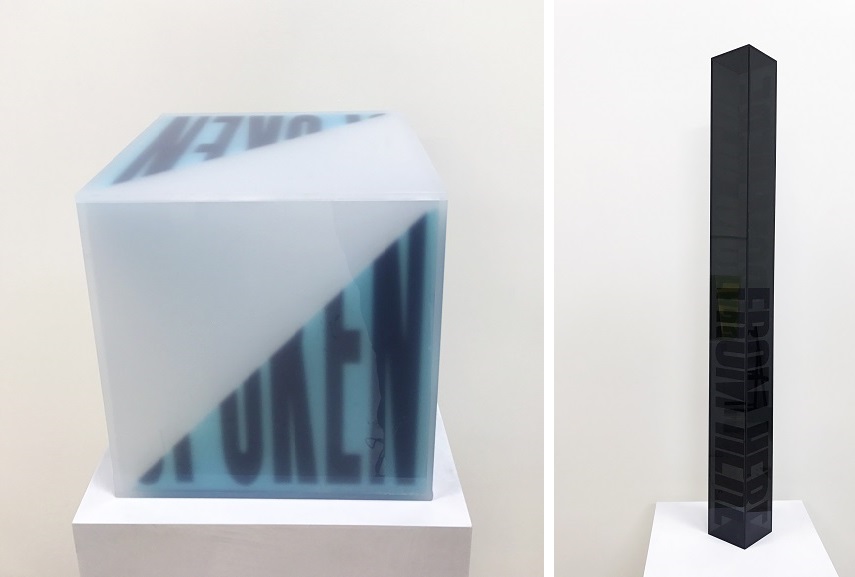 Bauer's Plexiglasses
Spatial relationships and depth are important elements of Bauer's plexiglass art. Provoked to explore the viewers' experience, the artist builds it into an integral part of her work, as moving around and engaging with her plexiglasses activates conceptual kinetics that is otherwise still. At Semantics exhibition the represented works unify conceptual text-based practices with considerations of poetry, space and light. Her visually stunning cubes contain a multitude of hidden texts that can be read from different angles. Spatial relationships became increasingly important for Bauer's art, as space, the physical shape of letters, and cubic forms "collapse and expand… in an exploration and dance with perspective." The plexiglass art Bauer creates interconnects the constellations of cognition, action and belief that propels humanity through the whirlpool of different ideologies.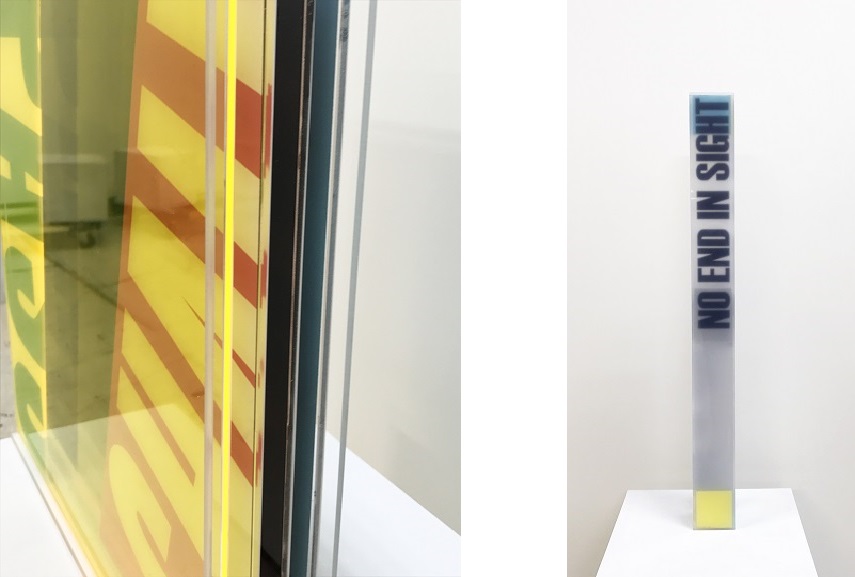 Semantics at Jai & Jai Gallery
Sisters Jomjai and Jaitip founded Jai & Jai Gallery in 2012. The gallery maintains its focus on trans-disciplinary program by exhibiting works of emerging and contemporary artists and architects. Along with displaying current relevant works, the mission of the gallery is to also engage and cultivate discussions on the intersection of architecture and art. The chosen exhibitors come from a variety of backgrounds and influences, their practices are diverse, but they also share affinity to push the boundaries of theory, fabrication, and representation through design, art and architecture.
The exhibition Semantics at Jai & Jai Gallery Los Angeles, CA, will open on January 14, with an opening reception from 6 -10pm, and will run until February 11, 2017.
Featured images of Kristin Bauer's works: Semantics, detail; Less Than, detail; It Goes, detail. All images courtesy of Jai & Jai Gallery.