Selection of sculptures presented at the Kunstmuseum Basel exhibition reflects a number of important changes which determined a transition of modern sculpture as a medium, from mimetic to theoretical point of view. Presented sculpture works range from post-war period to onwards. This exhibition is a sequence of the three-part exhibition Painting on the Move in 2002 in which the arc of painting was traced from the beginning of the twentieth century to the new millennium.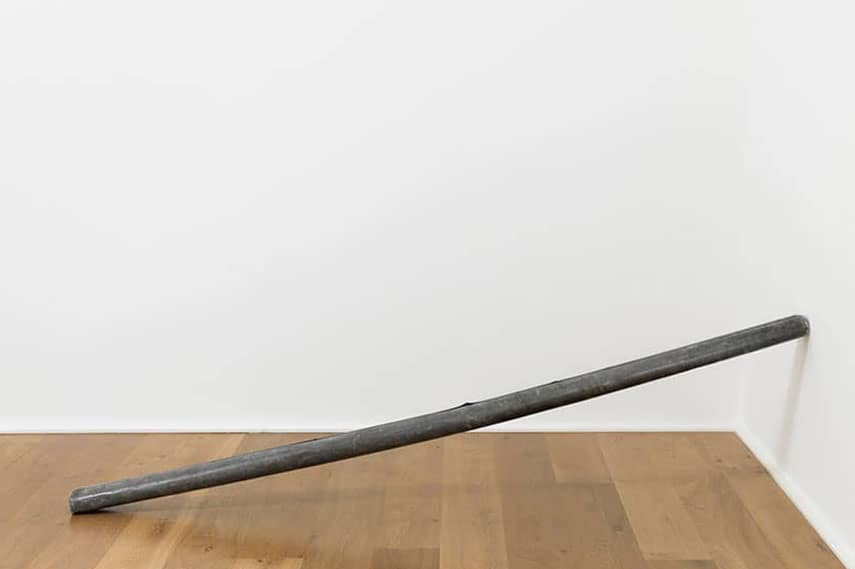 From Bronze Casting to Kinetic Sculptures
In post-war period, the medium of painting saw the importance of human figure gradually fade. Pursuing strong expression of the material and form, the interest shifted from non-object forms toward organic and geometric, paying attention to the quality of materials. In sculpture, such transition produced a new generation of artists that created sculptures in non-traditional techniques such as: stone carving, bronze casting and forging iron. In post-war period, the synonym for modern sculpture is Assemblage, a form that brings together all existing objects, fragments and different materials. Innovation was chiefly in the use of new materials and in conceptualism, a style which focuses more on the idea behind the three-dimensional object, rather than the object itself. Post-war sculptures are blurring the line between painting and sculpture.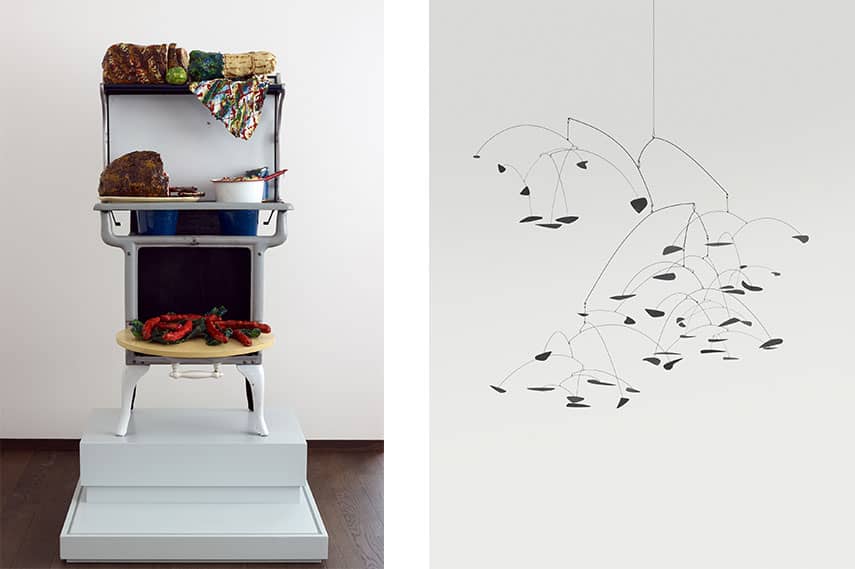 Non-Mimetic Principles of Contemporary Art
Presented sculpture work of neo-dadaist Claes Oldenburg provokes and questions the meaning of modern sculpture. He includes traditional materials such as bronze, but so realistic and made in grotesque manner that confuses the audience. An observer is not sure in which direction an artwork can be interpreted, as an ironic presentation of food in the age of consumerism , or something else. Minimal artists such as Donald Judd, Carl Andre, Joseph Beys and many others take the legacy of constructivism and make sculptures that are part of the process of de-subjectification. They eliminate all mimetic principles and aesthetics of traditional sculptures, and create non-figurative art.  Trisha Brown's works show how sculptures can be seen as a part of performance art, and the same meaning can be given to sculptures of Alexander Calder. His installations emphasize movement as a way of overcoming limits of space.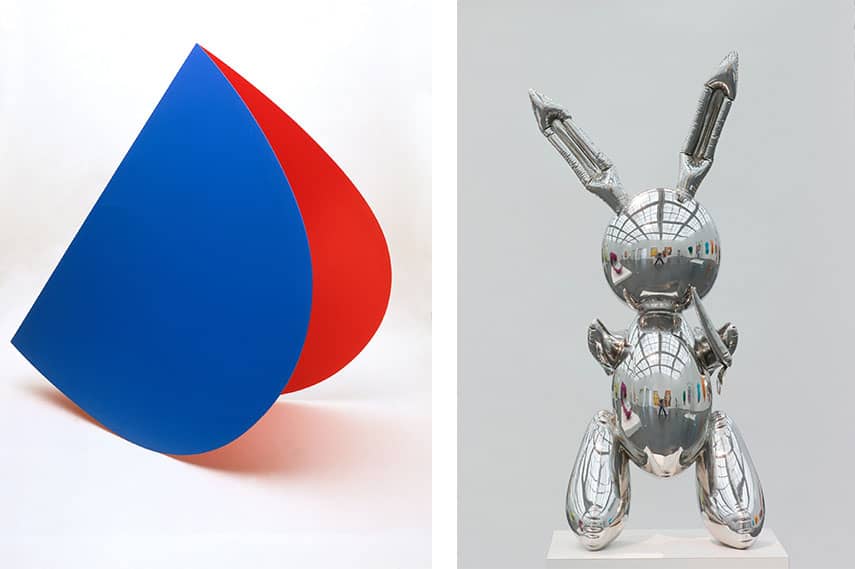 Kunstmuseum Basel Exhibition
Sculpture on the Move exhibition focuses on sculptures from the end of the World War II to present days. The show is organized loosely chronologically with the main goal to display the transformation of sculpture as a medium, from representation of reality to overcoming the limits of space. The selection of works includes, besides Kunstmuseum Basel's private collection, loans from international museums. In the first part are shown works of Constantin Brancusi and Alberto Giacometti, followed by works of Alexander Calder, Jean Arp, Max Bill, Henry Moore, Louise Bourgeois, Pablo Picasso, Eduardo Chillida, David Smith, Jean Tinguely, Claes Oldenburg, Duane Hanson, John Chamberlain, Donald Judd, Carl Andre, Joseph Beuys, Mario Merz, Bruce Nauman, Eva Hesse, Richard Serra, and Robert Smithson. Next sequence shows sculptural works from the 1980s that include works of Peter Fischli and David Weiss, Robert Gober, Charles Ray, Mike Kelley, Jeff Koons, Katharina Fritsch, Franz West, and others. Third part of this exhibition is concluded with the latest works that show a different position of sculpture. Presented works include artists: Gabriel Orozco, Matthew Barney, Absalon, Damien Hirst, Danh Vo, Monika Sosnowska, and Oscar Tuazon. Kunstmuseum exhibition is curated by Bernhad Mendes Bürgi and will be open from 19th April to 18th July 2016.
Editors' Tip: Sculpture since 1945 (Oxford History of Art)
Since 1945, as in painting, the modern revolution in sculpture has gathered pace, and even the term sculpture has ceased to be a fixed category. In this book Andrew Causey provides a brief history of sculpture development after the World War II. Causey examines innovative and avant-garde works in relation to contemporary events and the changing functions of museums. He also explores the use of everyday objects and the importance of sculptural context, discussing figurative and non-figurative works, Anti-form, Minimalism, experimental form, sculpture, installation, and performance art. A final chapter brings the discussion of sculpture right up to the present day by examining sculpture since 1980. This book can be useful to consolidate and fully integrate one's knowledge of Modern and Contemporary Sculpture.
Featured Images: Donald Judd, Untitled, 1969, David Smith - Australia, 1951, Max Bill, 1960-1; Images courtesy of Kunstmuseum, Basel