Nirvana fans, rejoice! An authorized traveling exhibition of Kurt Cobain paintings and artwork is being planned as we speak, according to The New York Times. The newspaper recently profiled Jeff Jampol of Jampol Artist Management, a company that manages the legacy of deceased music performers, who revealed Kurt Cobain as their "latest client". In collaboration with the late singer's family, Mr. Jampol will put together a touring show of "Kurt's works and his art and his possessions", although no further details have been released yet. This will be a unique opportunity to get an insight into another side of Cobain's artistic talent, as he had been creating visual art since quite an early age.
Kurt Cobain Art - Paintings
Continuing the Legacy of Deceased Artists
Specializing in managing the performers that the music business calls "legacy acts", a term used for dead musicians, Jeff Jampol's private company is one of the most prominent in the field. When a world-renowned artist dies, he takes over their estate, making sure it is run effectively and with many benefits for both the family and the fans alike. Jeff Jampol's client list is already an impressive one, with legacy acts such as Janis Joplin, the Ramones, Muddy Waters, Otis Redding and the Doors, and Kurt Cobain as the latest addition to it comes as no surprise. Describing his work as "relevant for centuries", Mr. Jampol added that the Nirvana singer had some amazing canvases that remained unseen or even never heard of - until now.
In 2010, Kurt Cobain's widow Courtney Love reportedly singed over her rights to her husband's name and likeness to their daughter, Frances Bean Cobain. That same year, Ms. Cobain also took control of her trust fund, which resulted in her being the executive producer of Kurt Cobain: Montage of Heck documentary. This project was also succeeded by an accompanying collection of Cobain demos. Mr. Jampol is now working with both Ms. Love and Ms. Cobain in order to put together this exhibition of Kurt Cobain paintings and artwork, the first authorized project of its kind. Over the years, the legacy of Nirvana and its lead singer has been exhibited in various forms, including the memorabilia on display at the EMP Museum in Seattle, and the photographs of Cobain's belongings at Los Angeles' KM Fine Arts Gallery.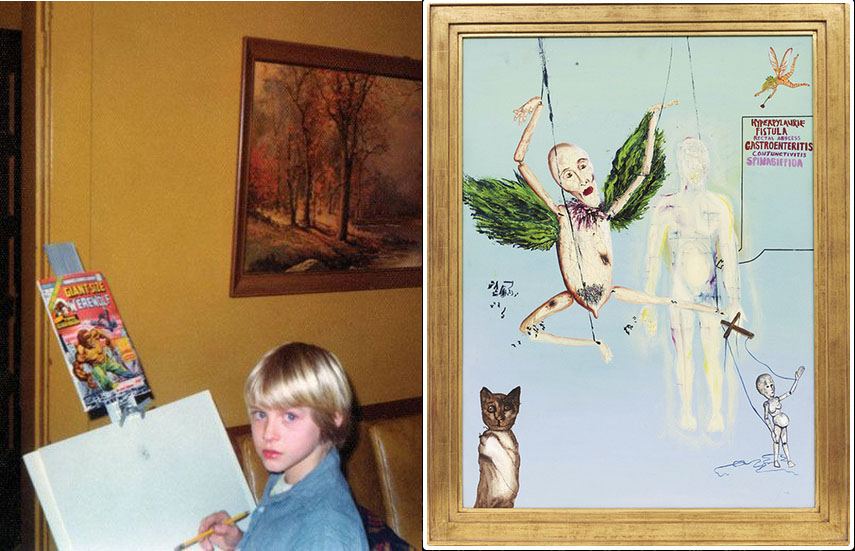 Kurt Cobain Paintings and Artwork - A Side Unknown
Without a doubt, Kurt Cobain was best known as a musician, but what's interesting is that he was also a gifted visual artist. Ever since he was a child until his death at the age of 27, he had been making artworks in a variety of media, resulting in a significant number of paintings, drawings, sculptures, collages and sound/video montages. Perhaps his most notable works are the many record covers he designed for Nirvana. These were based on Kurt Cobain's paintings, drawings and photography, particularly the covers of albums like Nevermind and single releases like for Lithium and Heart-Shaped Box. Most of the time, Kurt Cobain paintings and artwork were abstract, at times figurative, often involving musical references and instruments. His sculptures and mixed-media works often depict babies and evoke a strong presence of death.
Will you be seeing the traveling Kurt Cobain exhibition? Let us know on our Facebook page!
Featured image: Kurt Cobain, image via MTV. All images used for illustrative purposes only.