One of the largest international art events in the United States, The LA Art Show attracts an elite roster of national and international galleries, acclaimed artists, highly regarded curators, architects, design professionals, along with discerning collectors. The West Coast's largest art fair, it now returns to the Los Angeles Convention Center this January for its 24th edition.
The LA Art Show 2019 will focus especially on programming from the Pacific Rim. The event will expand even further with the global art market with a new lineup of DIVERSEartLA programming conceived by curator Marisa Caichiolo. There will be many novelties at the event, including the partnership with Argentina's Kirchner Cultural Centre, which will be exhibiting the work of Andrés Paredes and his installation, The Memories of Mud. The Museum of Latin American Art (MOLAA) will also be returning with programming.
Once again, the event will welcome an encyclopedic lineup of exhibitors not only in contemporary art, but also classical art, antiques, folk art, and other specialized art scenes that often command their own dedicated shows.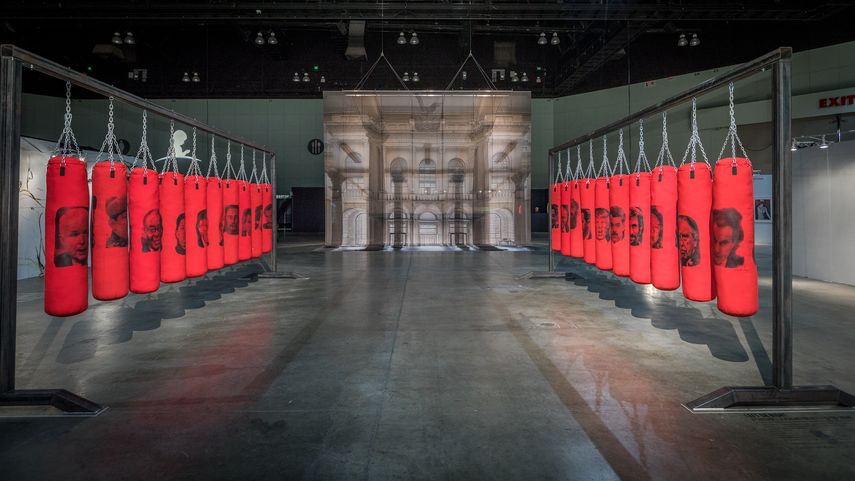 Participating Galleries at the LA Art Show 2019
While the full list of 2019 exhibitors will be announced on December 23rd, 2018, there are returning and new galleries which have already confirmed their participation.
The returning exhibitors in the CORE section include Patrick Painter Gallery from Los Angeles, Timothy Yarger Fine Art Gallery from Los Angeles, Konig Gallery from Berlin, and Pigment Gallery from Barcelona, among others, while the latest addition to the section will be Mizuma Gallery from Tokyo and Singapore, which will bring new large-scale paintings by Yoshitaka Amano, celebrated for his character art for the Final Fantasy series, and the internationally renowned ink painter Yu-Ichi Inoue.
The fair will be showcasing a diverse and comprehensive array of Pan-Asian ink paintings throughout the fair, featuring artists from South Korea, Japan and China, including new contemporary works by South Korean abstract landscape artist Chuni Park, Chinese artists Bian Hong, Li Huichang, Fan Peng, Li Zhihong, Yu Qiping, Gu Wenda, Li Xubai, and Lo Ch'ing, among others, and Japanese artists Shiro Tsujimura, Morihiro Hosokawa, Mizuho Koyama, Reiko Tsunashima, Shoen Tominaga, Miwako Nagaoka, and more.
The returning galleries in the ROOTS section will be MS Rau from New Orleans, which will be exhibiting Julius Kronberg's famous large-scale Cleopatra painting from 1883, Rehs Galleries, Inc. from New York, Reiss Gallery from Greenwood Village and Trinity House from New York, the Blue Rain Gallery from Santa Fe, respected as the best gallery for American Indian art. The LA Art Show will also welcome Yaama Ganu Gallery from Moree, which will exhibit their selection of the best work from the various aboriginal regions in Australia. For the first time in this section, the fair will welcome Trinity House from London, New York and The Cotswolds.
The fair will also welcome Kamiya Co., LTD from Japan, Michael Goedhuis from London, Galerie Sabine Knust from Germany, and Corey Helford Gallery from Los Angeles.
The Design LA Art section, which made its premiere last year to showcase the harmony between architecture, interior design and art, will be returning with a revamped curatorial focus during the 2019 edition, lead by renown interior designer Oliver M. Furth.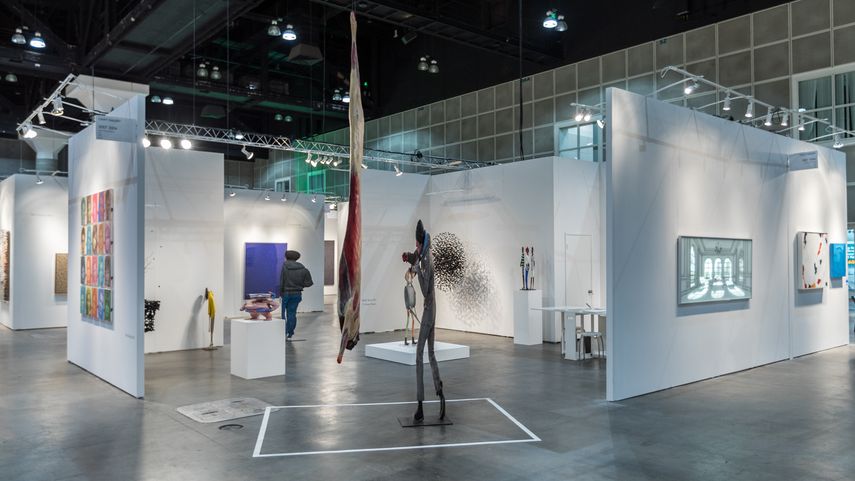 DIVERSEartLA and Littletopia
Returning for the third year in a row, DIVERSEartLA is dedicated to exhibiting diverse, often international institutions and artists from around the Pacific Rim and beyond, donating 50,000 square feet of exhibition space to the participating organizations.
This year, DIVERSEartLA will feature programming from Arte Al Límite Collection Chile, CCK — Buenos Aires, Argentina, LACMA, MOOLA, Launch & California African American Museum, Gallery 825, Art Share LA, UCLA and more.
Some of the highlights of the section include the work by Marta Minujín titled Rayuelarte, presented by CCK - Buenos Aires, Argentina, a playful and interactive intervention created by this multifaceted artist in order to honor renowned Argentine writer Julio Cortázar; the work of Andrés Paredes titled Memories of Mud, also presented by CCK - Buenos Aires, Argentina, a multisensory experience comprised of clay domes that house fantastical landscapes; Virtual Futures: XR Showcase presented by LACMA in conjunction with the exhibition 3D: Double Vision, four VR experiences that demonstrate the range of practices and possibilities that are defining VR in 2019.
Curated by Marisa Caichiolo, the Performances section will present a new performance by the French visual artist Sarah Trouche titled You should wear your revolution, committed to research on women's emancipation, and a performance by Dorian Wood, who seeks to glorify both the sanctity and irreverence of intimacy.
Conceived as a showcase of the best and brightest from the lowbrow and pop art movements, Littletopia will present new contemporary voices, and honor the visionary artists who came before. This year's edition will be curated by Red Truck Gallery and Caro Buermann of Corey Helford Gallery. Fresh off their award for Outdoor Sculpture at the 2018 Lucca Biennale, cardboard art duo Dosshaus will be creating this year's Littletopia archway.
The Location of the LA Art Show 2019 - The Los Angeles Convention Center
Practical Information
LA Art Show will take place at the Los Angeles Convention Center in Los Angeles from January 23rd until January 27th, 2019. The Opening Night Premiere will take place on Wednesday, January 23rd, 2019, from 7 to 11 p.m.
The doors of the Los Angeles Convention Center will be open to the public from 11 a.m. to 7 p.m. on Thursday, Friday and Saturday and from 11 a.m. to 5 p.m. on Sunday.
The price of the 1 Day General Admission ticket will be $30, Exclusive 4 Day Pass will be $60, while Friend Ticket to Opening Night Premiere Party will be $125, Vanguard Ticket to Opening Night Premiere Party will be $200, and Patron Ticket to Opening Night Premiere Party will be $250.
For more information, please visit the official website.
Featured images: LA Art Show 2018 from above; Pandamonia LA Art Show 2018; LA Art Show 2018; Greg Auerbach LA Art Show 2018; Bunnie Reiss Ghost Ship LA Art Show 2018. All images courtesy of the LA Art Show.