Not an ordinary interview was in the mind of La Faabrïk founders when they started this intriguing magazine in 2011. The alternative to simple, traditional, or boring conversation was found in providing disposable cameras to artists and letting them take snapshots of their routines, creative processes or things they find noteworthy. The original magazine concept has conjured up an alluring entity, which features exhibitions, events and artistic collaborations providing a look into the arts from a completely different angle.  Midnight Boom will be the first collective exhibition for La Faabrïk, presenting a roster of French and international creatives, promising different styles, approaches and aesthetics. The show opens tonight, on April 3 and it will be on view at the L'Attrape Rêve Gallery in Paris until April 26.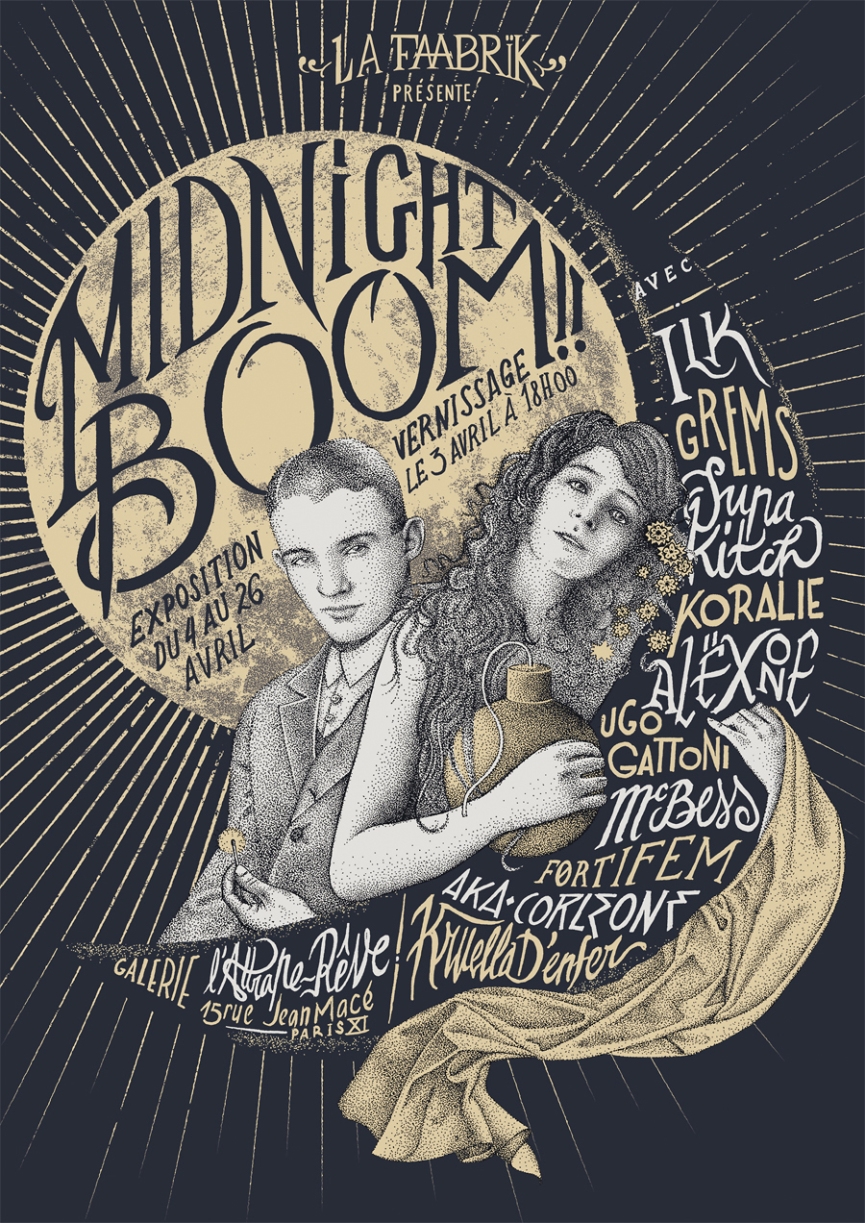 Midnight Boom
Curated by Helder Barbosa, Midnight Boom gathered a group of ten established artists who produced work under the theme the day and the night. Each of the artists created a unique piece consisting of two illustrations, one of which will be visible by day and the other one by night, as the second one is executed with phosphorescent paint. At night, the lights in the gallery will be off, while the darkness will surround the luminous artwork.
Midnight Boom will uncover twenty illustrative works at L'Attrape Rêve Gallery, the hosting space of La Faabrïk exhibition, with the participation of Grems, Supakitch, Koralie, Ugo Gattoni, ALËXONE, Mcbess, Fortifem, Akacorleone, Kruella D'Enfer, and ILK.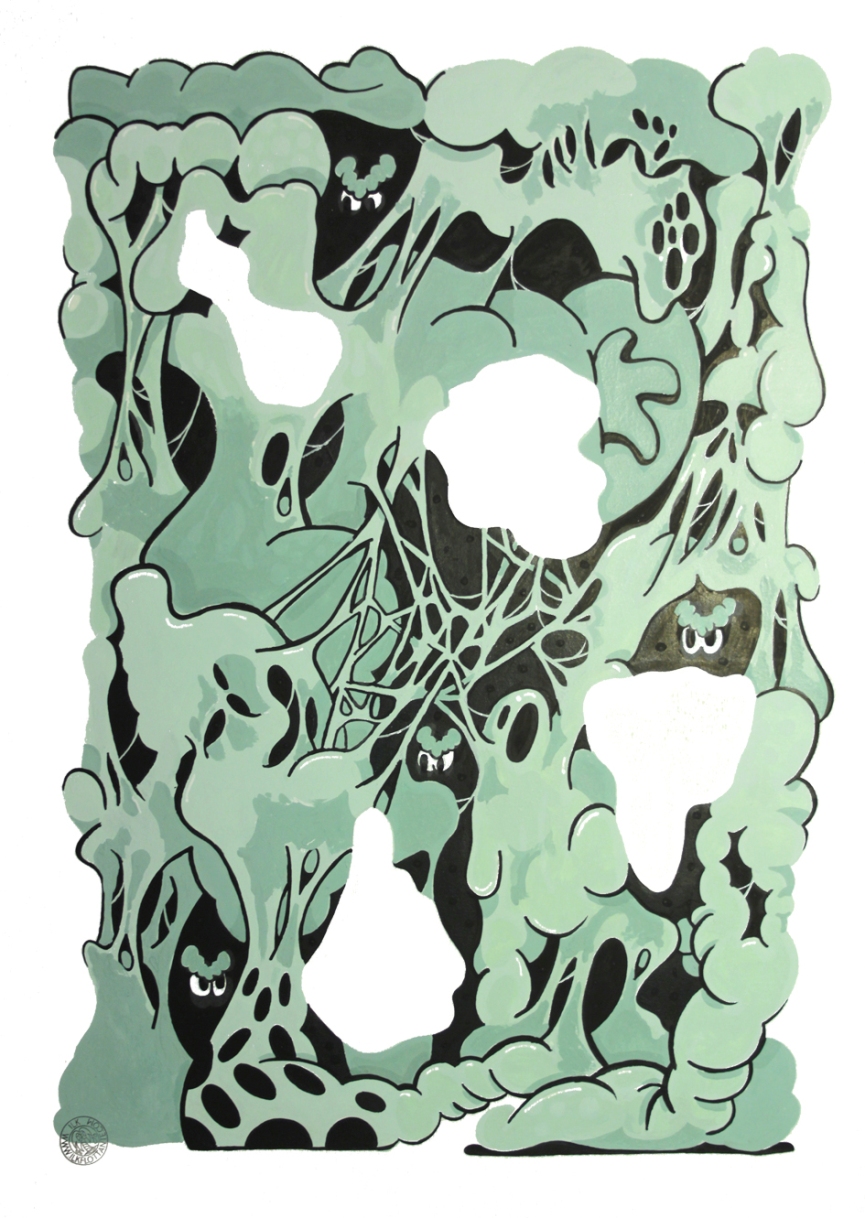 ILK
Ilk is an artist and graphic designer, generally based in Paris. His work encompasses painting, graffiti, illustration, typography, photography and many other media he finds intriguing.
GREMS
Grems Eveno Michaël is a Parisian artist, designer, illustrator, art director and graffiti aficionado. He worke internationally, and his art can be seen in London, Brussels and Paris.
SUPAKITCH
SupaKitch is a tattoo artist and a draughtsman from Paris, whose wonderful, elaborate designs are adorned with an abundance of complementary shades and graphic, but elegant design.
Koralie
Koralie is an artist from Montpelier,  France, currently based in Brooklyn. She works in diverse media has always exhibited affinity towards graffiti. Koralie and SupaKitch collaborate occasionally, as they are partners in professional and private life as well.
Ugo Gattoni
Ugo Gattoni is a French illustrator, presently living and working in San Francisco. His complicated drawings are simultaneously confusing and appealing, resembling the works of Escher.
ALËXONE
A born Parisian, Alëxone Dizac emerged as an artist from the world of graffiti in the 90s. Today, he creates wonderful, urban-inspired surreal compositions, which reveal his mastery of technique, drawing and his incredible imagination.
MCBESS
McBess is an illustrator and art director whose style emerged from the world of cartoons, merging the ancient comics, Robert Crumb and contemporary concept into a witty, comprehensive compositions with layers of content.
Førtifem
Adrien Havet and Jessica Daubertes teamed up under the name of  Førtifem. They are both graphic designers, focused on illustration and art direction.Their unique style fuses the traditions of tattoo and the delicate nature of antique etchings.
Akacorleone
The only wannabe gangster among the artistic crowd, Akacorleone is dedicated to drawing and illustration, creating funny and intelligent pictures of fishy guys, stylized pin-ups and cats.
Kruella D'Enfer
Angela Ferreira is her real name and she was born in Portugal in 1988. Her work is inspired by myths and legends, while she employs various techniques in conjuring up of her surreal, fantastic pieces.