An abstract expression should be regarded as an event more than a depiction of sorts. A canvas is, then, for an artist, a plain not only for expressing, but interacting with self on many levels – from the reinterpretation and in-depth analysis of an artwork to yet another transformation of a seemingly forever unfinished piece. With abstract painting this is the "usual" state of affairs. However, for the public, it is always a refreshing situation to see an abstract piece, especially if the "painter" is more of a "builder" who tries to construct the abstract.
The Work of Jason Gringler
Jason Gringler was born in 1978, Toronto. He has earned his BFA at the Ontario College of Art and Design in 2001. He has exhibited in various galleries around the world and some of the recent shows include Brand New Gallery in Milan and Galerie Stefan Ropke in Collogne. This Canadian artist nurtures the abstract form through his artistic expression. Aluminum tape, mirrored glass, epoxy, wood, Plexiglas and sprayed paint serve not only as material for creation but also as a specific methodology of the creative process. Frequently, Gringler tends to use photographs of his earlier work attempting to draw inspiration from the study of previous work. It is as though he follows the Baudrillard's interpretation of the symbolic universe, in search for expression that has come from another already non-original expression. To paraphrase the artist's words, the original is lost as the language of self-referencing moves on to the next step which is only one point in the cyclical never-ending process. Thus, according to Gringler, the source and the result become the same and not the same simultaneously. Often, the abstract piece becomes whole with the intrusion of stretchers and frames.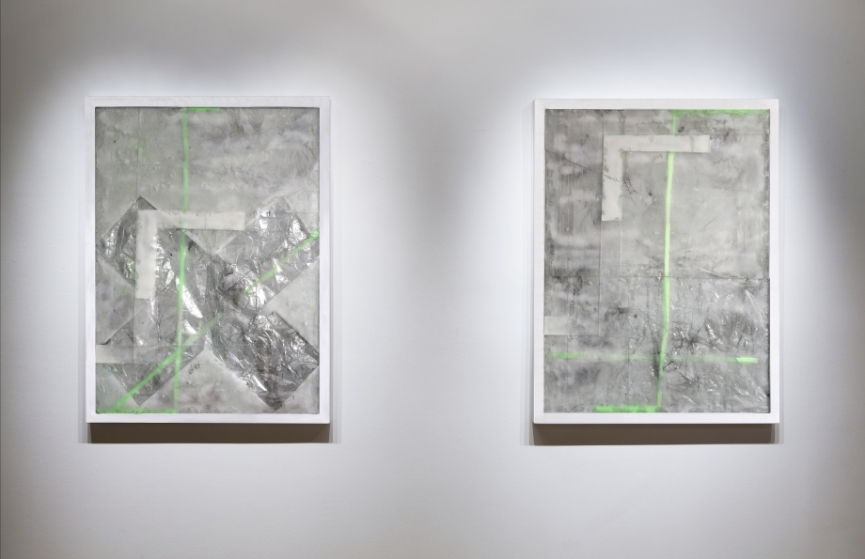 Labor
A solo exhibition by the New York based artist Jason Gringler, will be on show at the Steve Turner Contemporary during the period between July 12th and August 23rd 2014. Labor exhibition tends to show the intensive process of creating works from industrial materials. With the careful execution, Gringler resonates an abstract message through gestural and painterly methodology. The first exhibition of Jason Gringler at the Steve Turner Contemporary has been curated by art consultant Lindsey Christensen.