Swiss born artist Christina Niederberger will be presenting an exhibition of new paintings entitled Laced, at the C&C Gallery in Forest Hill, London, at the start of 2015. Known for her abstract work that explores hyperbole of modernism and artistic styles considered to be out of fashion, Christina Niederberger brought about a playful subversion of the techniques used in modernist painting to create a series of works that blur art history, class and gender identity. The works that will be presented in the Laced exhibition demonstrate how Christina Niederberger is able to assimilate elements key to modernist artists such as grids or expressive brushstrokes and present them in a way that goes against the ideas of the time but within her paintings they become a focus point. Niederberger plays with the notions of disparities between high art and popular culture, while also moving the boundaries of high art and design in her paintings.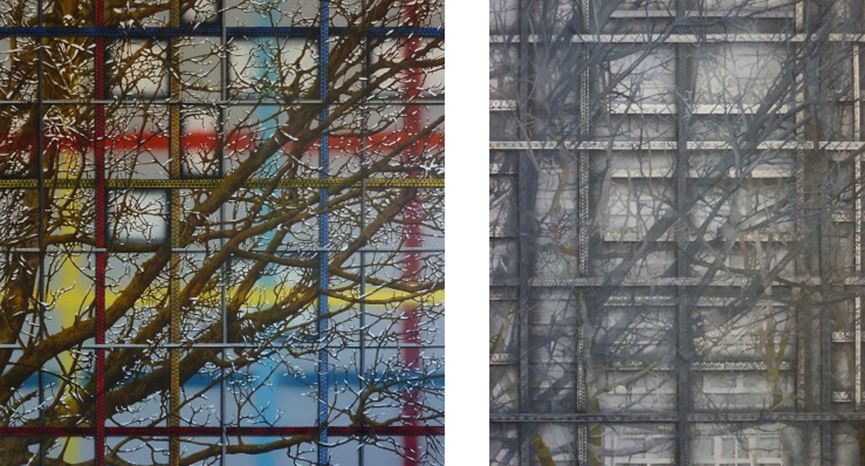 Laced Modernism
The forthcoming Laced exhibition by Christina Niederberger at the C&C Gallery will showcase her paintings that while use the visual language used by many modernist artists, have been re-created with a feminine softness but still celebrating the masculinity found in many of the modernist concepts. Perfect examples of this in practice are her pieces Laced Mondrian and Laced Cubism. Laced Mondrian sees Niederberger creating a painting based on Picasso's Still Life with Guitar and Mandolin that sees her replace the hard edged geometric lines with soft shading and lines of lace as is similar with the Laced Mondrian work that does away with the harsh black lines that he was well know for and replacing them again with strips of lace and allowing the colours to bleed into adjacent squares and rectangles resulting in a much softer image. With pieces such as Estate, Christina Niederberger incorporates a similar geometric feel, rows of windows on a tower block made to feel gentle by the use of subtle colour and each window containing lace that suggests an element of kitsch, an area that interests the artist as she did research for a PhD constructing an argument for kitsch that frees it from traditional ideas of class and taste and uses it instead as a cultural recycling, a marker between what is fashionable and what is out of date. By using the techniques of iconic paintings from the past, Christina Niederberger is able to reinterpret those things around us that can result in triggering memories as we are aware of some elements of the compositions but also confusing us by the use of new techniques and ideas.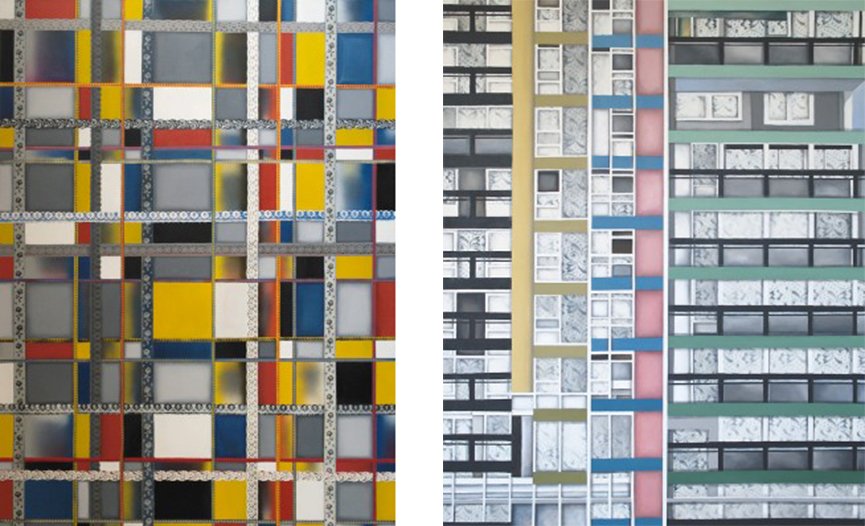 Christina Niederberger
Christina Niederberger was born in Bern, Switzerland 1961. She graduated with an MA in Fine Art from Goldsmiths, London in 2002 and in 2009 gained her PhD also from Goldsmiths. Since then she has exhibited her work widely and had work selected for a number of public galleries. As a painter she is interested in how the language of painting has been framed by cultural conditions and by exploring these historical aspects in her work she offers the possibility of a contemporary practice for these techniques.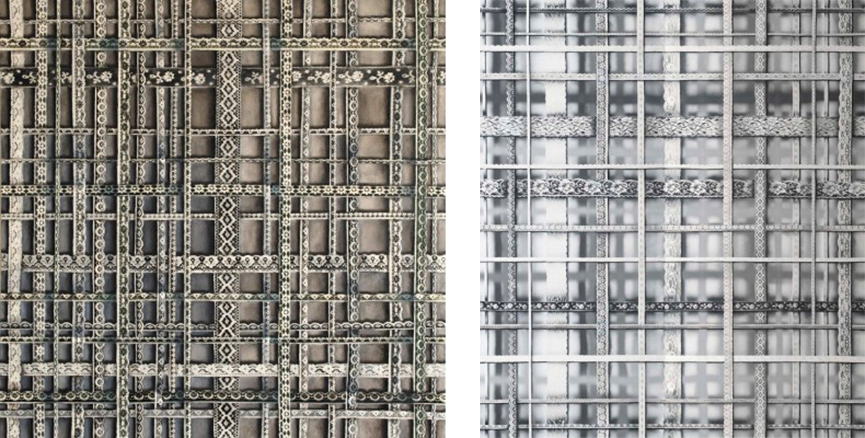 C&C Gallery
Laced by Christina Niederberger will be on view at the C&C Gallery, Forest Hill, London, from 10th January 2015 until 8th February 2015. Private View will be on 9th January 2015 6-9pm.
Keep up to date with all the news on the latest exhibitions by signing up to My Widewalls today.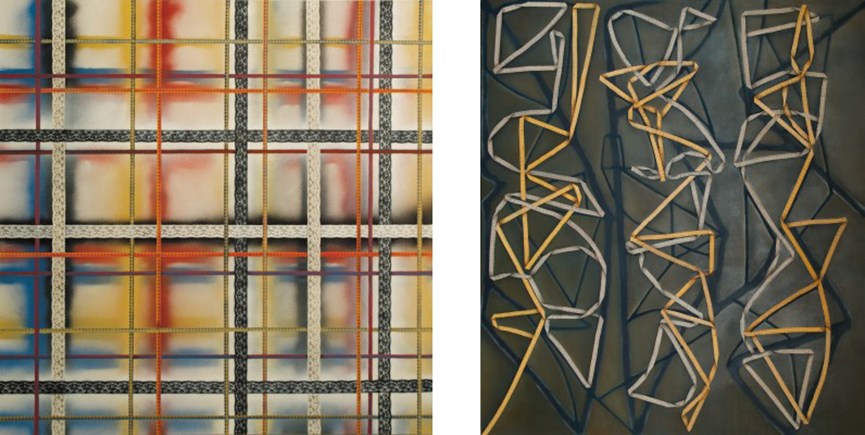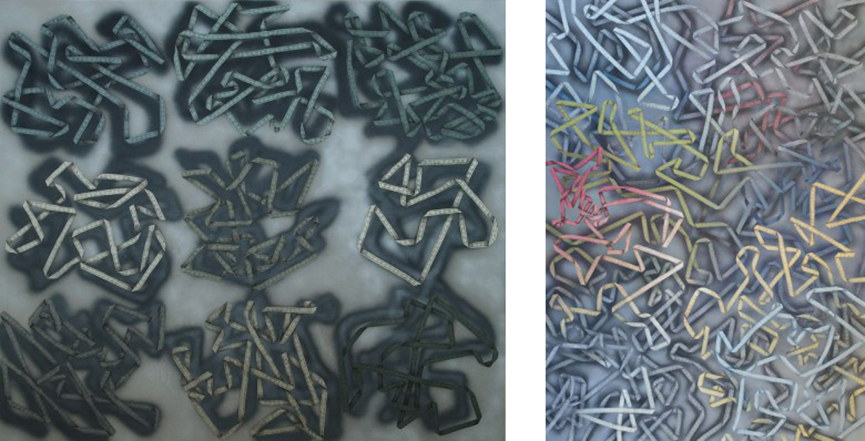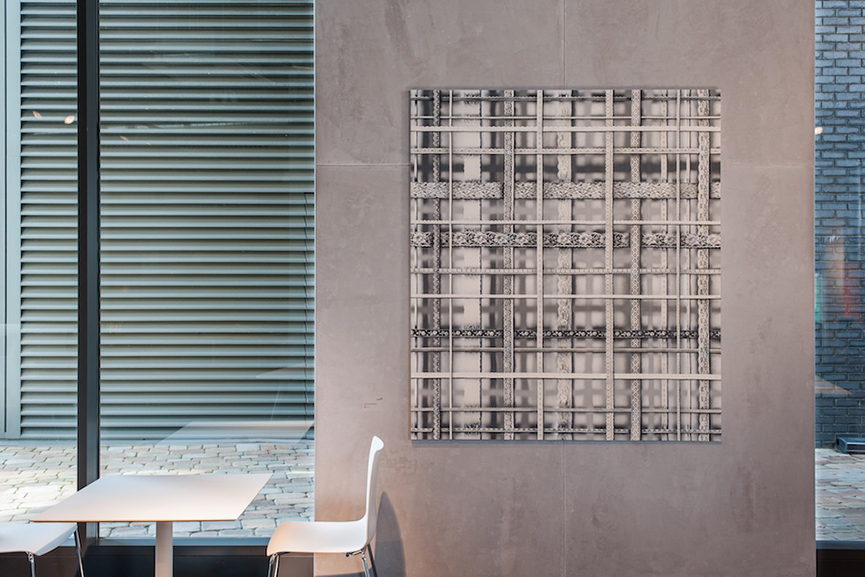 Photos courtesy of C&C Gallery & Christina Niederberger.