The Lakshmi Mohanbabu interview with New Art United reviled a simple fact, that an artist's world cannot be without creation. Over the past two decades the artist Lakshmi Mohanbabu, taught fashion design, illustration, design history, while she never stopped producing her own artworks. The focus on art and design and the need to communicate and to create has followed Lakshmi Mohanbabu from the beginning. Spending her childhood in Afghanistan during the late 70's and 80's is often cited as the reason why the artist turned to creation. Witnessing devastation around her, this was her act of rebellion, and her way to create hope. Focused on creating artworks which at times investigate the expressiveness of the female face, pure joy and atmosphere of color, and expressiveness of line drawing, Mohanbabu's image speak of deeper issues concerning the energy surrounding us, the balance between the contrasting states, and what it is to be free. The sense of freedom and bravery which allow the expression of oneself radiate from the artist's images.
Wanting to learn more about what stands behind the line, the simplified color combination, and how does Mohanbabu balance her career as a visual artist, designer, architect, and a teacher, Widewalls was quick to ask for a chance to speak with the author. Delighted that the author found the time to speak with us, we offer the world of pure creation, joy, and learning that Lakshmi Mohanbabu story reveals.
Exclusive Lakshmi Mohanbabu Interview
Widewalls: What inspires the production of your expressive female portraits? What issues or states of mind do you attempt to capture and present?
Lakshmi Mohanbabu: It was instinct which led me to portray female emotions. Women in general are more expressive. Having said that it is my belief that we are all very individualistic and the gender divide or bias is definitely getting erased with time. My desire was to focus purely on contrasting emotions. As humans, we need to experience a wide array of emotions to understand, express and communicate with each other. Contrasts are an intrinsic part of our lives. We need visual change to stimulate us, at the same time the comfort of one state of calm and easy understanding does not come if its compliment is not experienced - "The Yin & Yang". One would not understand joy if one has not experienced sorrow. To remain continually in one static emotional state is impossible.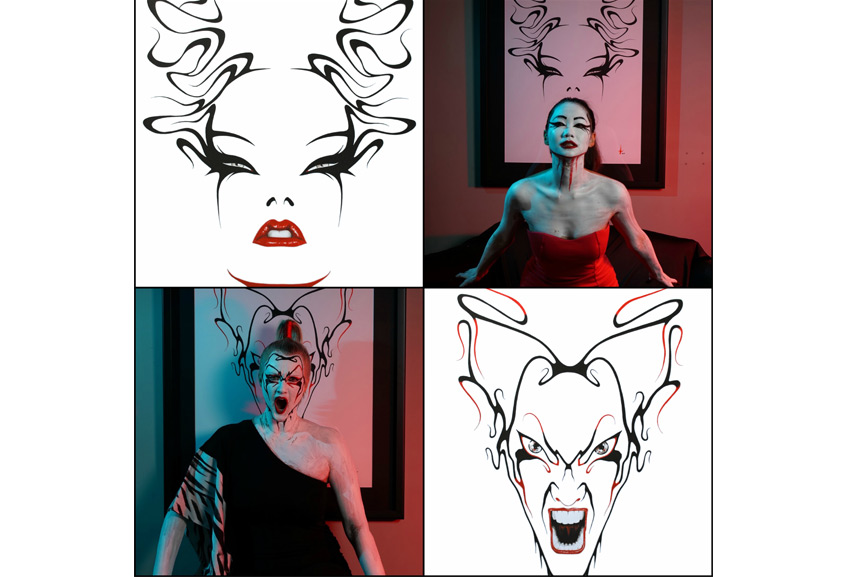 Express Yourself with a Fresh Twist
W: Many of your images focus on the expressive use of bold color contrasts, and simplification of the face to pure play of the line. As such, drawings and illustrations play an important role in your art production. What place, in your opinion, do such disciplines hold in contemporary art?
LM: Traditionalists draw a fine line between art, illustration, and design. Most of these boundaries have been questioned and contradicted by numerous artists in the 20th century; Matisse in his use of paper cuts; Andy Warhol in his use of everyday objects; Roy Lichtenstein in his use of the comic strip - to name a few. Contemporary art as I see it is using any medium to express yourself with a fresh twist, yet one that the viewer can identify with, relate to and imbibe.
The Expressions Series is inspired from waveforms and elements from nature, which have been adapted in a minimalist approach, along with visual elements of Chinese opera and Japanese Kabuki Theater. The characteristic bold and dramatic make-up of Kabuki and Chinese opera has universal appeal where exaggerated designs painted on each performer's face symbolize the character's personality, role and fate.
In this particular series of paintings, expressions have been brought out using a degree of realism in the eyes and the mouth leaving the facial form to the imagination of the viewer. The minimalistic brush strokes on the paintings have a story to tell, which relate to the particular expression.
The colors used are black, white and red. Black and white depict the traditional Yin and Yang showing opposing elements and red represents the color of blood - the common thread that links all humanity.
The choice of paper is in line with its use through the ages in Japanese and Chinese paintings. Acrylic is a modern medium hence the blend of old and new, in line with the theme of the Yin and Yang.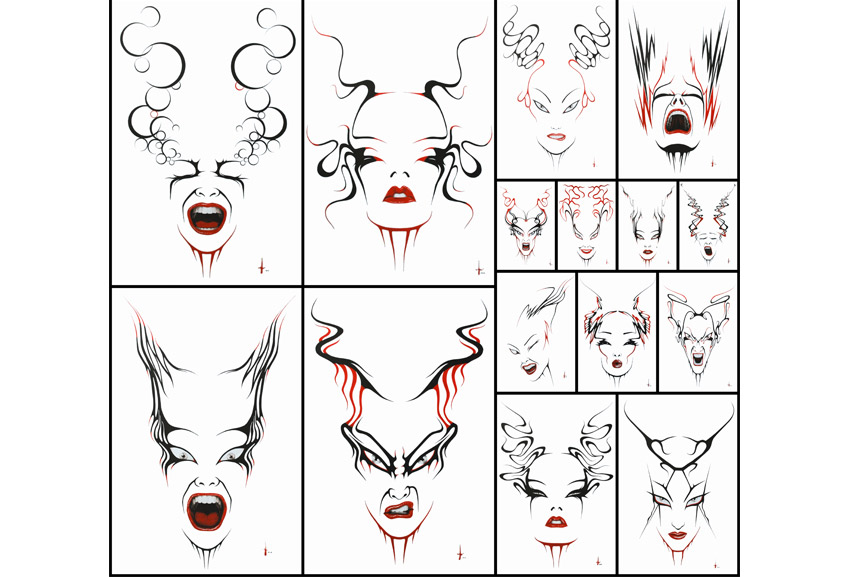 On Design
W: What relationship do you see opening up for design and visual arts today? As both a designer and a visual artist, do you feel that you split the two or is the fusion inevitable?
LM: Design is the planned creation of any work of art keeping in mind the aesthetic principles governing it; harmony, rhythm, balance etc. The method and process are inevitable even in a work of art that may have been created accidentally or intuitively.
As an architect and a designer, I view the design of space or a three-dimensional work of art as the direct outcome of handling two-dimensional fabric or material in its creation. The art hanging on a wall or the accessories complimenting a garment have a symbiotic relationship. One adds to the aesthetic appeal of the other.
Over the centuries artists have been inspired by cultures and images from across the globe with creation being an evolution of fusion, and design is an integral part of the visual arts.


The Meaning of Art
W: You have produced a number of artworks, which have incorporated the wide array of cross-cultural elements of your education and heritage. Is there a particular project you are most proud of?
LM: Of all my artwork I could say that the one I am most proud of would be the Nautilus Group from my Interaction series of paintings.
Our existence is based on our interdependence and interconnectedness with the world we live in; our immediate surroundings; the network of friends and family and ultimately the universe. The focus of my paintings is based on finding the harmony in art inspired by totally different cultures or styles, which may have roots in the same inspiration or interpretation.
Our DNA and our galaxy both follow a spiral form like the Nautilus, which is the form I have used to suggest this. It is a form seen in all aspects of life from the unfurling of a leaf bringing forth new life to the unwinding of a spool of thread like the unraveling of the mysteries of life.
The spiral serves the creative purpose of giving expression and form to something that does not yet exist, something new and unique, the 'mandala'. My paintings represent a slice of the spiral of time that may be seen growing and spiraling onto infinity but returning back to the same point where it started.
A single continuous line divides the whole canvas. This creates a shape, which outlines the void that reflects the same shape in rotational geometry creating two spaces; what is there and what is not; the known and the unknown; the Yin and Yang. Over the years, my study of global architectural forms and buildings has helped me to simplify this idea of complimentary and interdependent spaces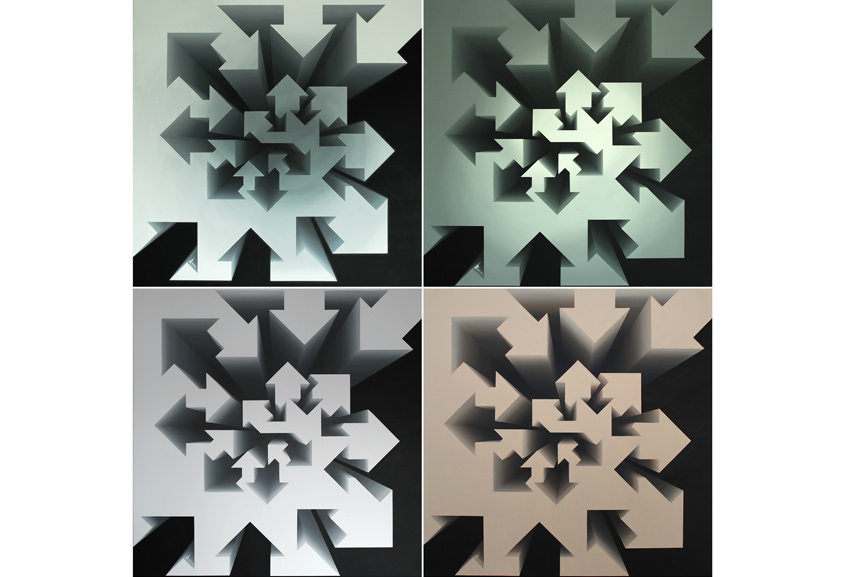 Threads that Bind Us
W: Many of your projects were created focused on a particular social issue and concern. Do you see that art needs to have a certain role within a society?
JM: We live in an ever-evolving world where the only constant is change. The change we need is an acceptance of people of various cultures and getting rid of racial, gender or sexual biases. For the human race to live in harmony it is vital that these issues are addressed and acknowledged. It is my belief that art can be that medium.
We are interconnected and interdependent having common threads that bind us, not divide us. This is an area that has fascinated me and I do feel that I as an artist definitely have a message to convey, one with a positive impact on society. We can't live in isolation and are interdependent on each other. More often than not in today's world, we tend to be dragged into the abyss of isolation without recognizing the fact that we all are a part of the same universe.
W: As a successful art educator, what were the main ideas you attempted to put forward to your students?
LM: I feel every individual has their story to tell and my teaching process was to nurture rather than impose my ideas on my students. I try and work with each one to find their niche or calling so to speak. Art could be for pure joy or expression; a desire to create or express something, not necessarily a work that always has a profound message to deliver. Techniques can be taught but innovation and ideas come from the individual and that is what I see as my goal, in bringing out the creativity in all my students.
W: What does the future hold for your art? Can you tell us a little bit about your future plans?
LM: I am continuing work on a series of paintings along similar lines dealing with recurrence and the concept of infinity. The next series I am working on is based on the Mobius. The paintings will not be a literal interpretation of the form of the Mobius but I would like instead to use the concepts associated with it such as the singular plane and edge of the Mobius in the representation of life cycles and its evolution in conjunction with ideas of reflections to create illusions of greater depth in a space.
I will also be exploring other mediums and styles, as in my abstracts. The Strata Morphosis series is based on the idea of change and layers that are gathered through the cycle of life. The start of life provides a new canvas that is literally painted on by life and the influence of our surroundings on us as life goes by. These varied influences have an effect on our looks, our personalities, and our behavior patterns. Strata Morphosis is about a snap shot capturing that fleeting moment in time.
I will also be delving deeper into the three-dimensional world of fine art and design, with installations, jewelry, and merchandise based around my art.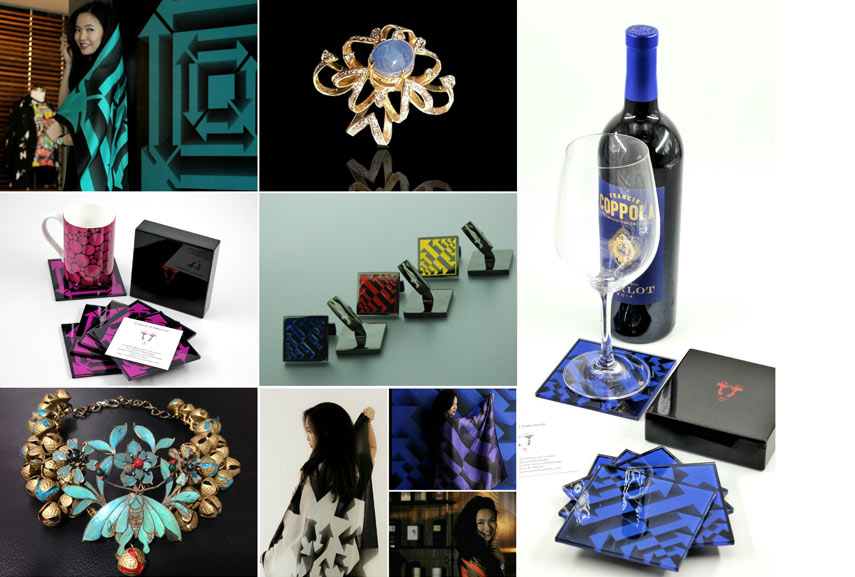 All images courtesy of Addicted Art Gallery. Featured image: Artist - Lakshmi Mohanbabu