The first auction house to specialize in 20th century Modern art and design, Los Angeles Modern Auctions (LAMA) started small, literally coming from the streets of California. Over the course of three decades, they have blossomed into a boutique auction house celebrated for specializing in California art and design.
Despite the current health crisis, LAMA continues to offer more works online, more than tripling the number of lots from their May 2020 auction. Their current Modern Art & Design Timed Online Only Auction brings together an exciting range of works from renowned Californian artists and beyond. LAMA President Shannon Loughrey says:
It's our pleasure to be able to continue to expand our offerings online. Our current auction builds on the success of recent online sales, with a strong selection of works by LAMA mainstays — John Baldessari, Sam Francis, and Ed Ruscha among them.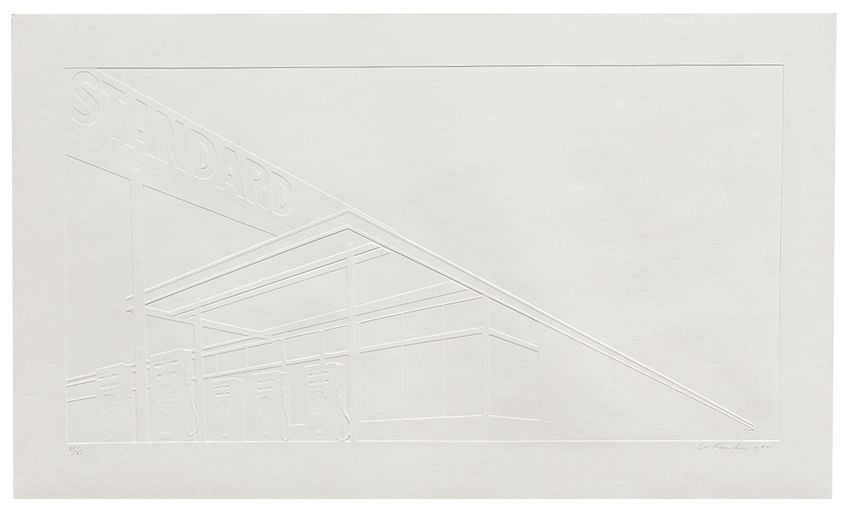 Auction Highlights
The current auction combines vibrant studies of color and light with contemporary art and classic works of design. The public can choose from lively abstractions by Claire Falkenstein, Sam Francis, Joan Mitchell, Robert Natkin, and Emerson Woelffer, contemplative monochromatic prints from Vija Celmins and Kiki Smith or a rich selection of California artists such as Carlos Almaraz, John Baldessari, Larry Cohen, David Hockney, Sam Maloof and Vasa, among others.
The auction is led by two monochromatic prints by Hockney - The Marriage from 1962, featuring an ubiquitous LA palm tree and figures drawn in a cartoon or child-like quality, and Hat on Chair from 1998, meant to represent the curator Henry Geldzahler. Another highlight is The Clock Struck Three by Carloos Almaraz, an LA-native who emerged as a leader of the Chicano Arts Movement. This 1989 piece merges elements of his psyche with the chaos and motion of city-living. The auction also presents Four Cakes by Wayne Thiebaud, a celebrated artist whose work Four Pinball Machines recently sold for $20,137,500, more than doubling his existing auction record of $8.5 million.
The auction also brings together stunning sculptural works that bring the examination of color, light, and reflection into the third dimension, such as John Baldessari's Pure Beauty from 1998, De Wain Valentine's Double Diagonal from 1980 and Vasa's Untitled (#1783) (4) from 1981. Among highlights is a stunning hyperrealistic sculpture by Carole Feuerman, Lady Nepture from 1998, a work that captures a fleeting moment of meditative activity. This piece breaks away from tradition with sculptures that accommodate the self-reflective female gaze, reflecting the artist's interest in Classicism and idealized forms.
While the majority of the works on auction reflect the heat and exuberance of summer through vibrant colors, one work notably forgoes color entirely. It is Ed Ruscha's Ghost Station from 2011, a colorless echo of previous depictions of the artist's iconic motif. The the motif is only outlined, featuring Ruscha's trademark diagonal line that divides the image and offers two ways of rendering perspective within this hallmark of the American vernacular.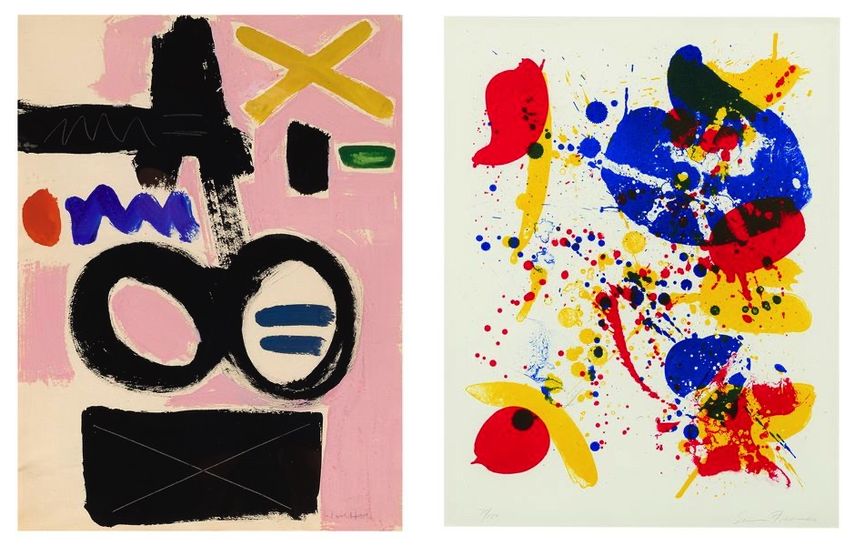 Practical Information
Modern Art & Design Timed Online Only Auction takes place online on LAMA's website until August 9th, 2020. You can browse the e-catalog here.
Featured images: Carlos Almaraz - The Clock Struck Three, 1989. Screenprint on wove paper. Image/sheet: 36.625" x 47"; Frame: 40" x 50"; (Image/sheet: 93 x 119 cm); David Hockney - The Marriage, 1962. Etching and aquatint on J. Green mould-made paper. Image: 11.75" x 15.5"; Sheet: 20" x 24.75"; (Image: 30 x 39 cm); Vasa (Velizar Mihich) - Untitled (#1783) (4), 1981. Laminated cast acrylic. 88.125" x 30" x 14"; (224 x 76 x 36 cm). All images courtesy of LAMA.