A contemporary graffiti gallery, Landmark Street Art has been dedicated to forging links directly with the artists that gallery director Ben Heslop loves and collects himself, opening other people's eyes to the work that is out there. The gallery has also brought around 15 pieces of art to the streets of Carlisle, working with a fine selection of artists from Israel, Holland, UK, Portugal and Austria. As Heslop explains, these projects have been picked up by Street Art Cities, putting them on the global map and making the communities part of a global phenomenon.
Recently, the gallery provided Ben Eine and Lucie Flynn with a blank canvas to work on, resulting in two stunning new murals in the city of Carlisle.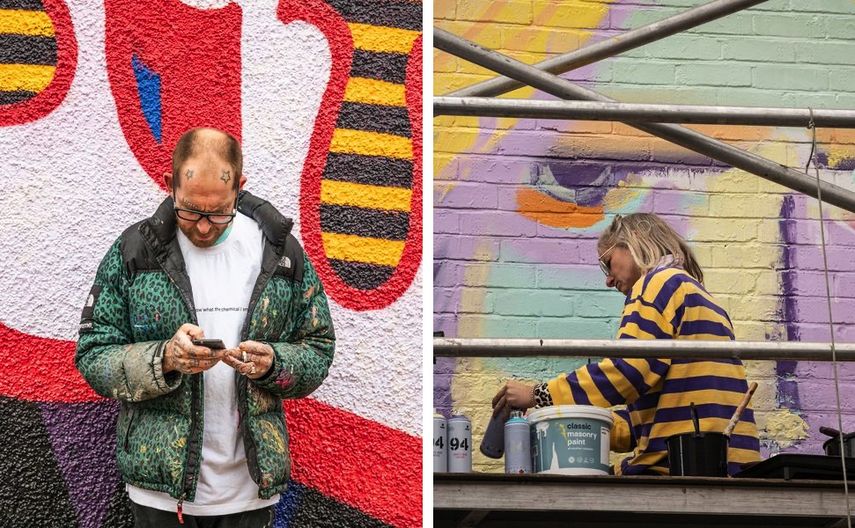 Murals in Carlisle
Having a real passion for the people they work with and a desire to spread art into the heart of the city, Landmark Street Art is always looking for an opportunity to engage with parts of the community that traditionally do not visit galleries. As Heslop explains, "street art and public art is a really great vessel for this as they are not expecting to see it and can engage and interact with it while going about their daily business."
This time, it was Ben Eine and Lucie Flynn who brought colors to the streets of Carlisle. Eine, whom Heslop describes as one of the true originators of the UK scene, has been a collaborator for a few years now. "It was a case of matching the right wall with the right gap in his schedule and then the magic occurred!," he says.
For Flynn, who has also worked with Heslop for the past few years, this is still a fresh experience as this was the second wall she worked on. "[I] really wanted her to do a wall as this wasn't something she had done before so it was great to see her take on this challenge and get her work up on brick!," he says.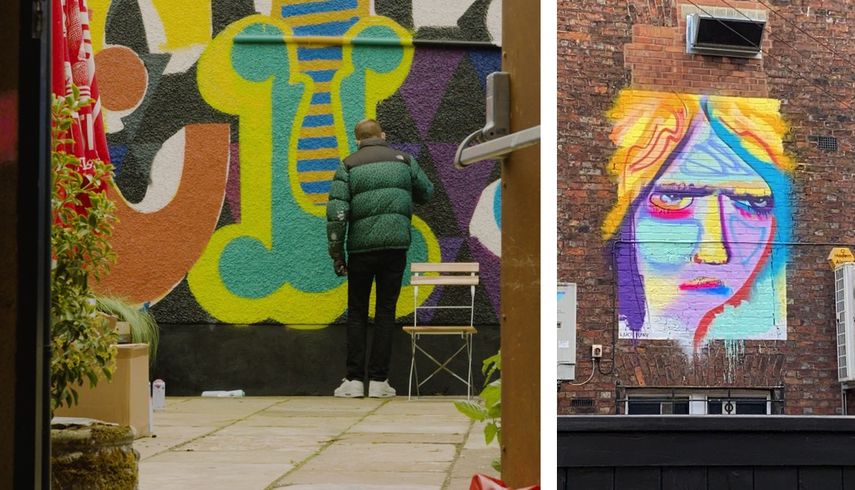 The Practice of Ben Eine and Lucie Flynn
A pioneer in the exploration of graffiti letterforms, Ben Eine developed his distinct typographic style characterized by its colorful and bright nature. Imposing and engaging, his distinctive letters spell words and phrases across walls, engaging the public in a unique way. His work adorns streets in cities all over the world, including LA, Mexico City, and Tokyo.
Working with spray paint, acrylics and ink, Lucie Flynn creates lyrical compositions characterized by bright, sometimes clashing palette. Using bold sweeps and splatters, she explores chance, color and form. She applies many layers of paint to the canvas before wiping away and reapplying new blocks or sections, resulting in a light and fluid form.
Ben Eine & Lucie Flynn: Painting The Great Border City
Landmark Street Art - Coloring Carlisle
While Flynn's piece, described as a bright artwork of a "quizzical sombre looking person", is placed quite high up on the side of the Thin White Duke, Eine's recognizable letters are located on the ground level in an alfresco dining area at the Print Yard, measuring 5 meters high and 15 meters long and covering a whole building.
As Eine explained, there are many cities around the world that actively encourage street art and see it as a rejuvenation process for potentially run down places.
This is going on all over the world so it takes someone with Ben's passion to kick start this and then hopefully the council get involved and it will keep on going.
Featured image: Ben Heslop and Ben Eine in front of Eine's mural. Photo by Chris Reid, courtesy Landmark Street Art.