A German contemporary artist, Lars Wunderlich aka LOOK the Weird has been fascinated by all the aspects of aerosol from an early age. In 2011, he founded The Weird Crew with nine other artists, all focusing on high-quality character design in unique recognizable styles. In addition to his street art, the artist is also an accomplished painter, increasingly working in his studio.
His latest body of work is currently on view at Urban Spree in Berlin, resulting from a month-long residency at the gallery. Titled What Are We Looking For? and on view until May 19th, 2019, the exhibition explores our tech-dominated and image-centric world, set on a course of endless progress. As humanity is increasingly distancing itself from the natural order, over-leveraging our resources, using ever-expanding technology to achieve a deeper exploration and understanding, the artist questions the intentions behind this quest.
The show features visual collages composed of portraits generated by algorithms, integrates economic cycles, and different elements juxtaposed to generate collisions, distortions and glitches. In the perpetual collision of images, the artist explores the unreal nature of those representations.
We had a chat with Lars Wunderlich about his first solo show at Urban Spree, the ideas behind it, the nature of images, the work of The Weird Crew and much more.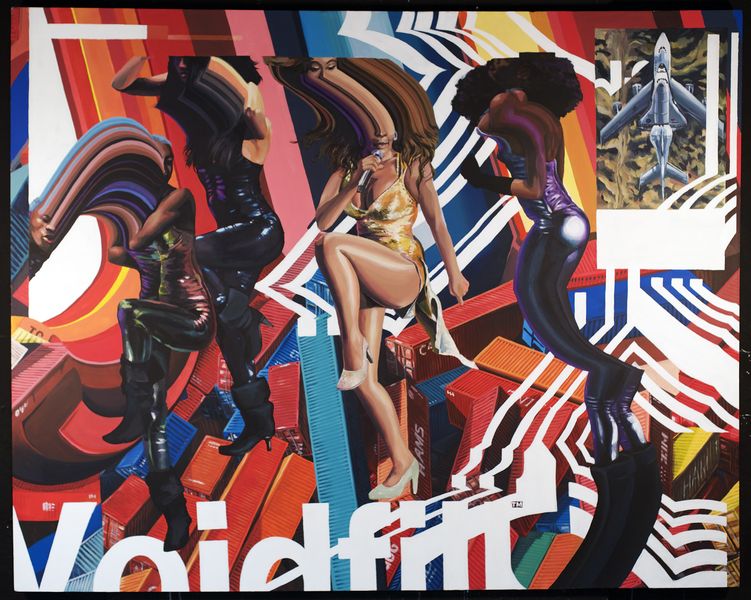 What Are We Looking For?
Widewalls: Your solo show "What Are We Looking For?" will soon go on view at Urban Spree. Could you tell us more about how this exhibition came to be?
Lars Wunderlich: The initial idea came out of the daily observations of the madness of the world online and offline. I asked myself the question: how are we as humanity evolving and what techniques and skills are we using to solve serious problems? The belief in technology and progress to uplift humanity was worth to study in a pictural way.
I thus began my research. At first, it was just a folder on my laptop. When Pascal from Urban Spree Gallery and I discussed the possibility of making a show together two years ago, I started to plan to keep things in line. He then offered me to have the Artist in Residency Studio at the gallery, to only dedicate myself to this show and create bigger canvases directly at the spot as well. We will be showing a 4 meters x 2,5 meters spray painted canvas!
Widewalls: The exhibition explores our tech-dominated and image-centric world, amidst our global course to endless progress. What do you think the progress really means and why do you think society feels compelled to continually chase it?
LW: I think we as humans are at a stage where we can either decide to stay in touch with our surrounding nature or completely rely on the technological progress because maybe it is inevitable to not do so. There are some utopists who might say that the progress of technology itself is a natural process and if you look at systematic expansions it might seem like that. I wanted to question if we are a product of our intelligence? Or are there things in life you can't explain, even with the science giving answers to everything? People are digging deeper, as a society, in deep space, artificial intelligence, or just plain and simple dig for resources for upholding good old capitalism. But what for? This search for answers on the personal level or as humanity is the underlying tide pool from where I started my own journey to find appropriate visual answers in the contemporary world.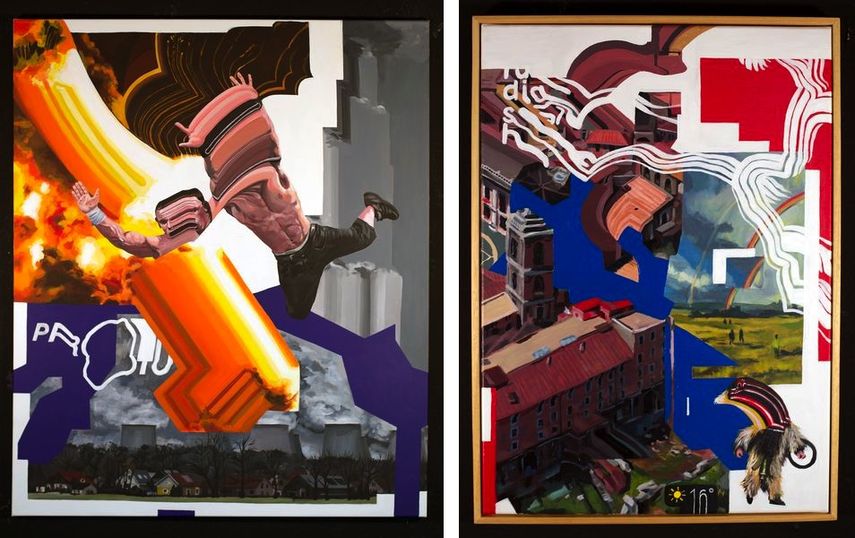 The Working Process
Widewalls: Your works are visual collages composed of portraits generated by algorithms, economic cycles, and different time elements which generate collisions, distortions and glitches. How do these works address the nature of images in our society?
LW: The glitches represent the encapsulation of time, movement or feelings. Not only that I like the visuals coming from this, but also it's the contemporary Zeitgeist to distort and break the reality. It has its roots in machinery which directs back to my main focus. I use collages to have a reference to the oversaturated simultaneity of communication in times of good old interwebs.
And last but not least, I use painting because it is such a rich and powerful media which gives back the personal touch and also its the complete opposite of the digital effect.
Widewalls: How do you conceive your compositions? Could you tell us something about your working process?
LW: The first stage is that I sit around for some time at least and just think and read a lot until I'm soaked up with an initial mood which directs me into an idea. Then I look into the internet and also into my research folder for what I have as a reference. In this stage, I am searching for the right reference and setting. Then I do a digital collage and try to destroy or distort everything to a certain degree. I also enjoy using mistakes and artifacts of digital visuality which I love to keep. This happens really intuitive and fast. Then I start to paint by hand what I have done digitally, which is quite calming and contemplating.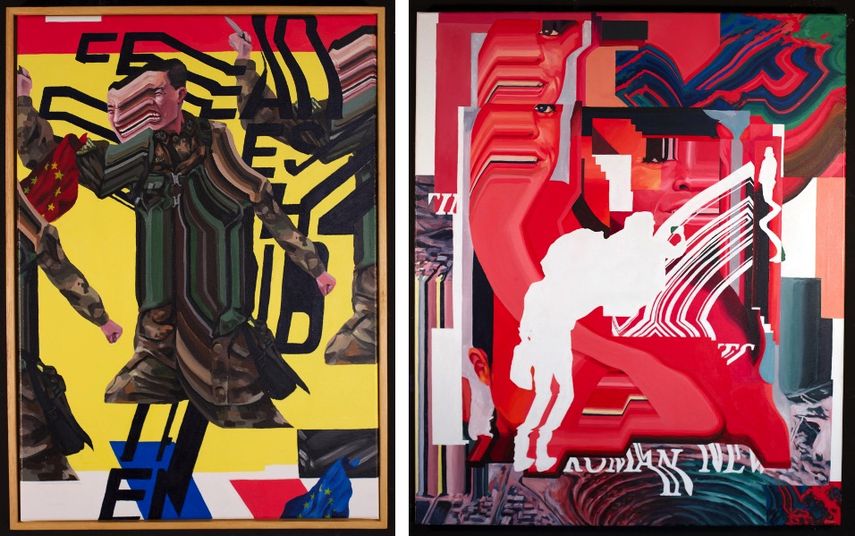 The Weird Crew
Widewalls: You are also a founder of The Weird Crew. Could you tell us more about the activities of the collective?
LW: The Weird Crew is a bunch of ten artists from Austria and Germany (Nychos, Low, Bros, DXTR,...) with its roots in graffiti and illustration. We met around 7-8 years ago and formed a crew to accumulate our styles together into big weird wall productions. Eight years later, we spread out all over the place, randomly meeting and painting walls together or doing exhibitions. It is quite difficult to get everybody in one place because everyone is quite busy. But we stay weird in mind, I guess.
Widewalls: Who are the artists who have inspired you along the way and whose work do you appreciate now?
LW: There are a bunch of artists I always admired, like Tony Cragg or Albrecht Dürer. Lately, it was Rinus van der Velde, Brad Downey, Werner Herzog, Neo Rauch and the work of Alec Soth. But what really inspires me is science, philosophy, a good book and conversations in a remote place in the woods at night.
Widewalls: Could you reveal some of your future plans and projects?
LW: There are two group shows in the next two months, one in Prague and one in Paris. Then I will rest a bit and set up a new studio. Also, I will finish the secret cabin-hide out in the woods where I will hang with friends and family in summer. Hopefully, I will find some good walls I can spray to bring back graffiti into my life. I miss it sometimes.
Lars Wunderlich: What Are We Looking For? Solo Show at Urban Spree
Featured images: Wall by Lars Wunderlich; The work in progress. All images courtesy of Urban Spree.