Widewalls: Could you describe your practice, from creating poetry to placing it in a public space? Where do you draw your inspiration from?
L: I write poetry and make a lot of notes, by writing and typing them out. Before I go out I go through my notes and poems and pull lines that really resonate for me that day and take those with me to share across town.
The kinds of things I write about are triggered by whatever I'm observing, feeling, or experiencing. It's like something will happen or I'll read something, or see something, and then words, images or emotions all come together in me and it flows out as poetry, a sentence or a specific art piece.
I draw inspiration from everything around me: life, love, hate, tolerance, intolerance, music, movies, politics, religion, all of it. We are definitely living in interesting, complex and confusing times. For me as an artist, it's this kind of crazy mix that makes creating work exciting. There's so much out there to draw from.
Widewalls: You have chosen to work from the shadows and keep your identity a secret. How does this mystery aspect affect your work and the message you are sending? Is it difficult to remain anonymous in the surveillance society of today?
L: I think it adds to my work because people can imagine me to be whom- or whatever they want me to be. The mystery is not something I've planned. It just happened. I've made the choice to be photographed anonymously, with my hoodie on, for different reasons. For example, not needing to have my face in the media when people started to ask me for interviews. It's amazing but not uncommon for people to fly under the radar and stay "hidden" in this surveillance society. What I personally like about it is that it gives my art a chance to stand on its own without the background noise of how I look, where I come from or what I do besides my art. I think the absence of this makes people's connections to the work stronger.
Widewalls: There is a real hype surrounding graffiti and street art today, it's booming on the art market and the increasing number of galleries is opening their doors to it. How do you feel about this commercialization of street art?
L: I actually don't mind it in the sense that it has opened doors for artists who now get the chance to show their talents and be successful, where there previously wasn't space in the gallery scene for what they were doing.
To me there's nothing more beautiful than a person who might not have walked a conventional path in life or did not get the right chances but has made their talent their own, works hard, gets recognized for it and is able to make a living, make a career out of something they truly love.
The only thing is, that you have to be very careful that the whole commercial mechanism of the market doesn't take away the soul of making art for you.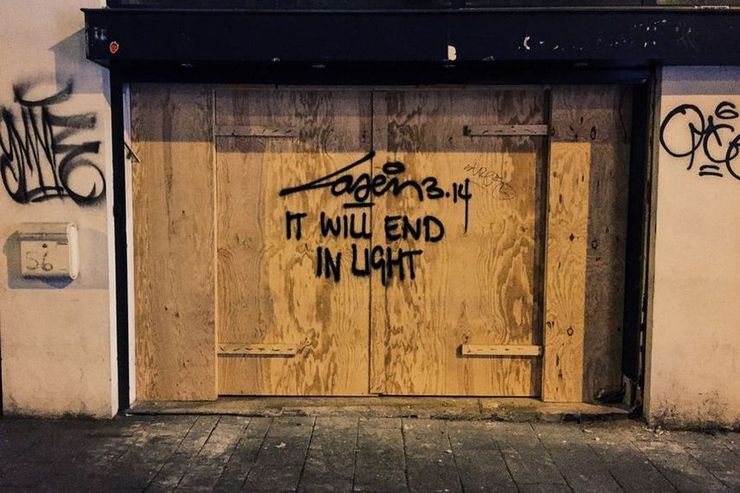 Widewalls: After a book about your street work 'Are You Reading Me' and a book of poetry 'White Phosphorus', you are working on a new title 'The Hippie Damage'. Could you tell us something about this new work?
It's a collection of poems that I've written about the ideals that emerged in the 1960's and spawned from the counterculture movements that sent Europe off into "half a century holiday from reality" as Douglas Murray would put it. Actually, the book opens with this exact quote by Murray. This book is my critique on the perception that times have changed, but the ideals and idea that once fought and spoke out against the establishment now have become the establishment itself, refusing to change and adjust their ideas and ideals to the modern times. Next to that I've noticed that the people who were part of the counterculture movement of the 60s, who once fought for freedom and free speech and open and honest debate, have turned into people, who are cracking down on free speech, not wanting to have to do anything that even vaguely can be considered "offensive.
To me they have become very dogmatic, rigid and intolerant towards other ideas and opinions and need to be questioned and held against the light of the contemporary status quo in open and honest critique and debate. I noticed when you do that these ideals and ideas crumble apart. Maybe this is needed to get back to the core of the original meaning. These are the concepts I tried to touch in this book. I still haven't found a publisher for it yet but if I don't, I will self-publish it this year. The exhibition and subject therein connect with my book.
Widewalls: You are also working on a new project called 'The Counter Canon', a website on Amsterdam's counterculture from between 1971 to 2001. What does the counterculture in Amsterdam look like now? 


The counterculture in Amsterdam at the moment is hard to find. There are some people who are questioning and speaking out more and more and I have the feeling that people's perceptions are slowly changing, but from my point of view countercultures or subcultures are pretty low and scarce in Amsterdam at the moment. It used to be a lot more when I grew up, Amsterdam being the progressive place back in the 60's and 70's. The street art movement, for instance, is not as big as in the UK, France or the States. I believe it will pick up again. I think this has to do with the gentrification that has gotten hold of this city. But we can already feel the cracks, people are starting to feel more and more dissatisfied. Something can spawn from this and create new subcultures. Then again, as always with most subcultures, they are first happening out of sight of the general public and underground before they are being picked up by the masses. There might be a lot happening somewhere, which we haven't picked up on yet, but all the elements are here for something to explode out of all of this and I can't wait to see what it is. I think there's always a hunger and desire for new or different things to happen that will take people on a journey that leads to new creative ideas and movement. We'll just have to see.
The Counter Canon of Amsterdam-site is something I want to realize because I believe it's an important part of the history of the city that needs to be preserved somewhere. It is a big project and needs a lot of focus to get it right. When I started the project I was also working on two web projects. I had to make a choice. I chose to work on my online Laser 3.14 T-shirts web shop first, a web shop where I started releasing limited Laser 3.14 shirts with a different quote each two months. The site is now up and running.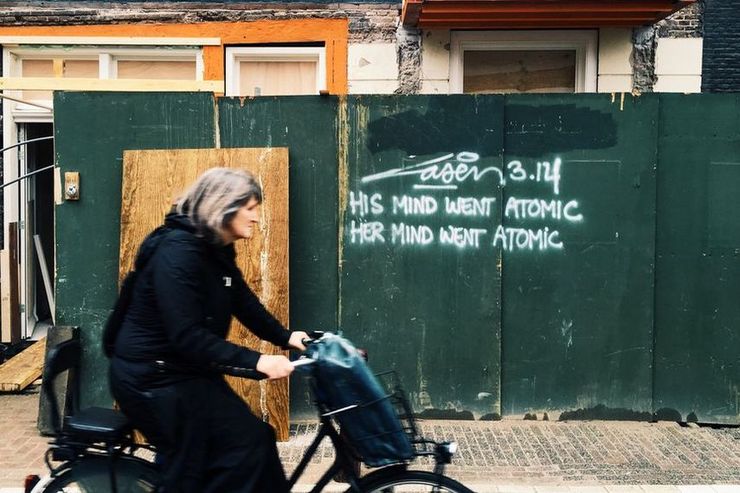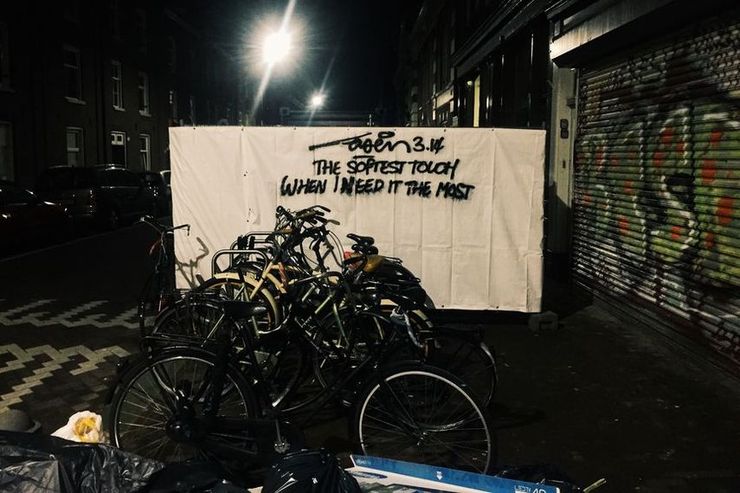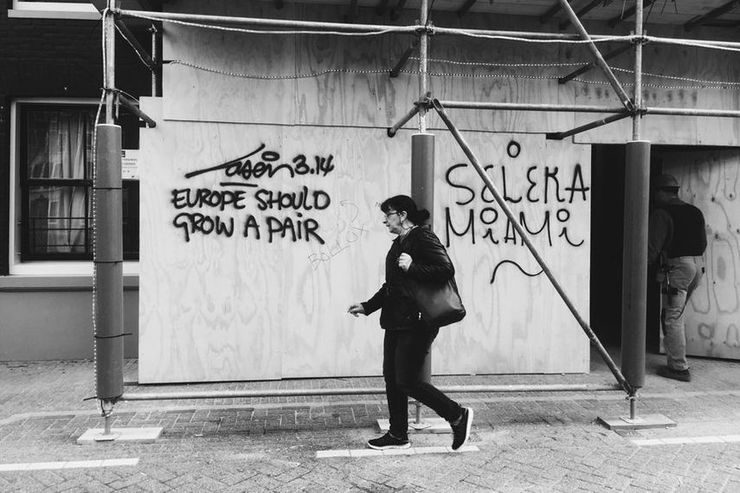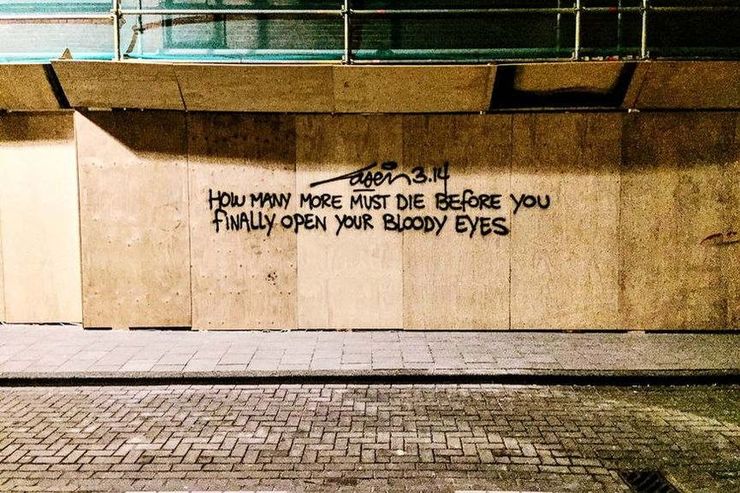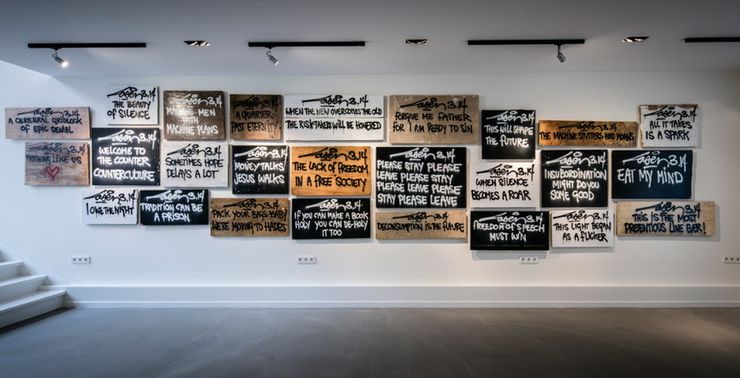 All images courtesy of the artist.