With vibrant and diverse art scene, aspiring artistic talents, municipality's friendly attitude towards street art and new art spaces appearing on a rolling basis, Amsterdam has re-emerged as a hotspot for contemporary and urban art. Soon, this vital and cosmopolitan city will get another great art space. Laser 3.14 show called Press Here for Some Counterculture, will be the first exhibition opening  Vroom & Varossieau, a new gallery specialized in the street and urban contemporary art by prominent and emerging artists. The solo exhibition of Laser 3.14, a Dutch street poet with cutting-edge texts, will feature his latest works presented alongside pieces by some of the leading street art figures: Banksy, D*Face, Keith Haring and KAWS.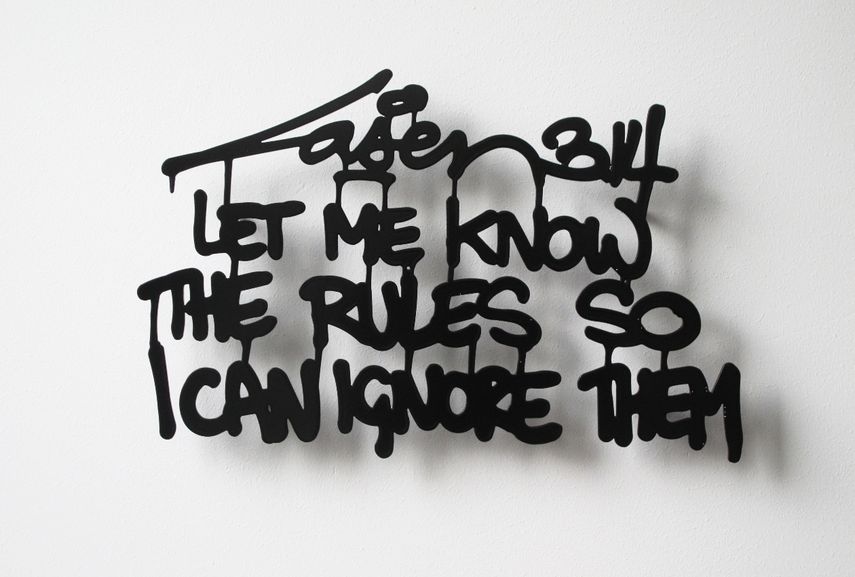 The Anti-Establishment Attitude
Laser 3.14 will present new bodies of work that extend beyond his short cutting-edge texts he has been famous for. Playing with the anti-establishment attitude and the ways it could be easily coopted, manufactured and mass produced, he demonstrates a certain playful skepticism in his practice. His longer-form wordplays are presented as large-scale black and white works on wood, alongside a new wooden patchwork installation. With his sharp statements on the social, cultural and political aspects of the world we live in, the artist invites us to contemplate upon it and question it. As an antithesis to the somewhat sarcastic title of the exhibition, his new artwork Troublemakers Make The World Go Round carved in a Corten steel shield, puts all dissidents in the spot.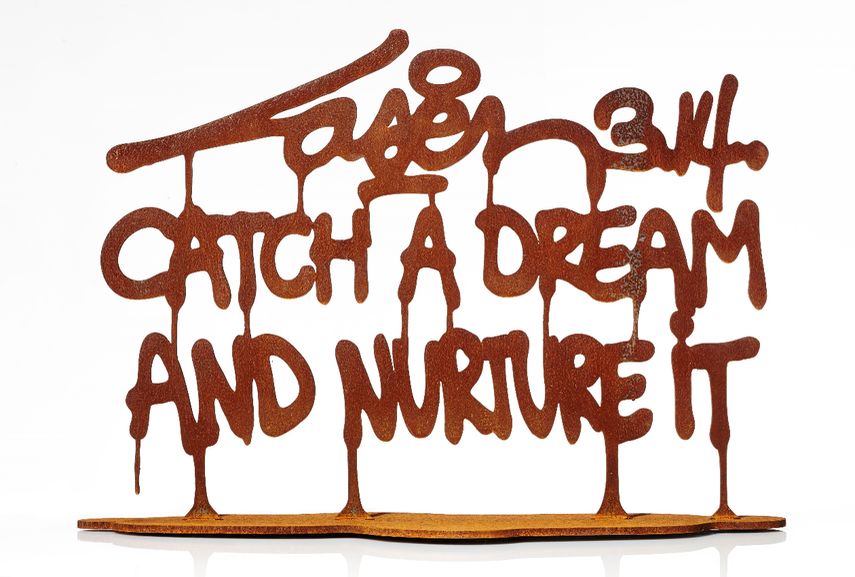 The Visual Poetry
Laser 3.14, the most visible street artist in Amsterdam, has been decorating walls and various temporary spaces with his provocative and poignant poetic messages for more than fifteen years. Keeping his identity a secret, he puts focus on his work rather than himself, communicating to the people of Amsterdam in a simple and honest manner. Avoiding euphemisms, he gets his message through in a straightforward way making it stick in one's mind. His work is focused on politics, religion, popular culture, everyday life and all the important topics that people often tend to forget. In addition to his graffiti works, he also creates graphic works on paper and sculptures.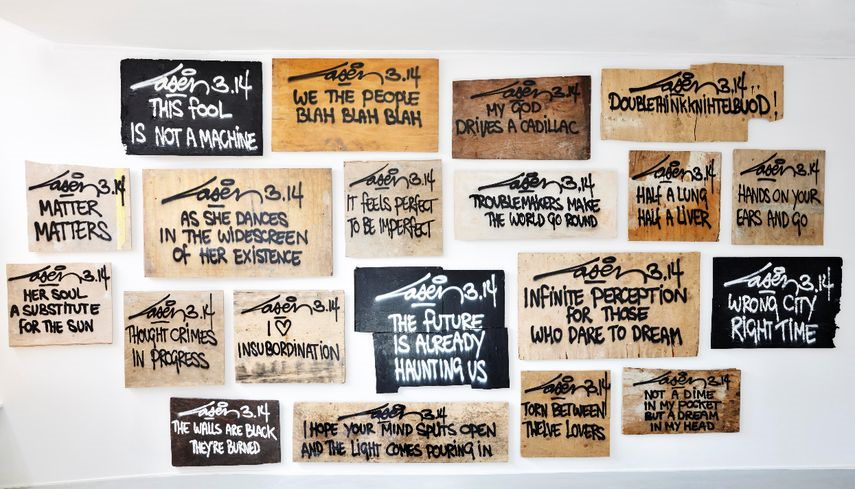 Laser 3.14 Show at Vroom & Varossieau
The work of Laser 3.14 has been presented in numerous galleries and has been recently acquired by the Amsterdam Museum as a part of its permanent collection. The exhibition Press Here for Some Counterculture by Laser 3.14 will be on show at Vroom & Varossieau from April 1st till May 15th, 2016. This new art gallery, located in the heart of the Ouid-Zuid district, was founded by Isabelle Vroom and Olivier Varossieau and designed for the best possible presentation of works of art. The next exhibition in May and June will focus on the Brazilian street artist Cranio.
All images courtesy of Vroom & Varoussieau.