An amazing exhibition is about to open at Saarbrucken-based Gallery Zimmerling & Jungfleisch – L'Atlas and Tanc are coming to this lovely city in Germany, and to this great art space for the exhibition that is titled HIGHLIGHT. Two amazing artists, both of them Parisians, will join their forces for this duo show, and will present some of the most significant works of their career. The show's title, HIGHLIGHT, perfectly explains the content of the exhibition – L'Atlas and Tanc will literally highlight their constant artistic evolution. But, they also highlight the step they took from the streets to the art gallery, from street art to contemporary art. Finally, L'Atlas and Tanc are also sharing a studio Les Lilas, Paris, and celebrate 15 years of working together.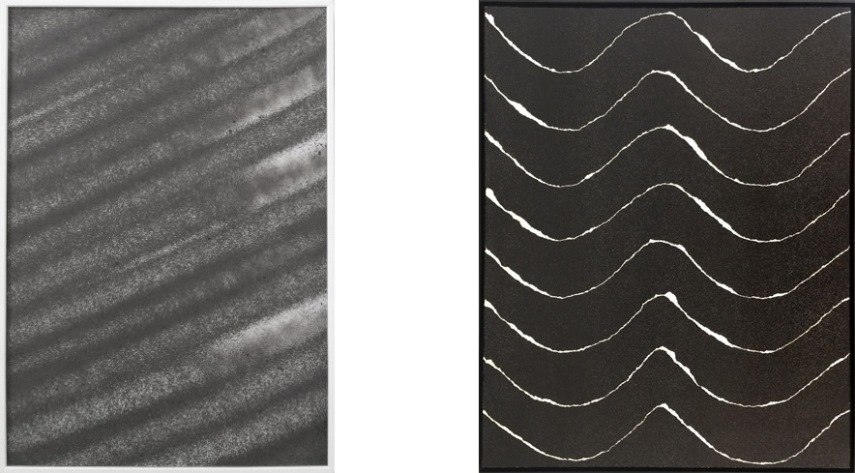 L'Atlas and Tanc
L'Atlas is a French street artist, painter, photographer and video artist, well-known for his unique and recognizable lettering style. His work is based on a reinterpretation of the ancient Kufi writing style combined with contemporary materials such as sticking tape or spray paint. The artist's approach distinguishes him from the others – every letter is considered as a shape and every shape as a letter, leading him to calligraphic abstraction. Tanc (real name is Tancrède Perrot) s a French artist born in 1979 in Paris. His work is characterized by the uniqueness of his style, which is better understood acknowledging Tanc grew up as a graffiti artist. He sees street art as ephemeral, and that the creative process matters more than the result itself. For the exhibition at Zimmerling & Jungfleisch, L'Atlas and Tanc will present only black and white pieces. While this black/white dichotomy symbolizes duality, it also represents a source of stunning complementarity.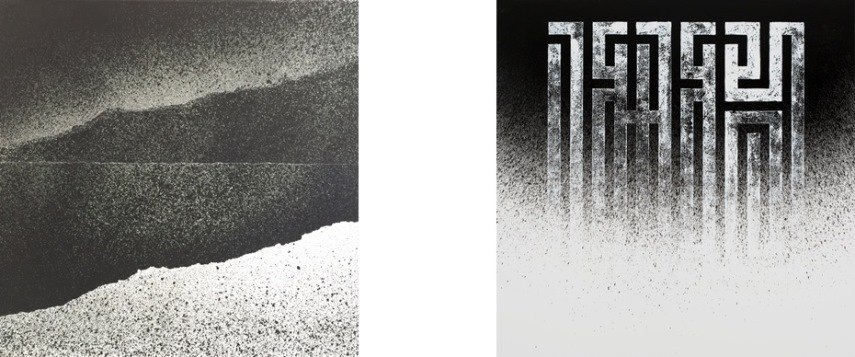 HIGHLIGHT
As we already mentioned, both artists use the combination of black and white. These combinations refer to "Chrome", as the "Color of Light" which perfectly matches with the gallery's space, which is characterized by minimalist architecture and industrial interior. In the exhibition HIGHLIGHT, L'Atlas mixes painting and graffiti with calligraphy, depicting his famous labyrinths, Arabic writings and compasses. On the other hand, Tanc's works are characterized by abstract landscapes. And while L'Atlas questions the notions of encounters and discoveries through the depiction of labyrinths, Tanc's works invite viewer for a journey through surrealistic nature.  Speaking about L'Atlas works, many of them metaphorically depict big cities, with streets like labyrinths in which we can easily get lost. Tanc's landscapes actually refer to the beautiful Corsica's landscapes, but every observer has his/her own perceptions and understandings.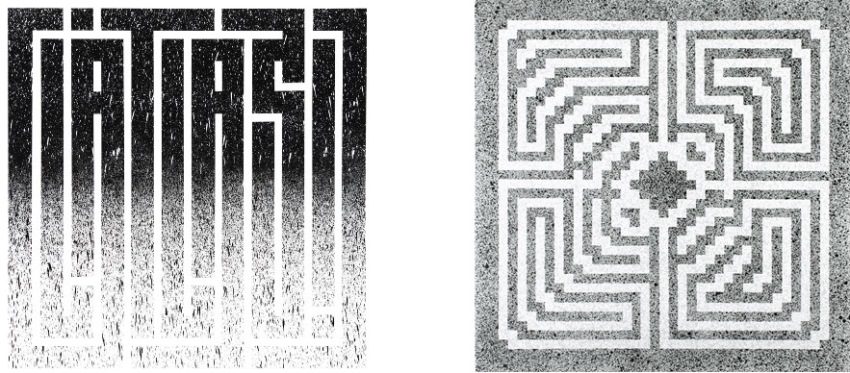 L'Atlas and Tanc Exhibition at Galerie Zimmerling & Jungfleisch
Not so long time ago, we celebrated the first anniversary of the Zimmerling & Jungfleisch Gallery with the amazing exhibition by Reso titled From Crossroads to Beyond. Now, we have a perfect opportunity to enjoy a great combination of street and contemporary art, cities and landscapes, interior and exterior – a show full of dichotomies and complementaries. So, be sure not to miss the HIGHLIGHT. The exhibition will be on view from April 21 until June 4, 2016 at Zimmerling & Jungfleisch Gallery in Saarbrucken, Germany. The opening reception is scheduled for Thursday, April 21, 7:00 pm – 11 pm. L'Atlas and Tanc will attend at the opening reception.
Featured Images: L'Atlas - Shadows, 2015; L'Atlas - Black Outline, 2015, detail; Tanc - Artwork, detail. All Images courtesy of Galerie Zimmerling & Jungfleisch