Vroom & Varossieau, one of Europe's leading contemporary urban and street art galleries, is currently preparing for the opening day of Substances, a duo exhibition that will feature collaborative works by French artists L'Atlas and Tanc.
These two creative individuals have worked together for over 15 years, creating art side by side whilst mutually questioning the link between reflection and realization within the realm of art-making.
Substances will be the first time the collaborative works of these two artists are shown in The Netherlands.
L'Atlas and Tanc, Vastly Different Urban Artists
Jules Dedet Granel, better known by his alias of L'Atlas, grew up in Paris where he was a part of the rich graffiti scene since 1991.
During his art history studies, Granel met Smail Bour Quaiba, a traditional calligraphist who invited him to spend three months in Morocco where he could learn about classical calligraphy.
This is where L'Atlas' love for calligraphy was born and, by extent, where his art started to take shape. Since then, he dedicates most of his time to creating the perfect balance between calligraphy and optical art on the canvas.
Tancrède Perrot, also known as Tanc, is a Parisian urban artist who, although he's a close friend of L'Atlas, has a totally different way of creating art. His work is characterized by a very unique style that seems to combine a contemporary take on Abstract Expressionism and the core of the graffiti culture.
With his explorations of the possibilities of the line, Tanc's work strives towards synthesis of shapes that represent the likes of his name, tags, individuals, music and life.
Never seeking perfection, Tanc always focuses on spontaneity and is constantly led by nothing else but his emotions that provide him with a rhythm from within.
Vroom & Varossieau Urban Contemporary Art presents: Substances by L'Atlas & Tanc
Substances
As is the case with all collaborative series of works, pieces selected to appear in Substances will be reflecting on the creative collision of two different artistic personalities.
While Tanc prefers to rely on automatism and randomness, L'Atlas, with his incredible calligraphy-like works, prefers to have as much control as possible over whatever it is he's creating.
Despite the differences on almost every creative level, the two artists focused on le don de soi (self-sacrifice) for this collaborative show, establishing some common ground upon which they were able to mutually construct something from scratch.
Visually speaking, these works will be a loud union of color and rigor underlined by the tempting alchemy of textures. Playful and rich with coloration, these paintings are brilliant works of abstraction.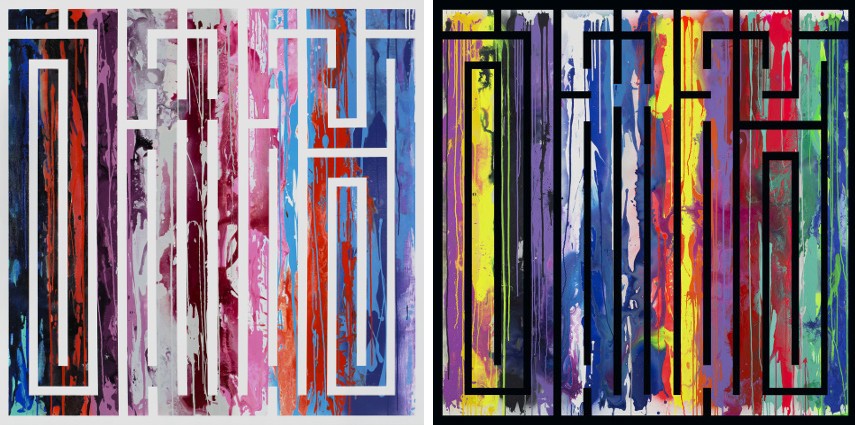 L'Atlas and Tanc Art Exhibition at Vroom & Varossieau
Working from their studio in Lilas (L'Atelier de la Porte des Lilas), L'Atlas and Tanc based their collaboration on harmony despite their styles and overall understandings of art being so far apart.
Yet, their partnership is one of total equality as the two of them continue to find recognition within each other, literally being a whole that's more than the sum of its parts.
Substances will run from the 1st of February until the 17th of March 2018 and it will take place at Vroom & Varossieau Urban Contemporary Art in Amsterdam, Netherlands.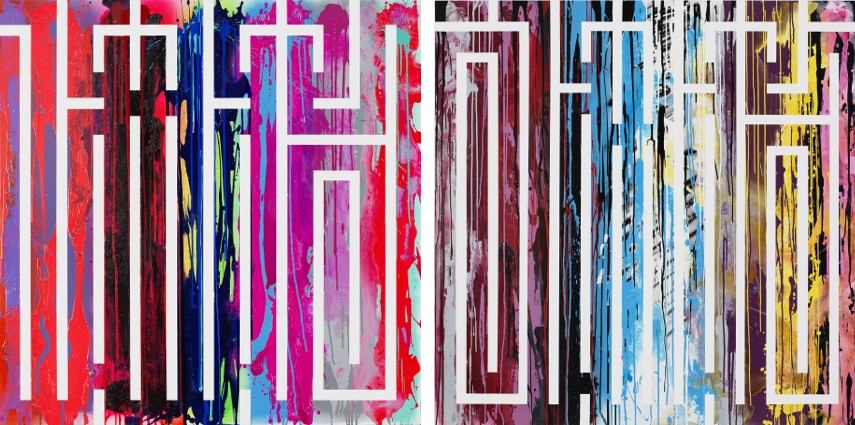 Featured images: L'Atlas Working in His Studio, photos by Byndr. All images courtesy of Vroom & Varossieau Urban Contemporary Art and the artists.