Urban and soulful Lazoo art is soon going to be presented in the first exclusive online exhibition at artsuggest.com! Titled Funky and Soulful Flavours on Papers, this show explores his paper drawings from the 90's. Most of them have been a part of specific magazines as illustrations or artworks on famous hip-hop album covers. Since his beginnings with stencil art, he has been a part of various artistic fields, from drawings, over commercial design to painting murals. Lazoo is back on the scene again, and this time he is using the internet space as a platform for distribution, during this unique online exhibition!
The Influence of HIP-HOP
Lazoo's artistic career was flourishing during the 90's, when he mostly found his unique and soulful expressive style within the Hip-Hop scene, with a special kind of atmosphere and aesthetics that still leaves traces within his works. Already then, he created his first album covers with the Big Cheese Record label, known for its funky and soulful flavours and serving as an inspiration for his latest exhibition title as well. Besides this, he was also a part of several publications within the field of music such as BEST, Rock'n'Folk, and L'Affiche Magazine. His artistic production and inspiration, however, go much beyond the music press and records, and into galleries and urban areas. One of his most famous urban pieces was the great mural fresco at Stalingrad in Paris from 2006, which was followed by exhibitions at the Grand Palais, Gallery de la Chapelle and the GoGalery of Amsterdam.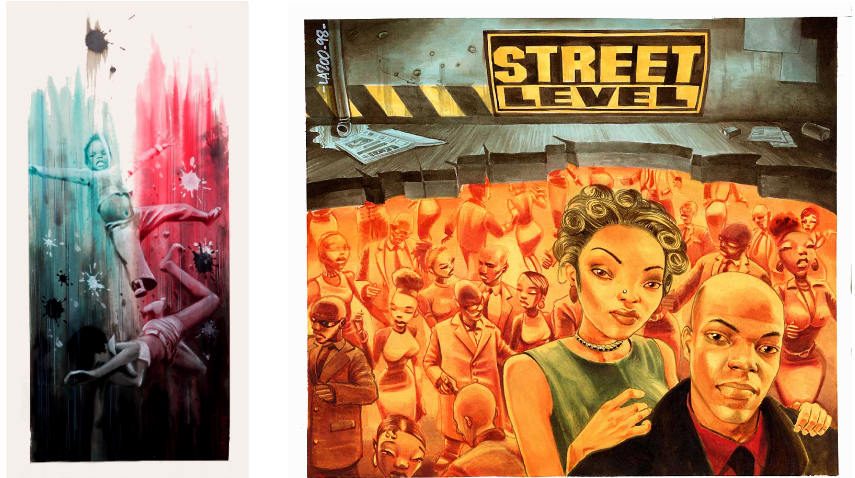 A Free and Unique Graphic World
After Lazoo left stencils for paintings, his forms became more free and open. The graphic world of this artist is very close to the field of comics and drawings, and is mostly very figurative. Bright and vivid colors make up most of his works, making them easily recognizable, warm and inviting. The most identifiable characteristic of his works is definitely his enormous attention to detail and the representation of characters which belong to all races. His female characters usually remind us of the Hip-Hop scene with their specific makeup, clothes and afro hairstyles. Again, we can observe how his entire production became shaped by the world of music, inevitably influence also his later work and expression.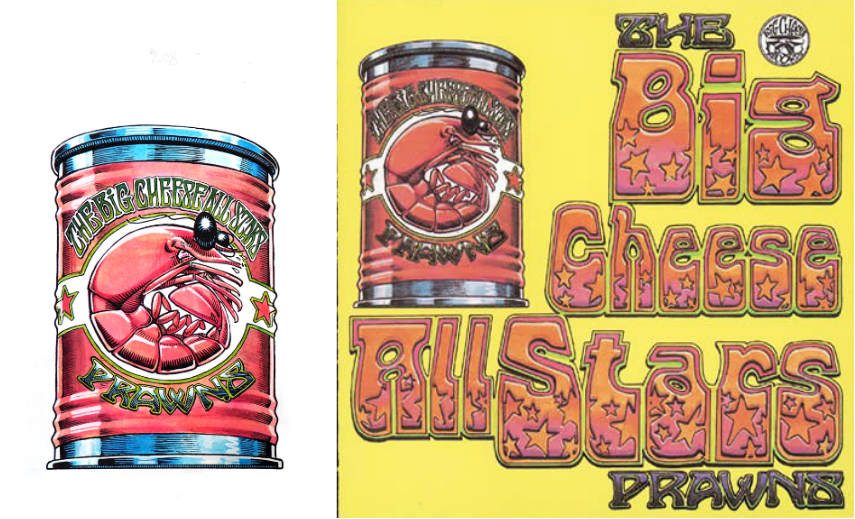 The First Online Exhibition of Lazoo Art!
Lazoo's big comeback will be created in two parts, as a double exhibition which makes his first grand appearance on the internet. The first part will take place on the 25th of April at artsuggest.com with about forty paper drawings from the 90's, titled Funky and Soulful Flavours on Papers. Do not miss this energy of a true soul atmosphere with a funky watermark within all of his sketches, projects and original drawings. The second part of the exhibition will still remain a surprise and will be held next September.
Big Cheese Records - Menu Kebap (1996) - Don Baba - Fallin

Featured images: Lazoo - Menelik, 1995, Lazoo - Menu, 1993. All images courtesy of Artsuggest.com.