Art's relationship with food has a long history, from being its subject matter to being the medium itself, to unique ways in which dinner parties have found way through among the artistic circles, and have even become works of art in their own right.
For author Esther Choi, food, art and design have an even more special connection than all of this. In 2015, she decided to conduct a social experiment, one that would find unexpected commonalities between the three. Inspired by a bill of fare one László Moholy-Nagy designed for a dinner in honor of Walter Gropius in 1937, which she found while doing an unrelated research, Choi decided to recreate this bill for a dinner party she too would thrown for her own friends. And so, the first ever Le Corbuffet took place in an apartment in Brooklyn, consisting of dishes bearing titles such as Mies van der Roe Dip, Martin Parrfait, William Eggleston Strata, Bananni Albers Babka, Kimchi Gordon and many more.
As you might already guess, Choi created actual meals named after famous works of art and design and their creators, but with a fun twist. Choi's modest guest list of 20 people enjoyed their evening over these peculiar dishes, following the author's intention to bring art to the everyday life through something as, might we say, banal yet essential like food.
On October 1st, 2019, the Le Corbuffet cookbook published by Prestel will also see the light of day, featuring recipes that invite the readers to experiment, and share their experience with others. Drawing a parallel with artworks in visual art and design, these recipes are meant to be reinterpreted, improvised with, remixed and savored.
How did the making of this book look like? How challenging and fun was it to come up with these recipes? We talk too Esther Choi to find out.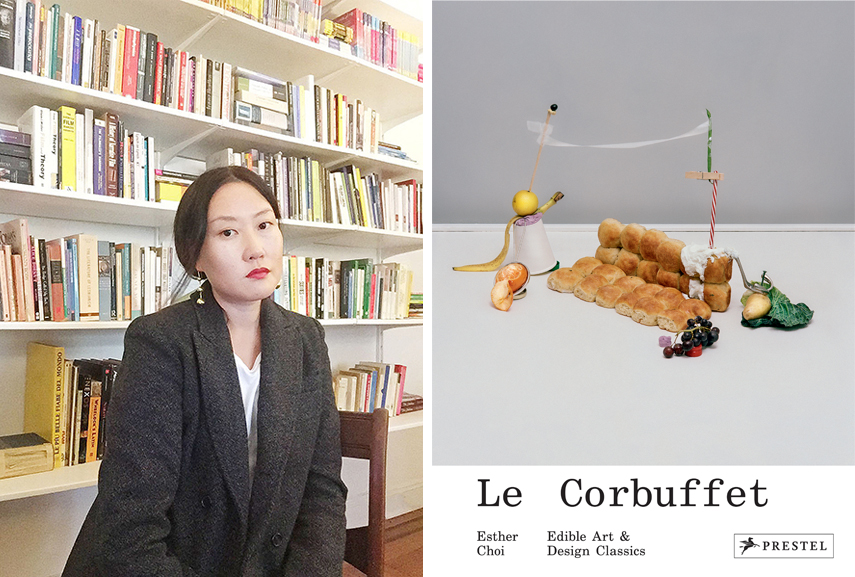 Esther Choi on The Making of Le Corbuffet
Widewalls: I want to begin by asking about the Moholy-Nagy bill of fare you so casually found while scavenging for your doctorate degree. How does one just stumble upon such an artifact?
Esther Choi: My dissertation in the History and Theory of Architecture at Princeton explored exchanges between modern architects, designers, writers and biologists in Britain, and their shared aspirations for social change during the interwar period. An important protagonist in the history of British modern architecture and design is Jack Pritchard, whose company Isokon helped to relocate several Bauhaus designers (Walter Gropius, László Moholy-Nagy, and Marcel Breuer) to London under the pretense of employment, during the rise of Nazism in Germany. Isokon commissioned important architectural and design works in England by these figures, as well as other designers who were inspired by the Bauhaus's tenets. I spent a week examining Pritchard's archive at the University of East Anglia. Pritchard attended the dinner event, and kept the menu, though copies of the menu can be found in the archives of other notable individuals who attended the event, too.
Widewalls: What were your friends' reactions to that first event featuring the food from "Le Corbuffet"?
EC: They didn't really know what to expect, nor did I. Judging from the leftovers, I gather they enjoyed themselves; they ate every last crumb.
Widewalls: This kind of project certainly requires connoisseurship of both gastronomy and art history. Where did these come from for you?
EC: I studied art and architectural history in school, and the histories of art and architecture have always informed my art practice, research and scholarly writing.
I wouldn't consider myself a gastronomic connoisseur by any means. On a personal level, my interest in food was largely fostered by my family, which is quite culturally diverse. A curiosity and interest in food was encouraged at a young age, since it was a social conduit.
Le Corbuffet attempts to prod at the notion of connoisseurship, and the systems by which taste (both literal and figurative) are created, albeit with humour and play.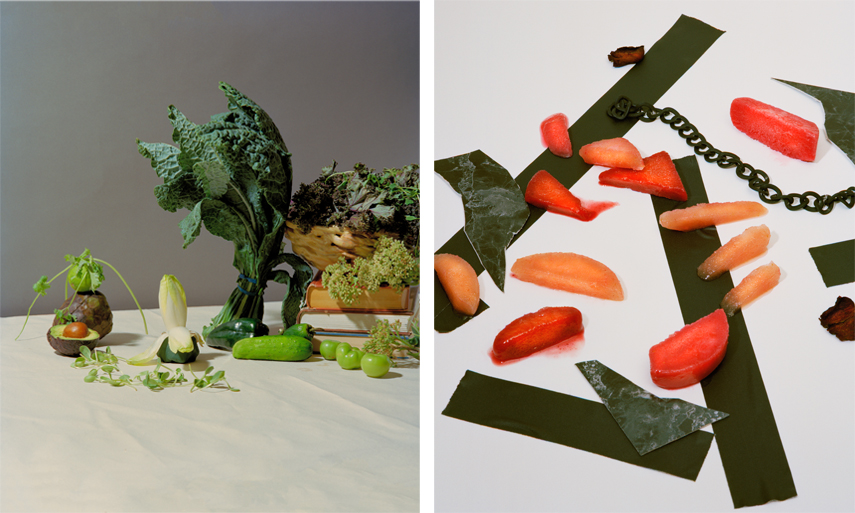 Ellsworth Kelly Tomato Jelly, Quiche Haring & Co.
Widewalls: How fun, but also challenging, was it to come up with the dish names?
EC: It became a mild obsession. It wasn't uncommon for friends to message and text me with new puns and suggestions at all hours.
Widewalls: What about the research process itself? How would you describe it?
EC: The recipes sprouted up in various ways.
Sometimes I was driven by the biography of an artist or designer; at other times, there were aspects of the art/design works that I wanted to highlight. Take for instance, the Richard Serradura; so much of Serra's works involve industrial materials and manufacturing processes and physical labor. I wanted the recipe to, in turn, ask the participant to consider industrially processed foodstuffs, since serradura consists primarily of three mass-produced ingredients: Maria cookies, sweetened condensed milk, and dairy (heavy cream).
I was also interested in considering how the historical aspects of food availability related to the art/design works themselves, since produce (like other cultural products) is a historically contingent resource and commodity, subject to technological, social and economic shifts. For example, Superstewdio is a recipe that developed from a Florentine stew called peposo. Whereas a 1960s version of the dish could incorporate tomatoes, tomatoes were never in the "original" 15th century version since they were largely unavailable at that time.
Likewise, migration is another concept explored throughout the book. Some recipes have an ambivalent attitude towards origins and authenticity, exploring, for instance, the commonalities between foodstuffs (like dumplings) around the world.
What interests me in the cookbook as a cultural format – and cooking as a cultural practice—is that it's difficult for a dish to be an "original." Like art and design, there may be a cult of genius attached to certain culinary techniques or attitudes, but recipes—like photographs-- are inherently copies. They cannot be copyrighted.
Widewalls: How do you decide what a dish related to a certain work of art will consist of?
EC: Beyond these considerations, I wanted to use relatively common ingredients that can be found in most (Western) grocery stores and I tried to keep the recipes economical and accessible. In the introduction to the book, I discuss how the Gropius menu represented a culinary experience for the cultural elite that mirrored the "precious" inaccessibility of the cultural commodities that have come to characterize the art/design canon.
The book's recipes attempt to unpack this relationship by privileging resourcefulness over resources, and trying to encourage creative production using a limited economy of means. The project as a whole, and especially its photographs, was created according to this dictum.
Widewalls: Do you have a personal favorite among the dishes/recipes in the book?
EC: Not really.
Widewalls: Did you have people creating food from your recipes already?
EC: No, since the book is not released yet. But it's not uncommon for friends to ask for recipes.
Widewalls: What's next for you?
EC: I'm working on a new body of work for an upcoming solo exhibition at Texas State Galleries in 2020.
 Editors' Tip: Le Corbuffet: Edible Art and Design Classics
It started as a series of dinner parties that Esther Choi--artist, architectural historian, and self-taught cook--hosted for friends after she stumbled across an elaborate menu crafted for Walter Gropius in 1937. Combining a curiosity about art and design with a deeply felt love of cooking, Choi has assembled a playful collection of recipes that are sure to spark conversation over the dinner table. Featuring Choi's own spectacular photography, these sixty recipes riff off famous artists or architects and the works they are known for. Try the Frida Kale-o Salad, or the Robert Rauschenburger followed by Flan Flavin. This cookbook is strikingly beautiful and provocative as it blurs the boundaries between art and everyday life and celebrates food in an engaging and imaginative way.
Featured images: Quiche Haring; Rhubarbara Kruger Compote; Jackson Pollock Pot A Pie. From Le Corbuffet: Edible Art and Design Classics © 2019 by Esther Choi. Photography © 2019 Esther Choi. Published by Prestel.