One of the most important architects in history, Le Corbusier was a key figure when it comes to understanding 20th-century modernity and contemporary living. The Swiss-French modernist who has contributed greatly to architecture, urban planning, visual art and design was also a prolific painter and many of his architectural ideas were actually born in his painter's studio. In 1948, Le Corbusier wrote:
There is no such thing as a "pure" sculptor, a "pure" painter, or a "pure" architect. The three-dimensional event finds its fulfillment in an artistic whole at the service of poetry… If you want to attribute any importance to my architecture, you need to discover the sources in my painted work, my secret search for aesthetic perfection which I have pursued all my life.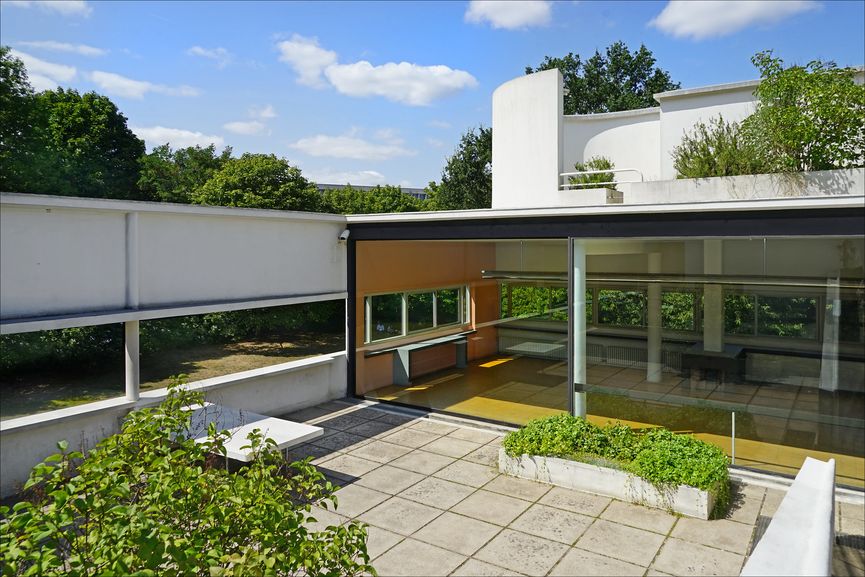 Le Corbusier Architecture
When one thinks of Le Corbusier architecture, the images of monumental concrete high-rises and lessons about his iconic five principles immediately come to mind. These iconic five architectural principles were developed as early as 1920, summarized as follows - the building should be raised on "pilotis" to free the walls of their structural function; with the walls freed of their structural role, a free plan should be employed; the facade should be designed freely; the horizontal window that cuts the facade along its entire length should be used to light rooms evenly; the roof should be flat and host a roof garden.
A great pioneer of Modernism in architecture, Le Corbusier proclaimed that the house is a "machine fo living", defining the fundamental attitude of the architectural movement. By favoring exposed concrete and monumental scale, Le Corbusier has also inspired Brutalism, so named for the French "Béton Brut" meaning raw concrete. Incredibly ahead of time, he helped form the basis of almost all modernist architecture and urban planning, establishing the very way in which architecture is today practiced.
The prolific architect created impressive architectural wonders all over the world. Here are six gems of Le Corbusier architecture that you should definitely know.
Editors' Tip: Le Corbusier Le Grand
A decade after its first publication, the bestselling monograph Le Corbusier Le Grand is finally available in a new paperback edition. Documenting the life and work of one of the giants of twentieth-century architecture and design, the book presents an array of sketches, photographs, and correspondences, charting the vast and varied output of Le Corbusier, an artist who continues to fascinate those inside and outside the architectural world.
Featured image: Le Corbusier - Unité d'habitation Marseille, via Creative Commons.
Maison La Roche et Jeanneret, Paris
Located in Paris, France, Maison La Roche et Jeanneret was designed by Le Corbusier and his cousin Pierre Jeanneret between 1923 and 1925, commissioned by Raoul La Roche, a Swiss banker from Basel and collector of avant-garde art. Initially built as a home to Jeanneret and separate residence and a gallery that would house La Roche's art collection, the building is today home to the Fondation Le Corbusier.
Le Corbusier's third commission in Paris, Maison La Roche et Jeanneret is composed of a pair of semi-detached houses laid out at tight angles to each other, designed to be viewed from a single, fixed point. While one building is designed to accommodate a family with children, with a quantity of small rooms, the other is designed "for a bachelor, owner of a collection of modern paintings, and passionate about art," as the architect explained in his 1935 monograph.
One of the main precedents for Le Corbusier's hugely influential Villa Savoye in Poissy, it forms part of the architect's "white villas" series of private homes. It also features all elements that Le Corbusier would later coin as the Five Points of architecture necessary for the Modernist style.
In 2016, the building was inscribed as UNSECO World Heritage Site.
Featured image: Maison La Roche et Jeanneret, via Creative Commons.
Villa Savoye, Poissy
A villa located in Poissy, on the outskirts of Paris, Villa Savoye is another collaboration between Le Corbusier and Jeanneret, built between 1928 and 1931 using reinforced concrete. A perfect example of a style guided by the "five points" manifesto, it is one of the most easily recognizable and renowned examples of Modernism.
Initially built as a country retreat for the Savoye family, the house was designated as an official French historical monument in 1965, and opened to the public in 1997 after a thorough renovation. Registered as UNESCO World Heritage Site, it is under the care of the Centre des monuments nationaux.
The architect designed all four sides of the building with taking the view and the orientation of the sun into account. The ground floor features the main entrance hall, ramp and stairs, garage, and the rooms of the chauffeur and maid, while the first floor contains the master bedroom, guest bedroom, kitchen, salon, external terraces and a series of sculpted spaces that formed a solarium. The plan itself was set out using the principal ratios of the Golden section.
Featured image: Villa Savoye, via Steve Silverman.
Unité d'habitation Marseille, Marseille
A modernist residential building, The Unité d'habitation in Marseille, France was designed in collaboration of painter and architect Nadir Afonso and completed in 1952. A concept that formed the basis of several housing developments designed by Le Corbusier throughout Europe, it is arguably the most influential Brutalist building of all time.
Constructed in béton brut and textured by the wooden planks, it is comprised of 337 apartments arranged over twelve stories, all suspended on large piloti. It also houses an architectural bookshop, a rooftop gallery, educational facilities, a hotel which is open to the public, and a gastronomic restaurant, Le Ventre de l'architecte. Made to the human scale, with chunky pilotis and interior "streets", it has redefined high-density housing. With this building, Le Corbusier sought to "provide with silence and solitude before the sun, space and greenery, a dwelling which will be the perfect receptacle for the family", and to "set up, in God's good nature, under the sky and in the sun, a magisterial work of architecture, the product of rigor, grandeur, nobility, happiness and elegance".
It was inscribed as UNESCO World Heritage Site and a historic monument by the French Ministry of Culture.
Featured image: Unité d'habitation Marseille, via Creative Commons.
Chapelle Notre-Dame du Haut de Ronchamp, Ronchamp
A Roman Catholic chapel in Ronchamp, France, Notre-Dame du Haut is a working religious building and is under the guardianship of the private foundation Association de l'Œuvre de Notre-Dame du Haut. Built in 1955, is commonly thought of as a more extreme design of Le Corbusier's late style.
The architect created the chapel's asymmetrical plan in a few days, featuring curved walls surmounted by a roof shaped like a crab shell. The simple design features two entrances, a main altar, and three chapels beneath towers. The main structure consists of thick masonry walls, curved to improve stability and provide structural support, while the monumental curved concrete roof is supported by columns hidden in the walls. An irregular arrangement of windows, glazed with a mixture of clear and colored glass, is scattered across the walls. Unlike stained glass, the glazed ones allow the visitors to see the clouds, or the movements of the foliage and even passers-by.
Featured image: Chapelle Notre-Dame du Haut de Ronchamp, via Creative Commons.
Complexe du Capitole, Chandigarh
Located in the sector-1 of Chandigarh city in India, Complexe du Capitole is a government compound spanning across an area of around 100 acres as a prime manifestation of the city's architecture. It comprises three buildings - the Palace of Assembly or Legislative Assembly, Secretariat Building and the High Court, accompanied by four monuments and a lake. These buildings are separated by large piazzas that provide relief from the towering constructions.
A masterpiece of monumental and sculptural architecture, it was commissioned to celebrate the independence of a nation opening out simultaneously towards freedom and modernity. The buildings combine primary forms taken from Purist geometry with Brutalist expression, as well as European modernity with local techniques and materials. The exterior is punctuated by a polychromy of bold colors in Le Corbusier's distinct palette contrasting with the monochrome appearance of the raw concrete.
Featured image: Complexe du Capitole, via Creative Commons.
Musée National des Beaux-Arts de l'Occident, Tokyo
The premier public art gallery in Japan, the Musée National des Beaux-Arts de l'Occident in Tokyo is a museum facility built in the Ueno Onshi Koen Park and exclusively devoted to the Matsukata collection. It testifies to the long-standing reception of Le Corbusier's architecture in Japan and the universalization of the Modern Movement. Completed in 1959, it was meant to be a symbol of the resumption of diplomatic ties between Japan and France after World War II.
Made with reinforce concrete, the building is comprised of a ground floor, mezzanine, basement level and roof terrace. In its center, there is a skylighted court running the full height of the building. It is characterized by all features emblematic of Le Corbusier's architecture - pilotis, ramps and natural lighting. Every element of the building features the architect's Modular concept. As the architect Fujiki Tadayoshi wrote, it is based on the size and proportions of the human body as "a means of fitting architecture to the human spirit, of ordering the infinitude of possible proportions in such a way as to make them conform to the human shape."
Featured image: Musée National des Beaux-Arts de l'Occident, via Creative Commons.