The beginning of the 20th century brought various social and political shifts that went along with the sprawling industrial revolution. The traditional approach to art-making also started gradually changing, and a new generation of European artists embraced modernity as a fresh paradigm that offered the exploration of a more intimate vision of reality.
When it comes to the art scene of Northern Europe, alongside the championed artists active at the time such as Edvard Munch and Helene Schjerfbeck, there were other less noted, yet equally talented practitioners, one of them being another the Belgian Léon Spilliaert. Throughout his relatively short career, this brilliant self-taught painter used different means of expression spanning from pencil and pen on paper or cardboard over crayon to chalk and has created an impeccable body of work characterized by a gloomy color pallet and depictions of solitude and melancholy.
To revisit the domains of Léon Spilliaert, the Royal Academy of Arts decided to organize his first UK retrospective with an impressive selection of around eighty works loaned from international public and private collections.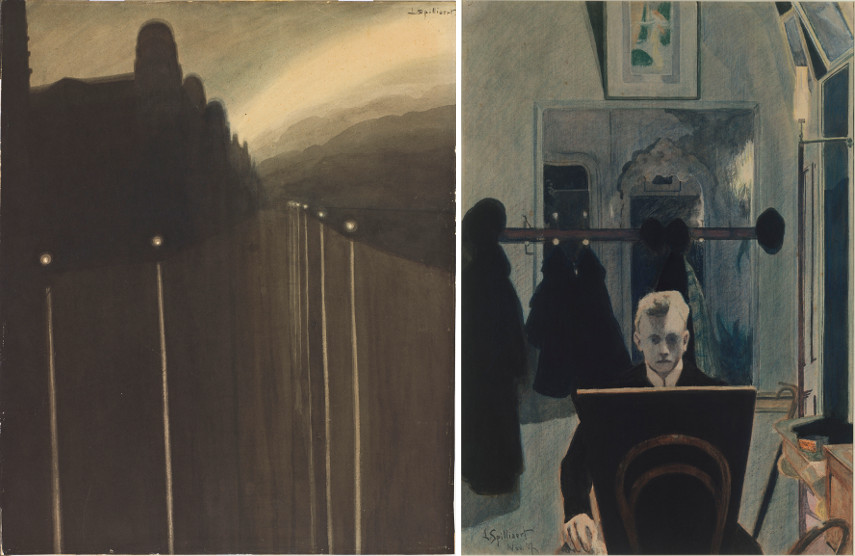 The Strange Ways of Léon Spilliaert
Tormented by a chronic stomach condition and insomnia, as a young man Léon Spilliaert often wondered the streets of his native city of Ostend in the night and charged himself with inspiration that was expressed on his romantic yet ghoulish cityscapes. The feeling of loneliness or rather alienation apparent on the series of self-portraits was affiliated with Spilliaert's fascination with the work of Edgar Allan Poe and Friedrich Nietzsche.
The artist started his career while working for the Brussels publisher Edmond Deman, illustrating the works by the celebrated Nobel prize winner and poet Maurice Maeterlinck, as well as Emile Verhaeren, another poet and his close friend.
In 1917 Ostend was occupied by the German army, so the artist fled the city with his new wife Rachel Vergison to Geneva, where they planned to become members of a pacifist movement. However, they were with a baby and a modest budget, so they remained in Brussels. Spilliaert frequently moved between Ostend and Brussels throughout his life, while his work gradually became softer and more focused on nature.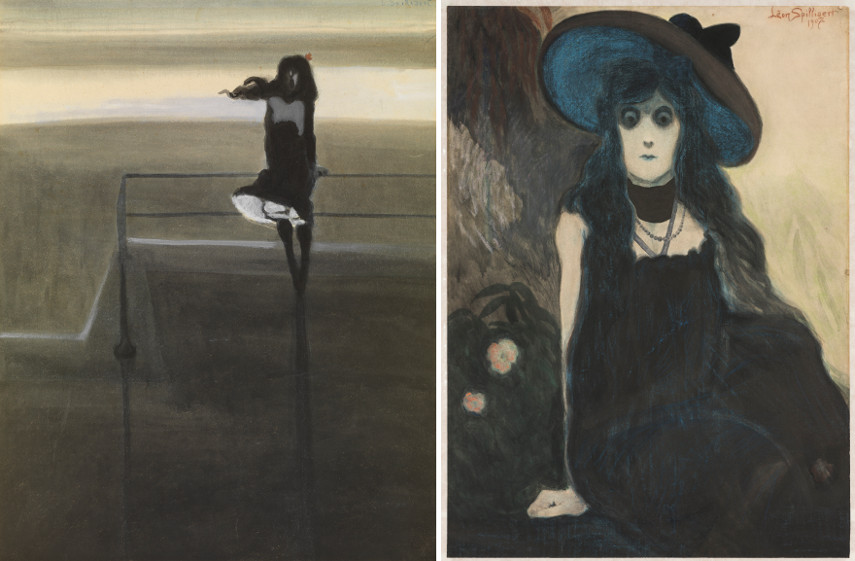 The Installment
The RA exhibition consists of four thematic sections in chronological order.
The first one called Illumination is focused on Spilliaert's engagement with literature and his poetic visions of nature.
The second section titled Crepuscule presents the artist's melancholic expressions of emptiness and loneliness including still-lifes, interior scenes, as well as examples of illustrations of Belgique II, one of the first Belgian airships.
The third section, Littoral, features the works such as A Gust of Wind (1904) and Dike at night. Reflected lights (1908) that reflect Spilliaert's fascination with the liminal areas between land and sea, while the final section, Reflections, consists of a group of astonishing self-portraits.
Léon Spilliaert: The RA Virtual Exhibition Tour
Léon Spilliaert at the Royal Academy
Under the curation of Dr. Anne Adriaens-Pannier (Honorary Curator, Musées royaux des Beaux-Arts de Belgique, Brussels and Artistic Director of Het Spilliaert Hus, Ostend) and Dr. Adrian Locke (Senior Curator, Royal Academy of Arts, London), this exhibition tends to deliver a new interpretation of Spilliaert's captivating oeuvre and his memorable aesthetic in regards to the canons of modernity that were in vogue at the time.
The accompanying illustrated publication includes essays written by the curators and prominent scholars, as well as a foreword by the artist Luc Tuymans.
Léon Spilliaert at the Royal Academy is scheduled to be on display until 25 May 2020, but due to the current COVID-19 pandemic, a virtual tour is accessible via RA's official web page.
Featured images: Léon Spilliaert -The Shipwrecked, 1926. Watercolour, gouache, Indian ink and pen on paper, 54.2 x 75.3 cm. Private collection. Photo: Luc Schrobiltgen; Woman at the Shoreline, 1910. Indian ink, colored pencil and pastel on paper, 49 x 60 cm. Private collection. Photo: © Cedric Verhelst. All images courtesy the RA.