After years and years of effort, Hollywood movie star, and one of our favorite celebrity collectors Leonardo DiCaprio won his first, eagerly awaited Oscar Award. The event resulted in a wave of acclamation and relief among his admirers with numerous "Leonardo DiCaprio Finally Wins the Oscar" parties organized around the world. But one particular Leo fan decided to commemorate the event in style and painted a massive black and white mural on the wall on La Brea Avenue in Hollywood.
A Video of Leonardo DiCaprio's Oscar Acceptance Speech
Leonardo DiCaprio's First Oscar Win
As we all know, one of Hollywood finest actors finally got the golden statue that eluded him for so long. For years, the celebrated actor failed to win an award he was nominated for five times before. He didn't win it for What's Eating Gilbert Grape, nor for The Aviator, not even for his striking role in the Wolf of Wall Street. The Internet community had their say (and their fun) about the situation and practically flooded the World Wide Web with numerous memes about Leonardo DiCaprio's "Oscar deprivation" - from those that suggested that the only way to get an Oscar is to name his son Oscar to those reminding him that "there's always next year". But now it's time to update those memes, people. Or better yet, look up to the L.A.-based street artist who used Leonardo DiCaprio's recent victory as an inspiration for his massive life-like mural.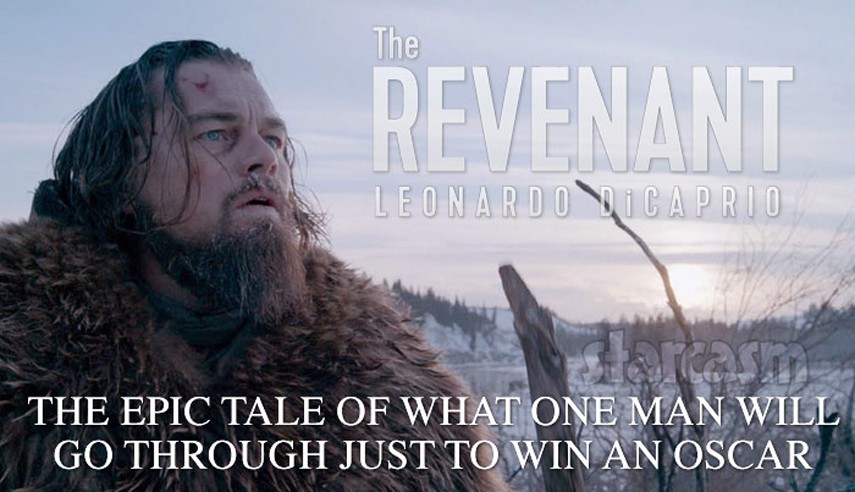 The Star of the Screens and a Very Inspirational Street Art Mural
The mural that appeared on the wall on La Brea Avenue just last night shows a realistic portrayal of Leonardo DiCaprio holding his first Academy Award. Next to the black and white figure of the actor there's a set of inspirational words stenciled in red on the background -Never, never give up. The mural is an homage both to Leonardo DiCaprio's acting skills but also his patience and his persistence and represents a cherry on the top of his recent Oscar win. Though at first we were unsure about the mural's author, our Facebook fans identified the creator as Mr. Brainwash.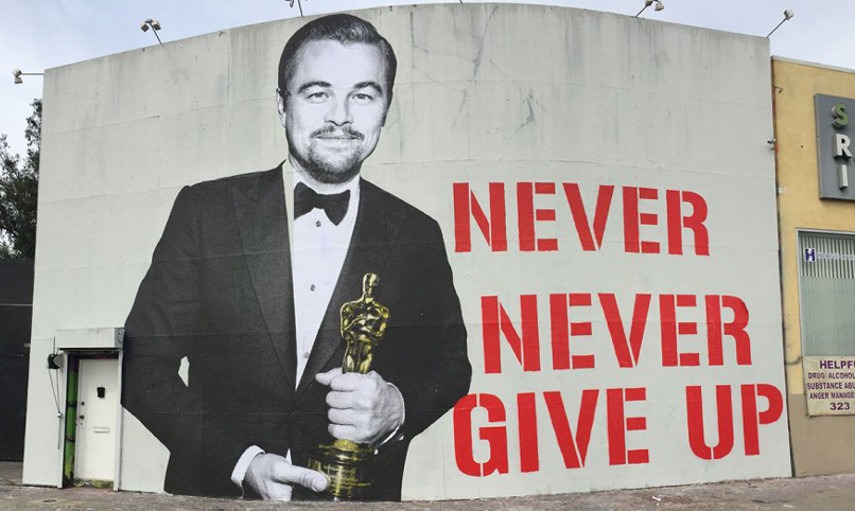 Never, Never Give Up
This is the first Oscar award in Leonardo DiCaprio's  36-years long career in Hollywood that begun when the actor was only five years old. The movie star that has been nominated five times, won his first Best Actor Academy Award on Sunday (February 28th, 2016) for his role in the movie The Revenant. One of the most popular movies of the year was quite demanding for the actor and allegedly required him to film in the freezing cold, eat raw fish and sleep in the animal carcasses. But did he give up on the role and his Oscar dreams... no! And neither should you, whatever your dreams are. So, thank you, Leo, and thank you Mr. Brainwash for reminding us to never, never give up!
Did Leonardo DiCaprio deserve this vivid mural ? Share your thoughts on the topic on our Facebook page
Featured image : Leonardo DiCaprio in The Great Gatsby via Hollywood reporter ; Images for illustrative purposes only