One of the most interesting female figures of the interwar period was indeed Leonor Fini. The outstanding oeuvre of this true innovator and a multilayered art practitioner from Argentina spanned for almost sixty years. Fini was focused on painting, yet she produced works in other media, from illustration to costume.
The artist was very inspired by the old Italian masters and interestingly she was self-taught. Throughout the years, Leonor Fini created an extraordinary and consistent body of work based on the exploration of gender and sexuality. This peculiar figure subverted the cannons of representation of women; e.g. she represented man as vulnerable and androgynous passive beauties and herself as a dominating entity and a fierce goddess which embodies the power of both life and death. As a matter of fact, it can be said that her entire agenda is feminist, which will be explained further in the text.
Leonor Fini's contribution to the empowerment of women and to art history are huge, although her presence was somehow marginalized for quite a long time. This is why the upcoming exhibition at The Museum of Sex titled Leonor Fini: Theatre of Desire 1930-1990 is of extreme relevance. It will be the first American museum survey of the art of Leonor Fini, the artist adored by the likes of Andy Warhol, Madonna, and more recently Maria Grazia Chiuri, head of the house of Dior, whose Spring 2018 collection was dedicated to the artist.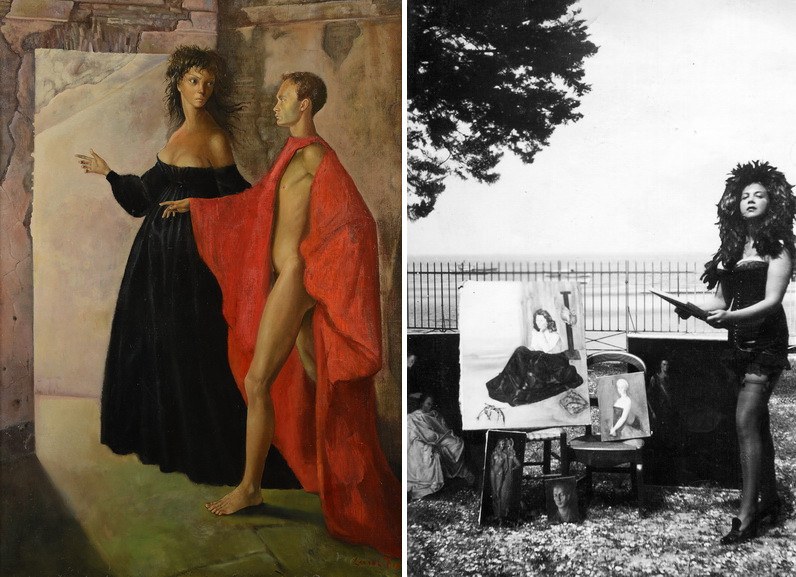 The Artistic and Surrealist Path of Leonor Fini
Around 1931, Leonor Fini moved to Paris where she quickly became acquainted with Carlo Carrà and Giorgio de Chirico, and later with the proponents of the Surrealist circle such as Max Ernst, Picasso, Paul Éluard, Georges Bataille, Henri Cartier-Bresson, and Salvador Dalí. In 1936, the artist participated in the major exhibition Fantastic Art, Dada, Surrealism at the MoMA in New York, while in 1944 she illustrated Marquis de Sade's Juliette which led to collaborations with such writers as Jean Cocteau and Jean Genet as well.
Leonor Fini became known for distinct eroticism and figuration reminiscent of the Symbolists, Pre-Raphaelites and Flemish Masters, while also advancing the artistic aspirations in surrealist manner. The other important segment was the theme of the masquerade which was omnipresent and tells much about the artists' constant examinations of freedom. Fini once stated:
I always imagined that I would have a life very different than the one imagined for me, but I understood from a very early age that I would have to revolt in order to make that life.
The costumes she produced for directors Federico Fellini and choreographer George Balanchine, the fantastic feathered masks and elaborate costumes she made for grandiose balls, show how Fini's model of self-fashioning was related to the subversive strategy of performing the gender.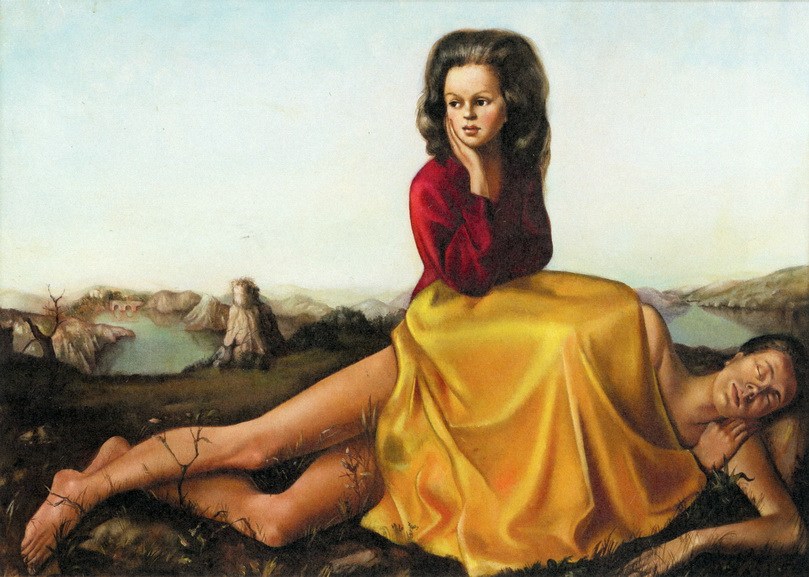 The Selection
As it was mentioned, the practice of Leonor Fini encompasses works produced in different media and spheres, such as theatre, ballet, the illustrated book, and costume. The artist was devoted to the idea that identity is never a fixed category and it must be always open for new interpretation, inspiration, and imagination.
The installment will feature her works made in the period from the 1930s through the 1980s, including paintings, book illustrations, drawings, and costume designs. Even Fini's iconic perfume bottle Shocking designed for Elsa Schiaparelli will be on display. The illustrated edition of the Marquis de Sade's Juliette which was secretly printed on presses at the Vatican in 1944 along with and her 1962 illustrations for Pauline Réage's The Story of O will be shown.
The installment will include a selection of photographs and ephemera from the Leonor Fini Archive in Paris. Lissa River from Museum of Sex curated the show and so she stated:
Leonor Fini needs to be shown now—not just because we are more open as a society to women artists, or because the constant undercurrent of misogyny that kept women artists out of the spotlight for so many years is finally being rejected, nor even because, brushstroke for brushstroke, Fini was an extraordinarily talented and prolific painter whose work more than holds its own in the company of the 'greatest' male surrealists.
This selection as a whole will show how sexuality and desire color all aspects of her career and livelihood. From her paintings which are sensual and erotic, up to the alternative life she led with cats in ménage a trois, Fini stands as one of the best examples of the rejection of any social conventions and rules.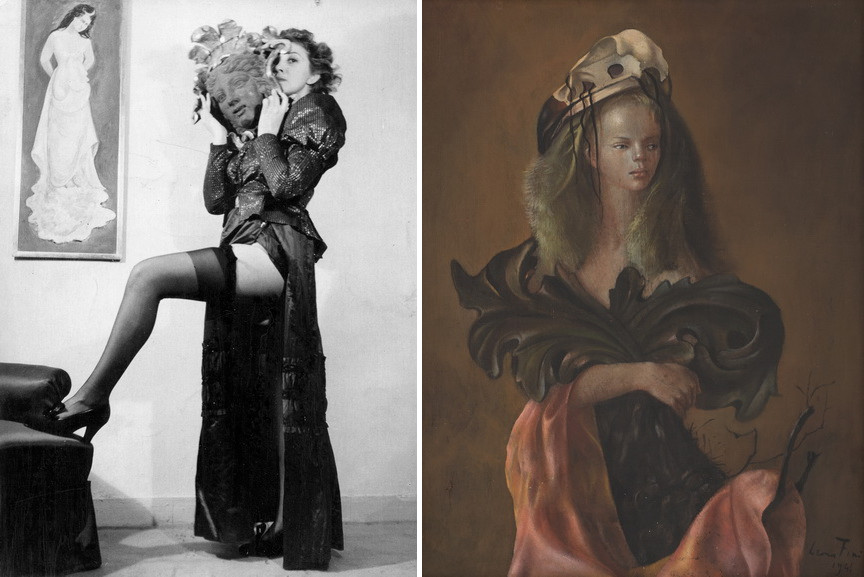 Leonor Fini Art at The Museum of Sex
By referring to art from ancient times, introducing female empowerment, gender fluidity, and sexual freedom, Leonor Fini managed to reach high domains of modernity or at least what modernity supposed to be. Aside from misogyny often expressed by her male peers, the artist was able to transcend the rules and norms of then art context; her work can be perceived as a revolutionary one and as an inspiration to all the other artist and writers dedicated to constant questioning of gender and sexuality.
Therefore, this exhibition is important since it once again opens a debate on how we as a society perceive gender roles, as well as how do we embrace our own sexuality, especially in a digitized era. Fini's life and career demand to be analyzed properly in terms of hybridity, fluidity and non-fixed identities.
Leonor Fini: Theatre of Desire 1930-1990 will open at The Museum of Sex in New York on 28 September 2018 and will stay on view until 4 March 2019.
Editors' Tip: Sphinx: The Life and Art of Leonor Fini
Talented, glamorous and ambitious, Leonor Fini was one of the most influential female artists of the 1930s. From her opulent, bohemian childhood in Italy to her debut in a group exhibition at the age of seventeen and her rise in the international art world, Fini was legendary for both her vivacious personality and her ethereal subjects. This is the first comprehensive look at Fini's career. Fini's figures—sphinxes, felines, nymphs, priestesses, nudes— are bold proclamations of female sexuality that convey a powerful feminine subconscious. Also renowned for her theatrical set-design, costumes and posters, the artist developed close relationships with other avant-garde Surrealists including Andre Breton, Salvador Dali, Man Ray, and Max Ernst, who became her lover.
Featured image: Leonor Fini – The Alcove/Self-Portrait with Nico Papatakis (L'Alcôve/Autoportrait avec Nico Papatakis), 1941. Oil on canvas. Courtesy of Weinstein Gallery, San Francisco. All images courtesy Museum of Sex.