What is lesbian art and how can we define it? At first glance, it seems rather obvious what this term could signify. But actually, there is no such thing as a unified category in the realm of art and this concept could be approached in several different ways. What is certain, in the majority of cases, lesbian art is not a teaser for men. Sure, there is that cheesy lesbian erotica, but we will pay no relevance to it here.
There are numerous representations of sapphic love throughout the history of art, but the meaning behind these representations has been changing. People often refer to art created by artists who happen to be lesbians as the lesbian one. But is the artist's sexuality enough of a reason to define an art category? Finally, female artists dealing with identity and self-identity issues, gender roles, female sexuality and homosexuality are often referred as ones working within the category of lesbian art – a territory that often overlaps with feminism and feminist art.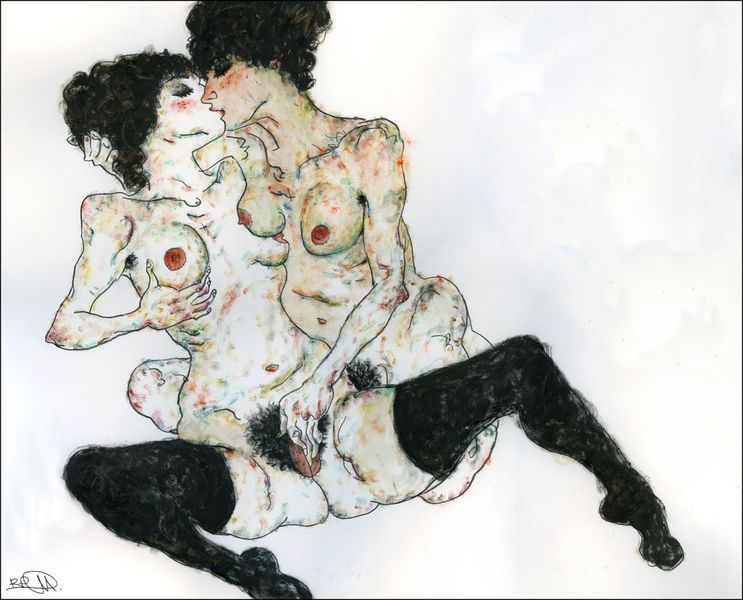 Representation of Lesbians Throughout The History of Art
The art circles have always been intrigued by female sexuality and especially homosexuality. The idea of two women being intimate has always been tempting as well as romanticized. These kinds of "deadly pleasures" that women enjoyed among themselves have inspired many creatives. Some of the most famous art history pieces portraying lesbians are Courbet's Le Sommeil from 1866, Klimt's Water Serpents created between 1904 and 1907 or Schiele's Two Women from 1915. Henri de Toulouse-Lautrec would also often paint prostitutes in a brothel engaging in sexual acts while alone, such as the scene depicted in the painting Abandon, The Two Friends.
You would notice that all of these artists are men. That is quite symptomatic since, as Judy Chicago would say, there is a fine line between representation and colonization. One of the early female artists who have been playing with sexually explicit Sapphic love in her pieces was Danish painter and illustrator Gerda Wegener. She drew inspiration from her personal life since her husband Einar Wegener was the first person to have a sex reassignment surgery in history after years of living life as Lili Elbe. While Wegener's style was feminine, sexual and playful, Romaine Brooks painted restrained portraits of the lesbian community in the early 20th-century Paris where they dared to flaunt themselves during this extraordinarily creative period known as the Belle Époque. Using a subdued palette, she would paint these women in the androgynous or masculine attire.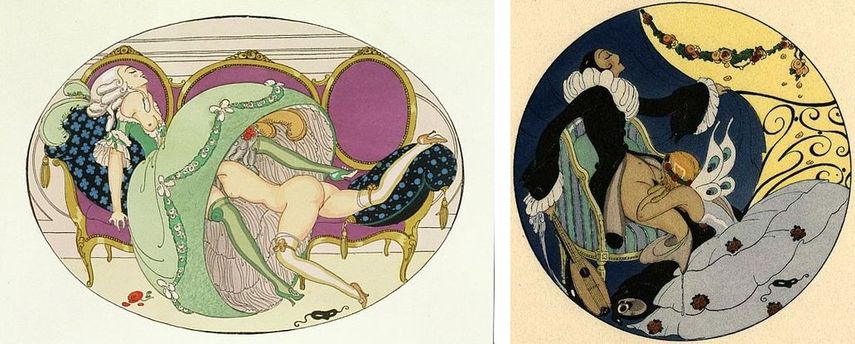 "An Artist" as a Lesbian
According to cultural and art historians, the notions of "lesbian art" and "lesbian artist" did not exist prior to 1970. However, there were lesbian artists existing and working in the nineteenth century. Since female ones, especially lesbians, were an anomaly at the time, they are rather obscure and unknown today. Due to many social restraints, they often used initials or male names when signing their works. A lesbian sculptor Anne Whitney won a commission in 1875 for a sculpture of the abolitionist Clark Sumner, but she was denied the job because of her gender. Mary Ann Willson, regarded as the first American watercolorist, was also a lesbian who settled with her lover Miss Brundage.
There are many more examples of early creatives identified as lesbians and the record of it is important for the history of LGBT community. Still, the label "lesbian artist" for a person creating art who happens to be a lesbian is quite problematic. This term is rather discriminatory in terms of labeling "lesbian artists" as "other" compared to "artists". I have never heard of anyone using the term "heterosexual artist", so why would the opposite be normal for lesbians? Although there are countless lesbians making art, the majority of these women prefer to exist simply as artists. They refuse to be labeled and categorized simply for their sexual orientation.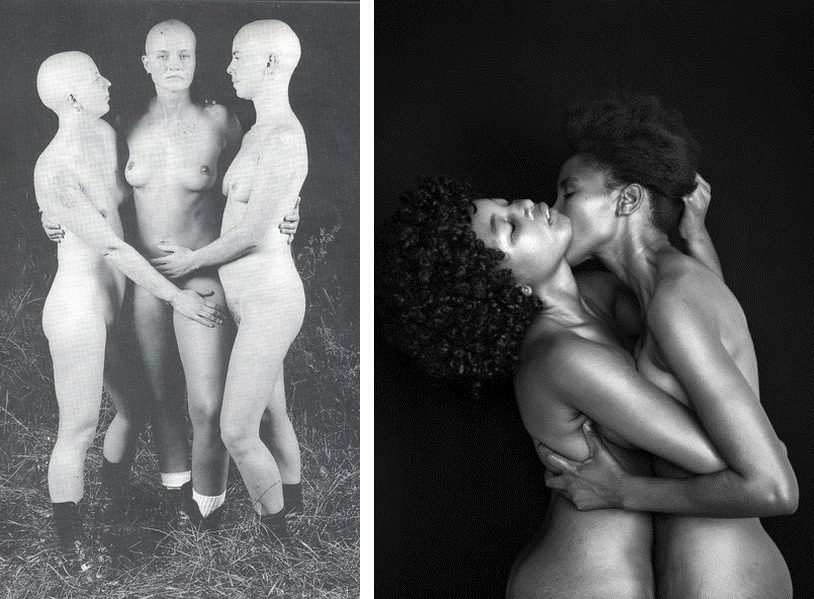 Exploring The Lesbian Identity Through Art
Many creatives use lesbian imagery to start a dialogue around this major question in society. One of the early ones who explored themes of lesbian identity in her work was a surrealist photographer Claude Cahun. Born Lucy Renee Mathilde Schwob, she has purposefully chosen a sexually ambiguous name to further complicate the projection of her image to the public. Often compared to Cindy Sherman, she created numerous self-portraits challenging constructions of femininity while highlighting her lesbian sexuality.
The 1970s have brought the feminist art movement and the LGBT community has become more visible, more vocal and more politically active. Terry Wolverton and Arlene Raven led a participatory art movement named Lesbian Art Project between 1977 and 1979 to provide a platform for lesbian and feminist perspectives through various media. As a leading figure in the feminist art movement and one of the artistic veterans identifying as lesbian, Harmony Hammond created sculptures featuring bonds and bindings referring to strictures on women and their lives. She also hosted a first lesbian art exhibition in history.
During the 1980s, lesbians creating art redefined their content to be less abstract and more political and sexually explicit. Those such as Jill Posener, Zoe Leonard or Laura Aguilar investigated race, gender and representation. The photographer Tee Corinne maintained women's right through her work by representing lesbian sexuality in ways that would elude and subvert the male gaze. A photographer Catherine Opie has shown a shocking side of lesbian life - one of butch lesbians with tattoos, piercings and cutting. A leatherdyke herself, she continues to celebrate the queer community, enforce lesbian identity, its heterogeneity and complexity.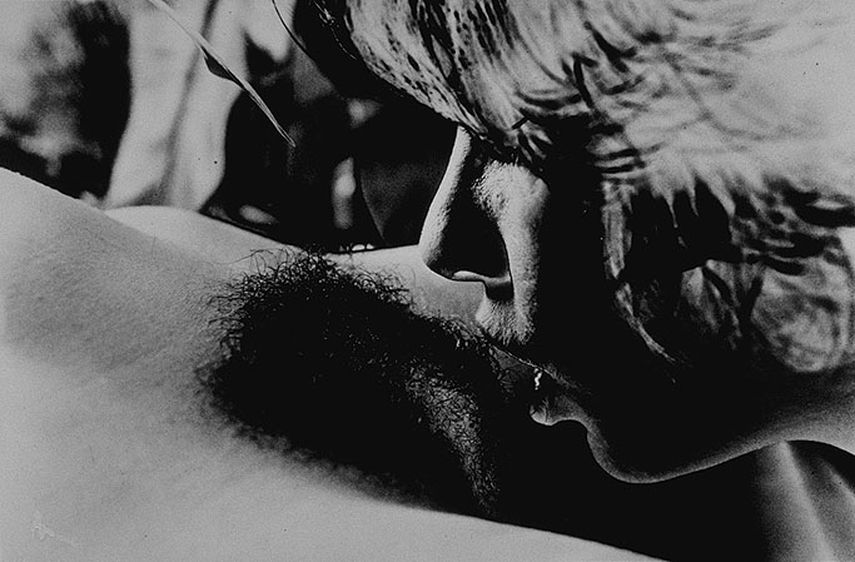 Contemporary Lesbian Art
Today, contemporary female artists creating lesbian content continue to challenge the status quo of the LGBT community and demystify female lesbian sexuality in a variety of ways. Della Grace Volcano is a gender variant visual artist who accesses "technologies of gender" in order to amplify rather than erase the hermaphroditic traces of her body. She crosses the line over and over again in order to build a bridge we can all walk across. G. B Jones uses her gender and sexual preferences to explore fantasies that are against values that would strive for assimilation of queer culture into the mainstream. A photographer Zanele Muholi explores black lesbian and gay identities and politics in contemporary South Africa – a task that is often very dangerous. She creates stunning portraits that serve as a visual statement and an archive.
There are several lesbian and queer art festivals all around the globe including aLAF in Dublin, Elles résistent Festival in Montreuil in France, Gaywise LGBT Art Festival in London, Homotopia in Liverpool, The Fresh Fruit Festival in New York, Off_pride festival in Zurich or Outburst festival in Belfast. Last year, the first museum celebrating lesbian and gay art has been opened in New York. Named Leslie-Lohman Museum of Gay and Lesbian Art, it hosts a plethora of exhibitions featuring decades of lesbian, gay, bisexual and transgender arts history that was previously ignored in textbooks or museums. It appears as the circumstances are slowly changing, but it seems it is yet not possible for men and women of whatever sexual orientation to simply produce art without being labeled.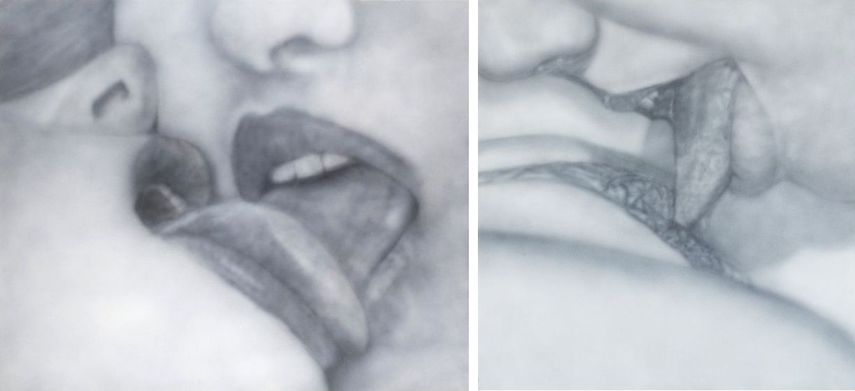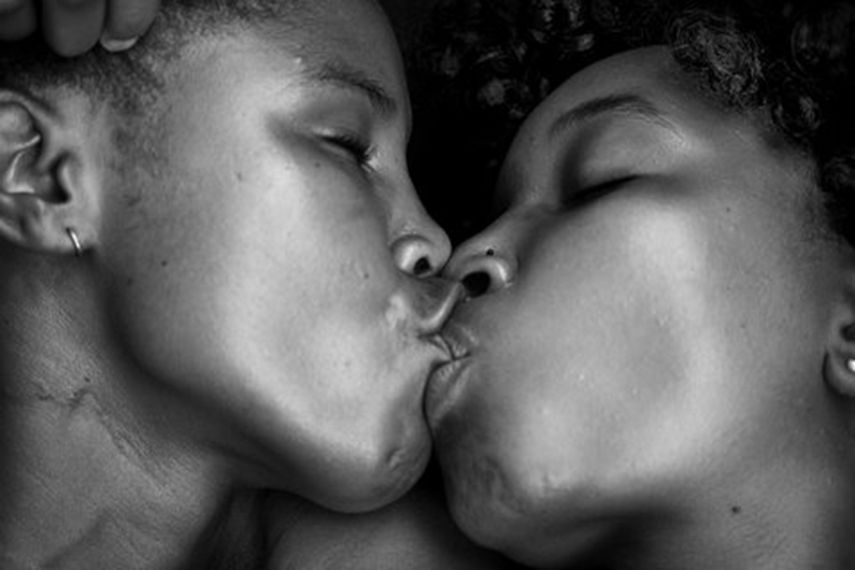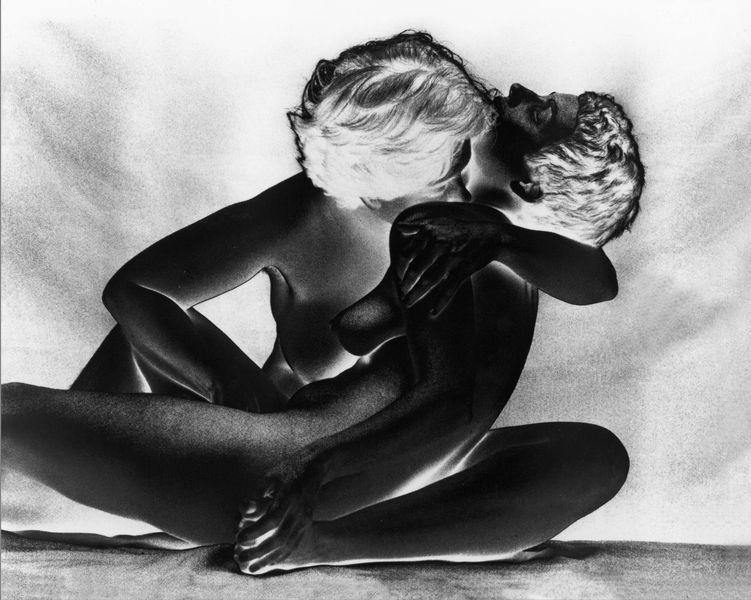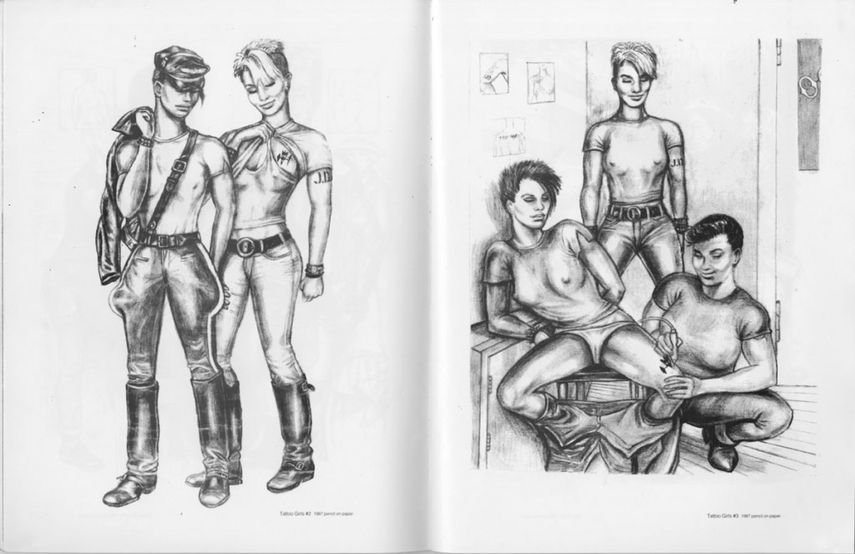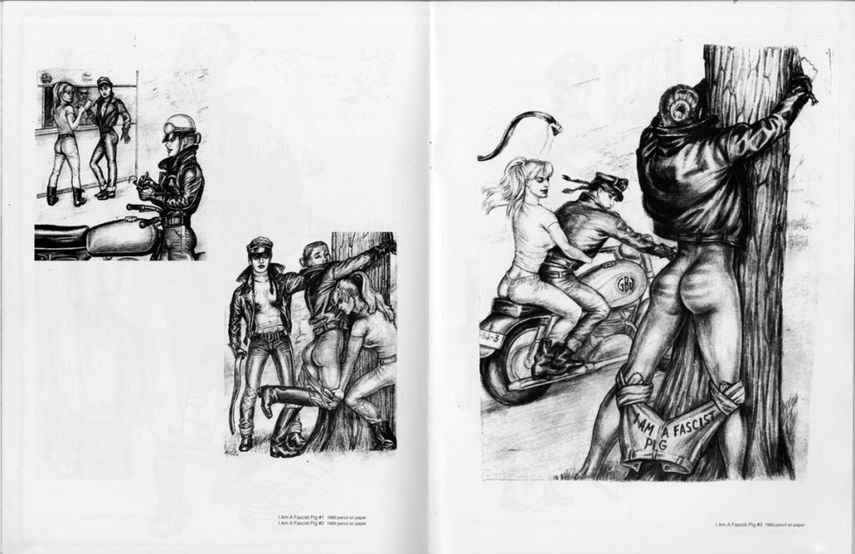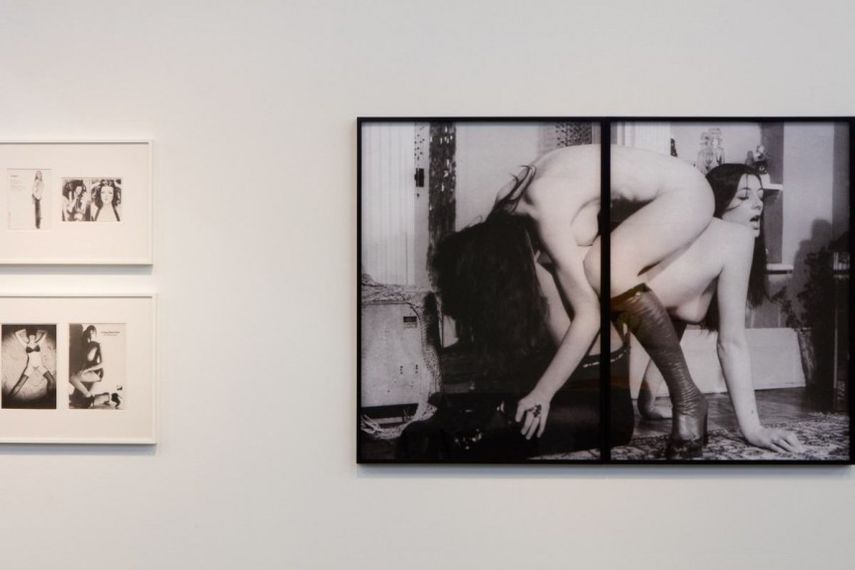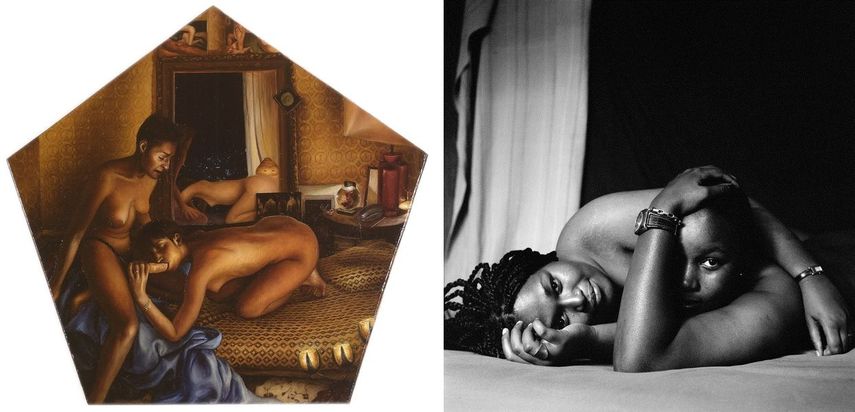 Featured image: Della Grace - Love Bites, via picnicboyz.tumblr.com