Leslie Thornton is an internationally acclaimed filmmaker, best known for her serial work Peggy and Fred in Hell, based on the lives of its title characters, who were heavily influenced and practically "raised" by television. In a similar, post-apocalyptic sentiment which follows the world of Peggy and Fred, Thornton welcomes her audience to her new exhibition Reappear, presented by Rockelmann and Winkelman Gallery in Berlin. The apocalypse is a frequent guest in her works, which the artist attributes to the fact that both her father and grandfather were scientists working on the Manhattan project, which was responsible for the development of the first Atomic bomb. This piece of information was unknown to her while she was a child, but it has obviously made a huge impact on her creative output afterwards.
Luna
Luna is the name of a three-channel installation, which is the central piece of this exhibition. Each screen displays an image of a parachute-jump tower at Coney Island, modified so that both the object and its surrounding seem to be placed into a different, obscure context. At some point, the tower becomes surrounded by a flock of seagulls, which change positions in each frame, flying around and in front of the tower. The object loses its original connotation, only to present itself as a different type of spectacle, tackling the subjects of technology, chronology and history, and questioning their relevance as artifacts of the cinematic image -  "How do you address history with something as fragmentary and minute as cinema?"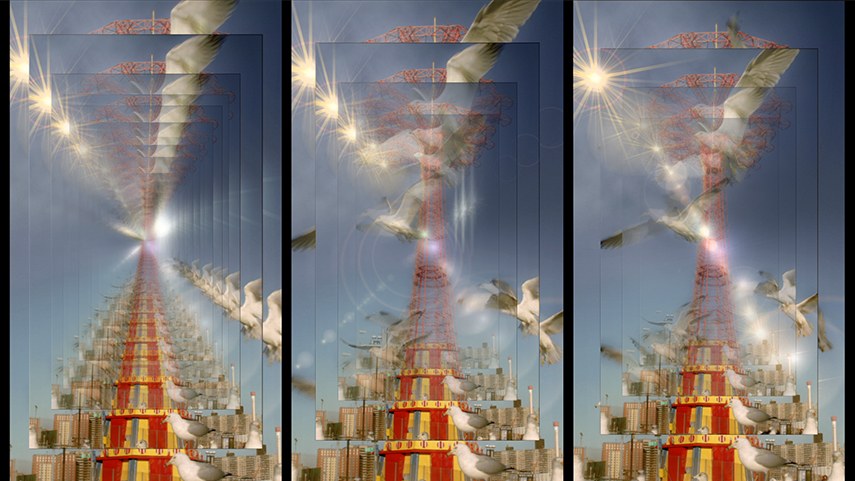 The Permanence of Memories
Thornton seems to deliberately confront the technical image of a built structure, with the blurred image of an impression, as opposed to the apparent permanence and solidity of the tower. While the impression and the memory that it later becomes are personal, invisible and often uncertain, the way in which the artist gives importance to these elusive elements makes them appear more substantial than the building behind. Luna refers to the trace, the memory which has its future, and this future seems to be more certain than the future of the deceitful material world, one that is more likely to suddenly disappear.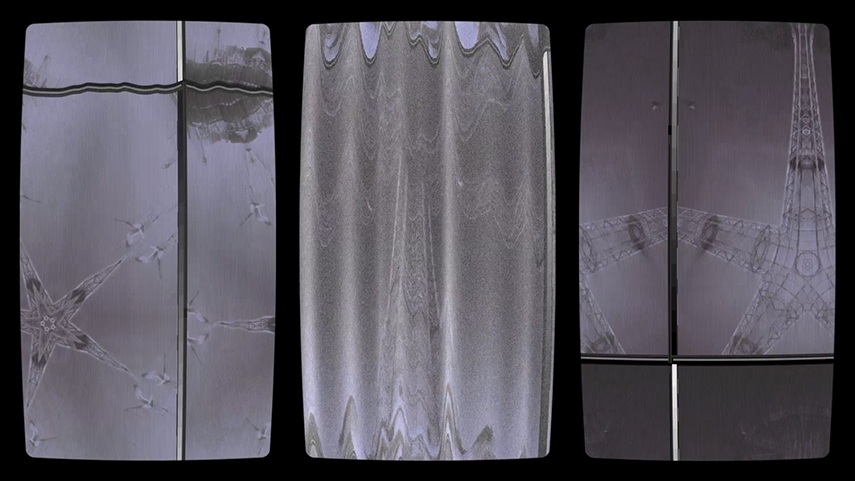 Leslie Thornton's Frameworks in a Single Exhibition
The installation is accompanied by Leslie Thornton's SNAP: Oil/Air/Water (2013), which was first screened at London's Serpentine Gallery the same year. This video work is the first in a new series of the artist's works, which go beyond photography into the art of film-making, demonstrating Thornton's fascination with the passing of time. Reappear will be on view from May 29th, through July 16th 2016 at ROCKELMANN &, Berlin. The opening of the exhibition is scheduled for Thursday, May 28th from 7 to 10 PM. For more information, we suggest you visit the gallery's website.
Featured image: Leslie Thornton, SNAP: OIL/AIR/WATER, 2013, Video. All images courtesy of Rockelmann & Winkelman Gallery.