A Franco-German contemporary artist, L.E.T. is known for experimenting with graphics, sprayed scripts or images on posters or walls. Drawing inspiration from the well-known works, he allocates different elements from them as a new statement.
The artist's latest installation is currently on view at Pretty Portal. Titled How is this happening?, it reflects upon the situation of the refugees attempting to cross into Europe. Working with life jackets, the artist shows how this symbol of hope transforms into something completely different during the journey of most refugees.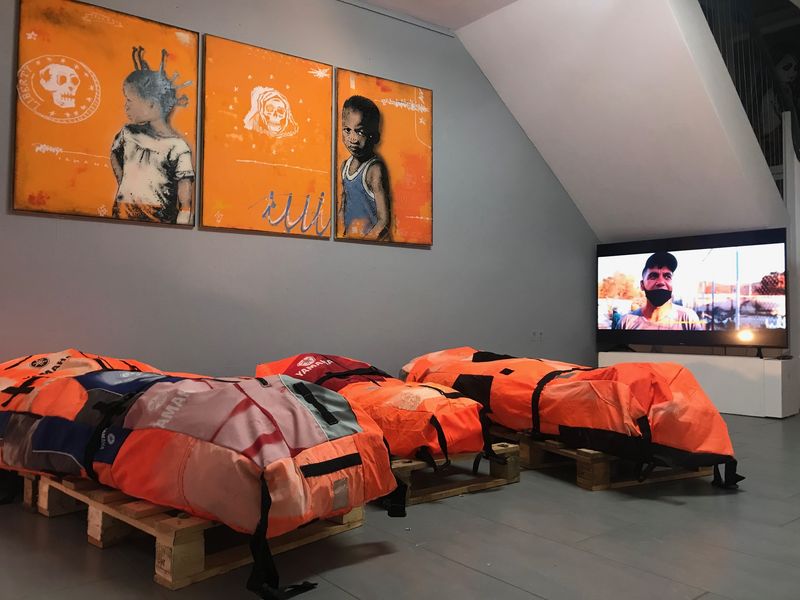 How Hope Turns Into Mourning
After traveling to Lesbos recently, L.E.T. visited the so-called "life jacket graveyard", an eerie landfill where the life jackets left behind by refugees end up. This sight, that reflects the dangers and challenges these people face, made a powerful impact on the artist. Attempting to form his own picture of the situation, he also engaged in conversations with refugees and helpers from the organization "The Hope Project".
Working with the life jackets he collected on Lesbos, the artist created three body bags, revealing how the hope easily turns into mourning during these dangerous trips that a myriad of people are forced to take in order to escape inhumane conditions. This eery artwork is central to the artist's installation at Pretty Portal, accompanied by several canvases reflecting the artist's experience on the island.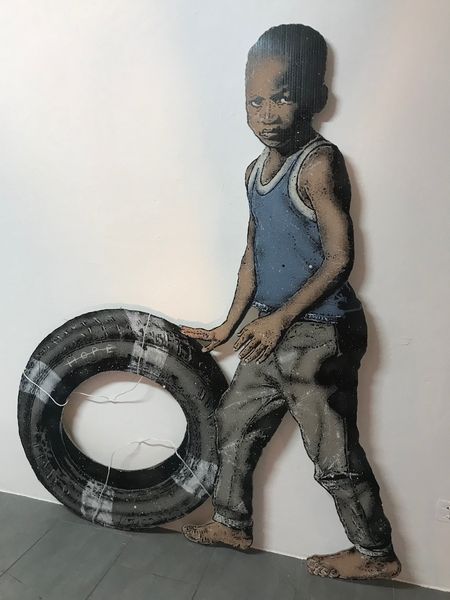 The Practice of L.E.T.
Beginning his career with stencils in the early 90s, L.E.T., which stands for Les Enfants Terribles, is still active on the streets, shaping the image of his home city of Düsseldorf but also cities around the world. Considered one of the forefathers of the art form, he mostly uses black and white cut outs to present his own take on similar pieces of famous artists or current events taking place and shaping society.
L.E.T.'s works are often provocative, putting social injustices of our modern consumerist society into the spotlight with a distinct tongue-in-cheek attitude.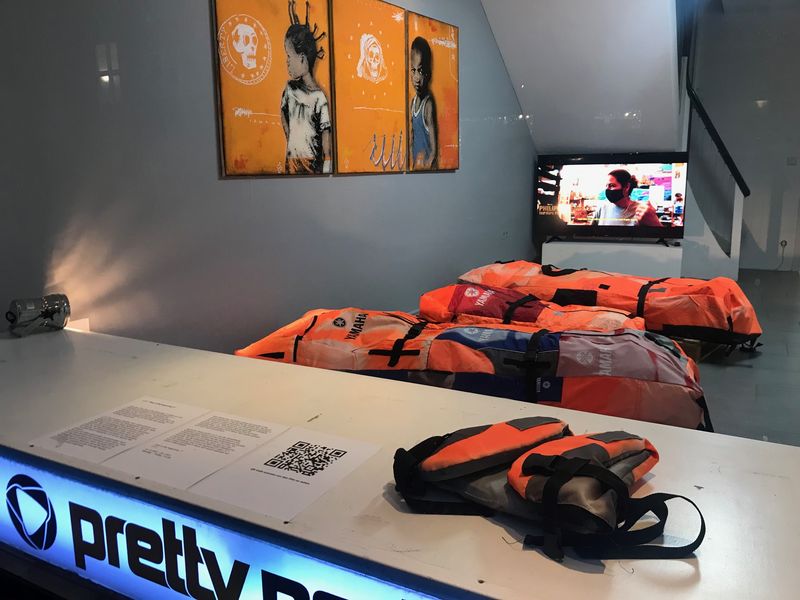 L.E.T. at Pretty Portal
Presented in the pre-Christmas season, when the values of philanthropy and charity are celebrated the most, the installation poses a question of whether the predominantly Christian Europe has actually internalized these values that they treat as their core ones. Conveniently, the exhibition is on view in the front room of the gallery, available for everyone passing by to see it through the gallery window.
Accompanied by artist Laura Knapp and cameraman Chris Schwarz during his journey, L.E.T.'s stay at Lesbos has been turned into a poignant documentary, which is also a part of the installation.
L.E.T.'s installation Why Is This Happening? will be on view at Pretty Portal in Dusseldorf until January 29, 2021.
LESBOS - Dokumentation L.E.T.
L.E.T. How is this happening, Making of
Featured image: L.E.T. - How is this happening?, Installation view at Pretty Portal, 2020. All images courtesy of Pretty Portal.