New body of work by the master of underwater photography, Christy Lee Rogers will be on display at Let There Be Art Gallery in Mexico City. Celestial Bodies exhibition consists of large scale photographs, star and cloud time-lapse, video installations and mixed media artworks. Celestial Bodies exhibition is inspired by the nature of the universe that Christy Lee Rogers believes is full of contradictions and dualities. The artist had worked on the collection for over a year when all the peaces came together while watching Interstellar.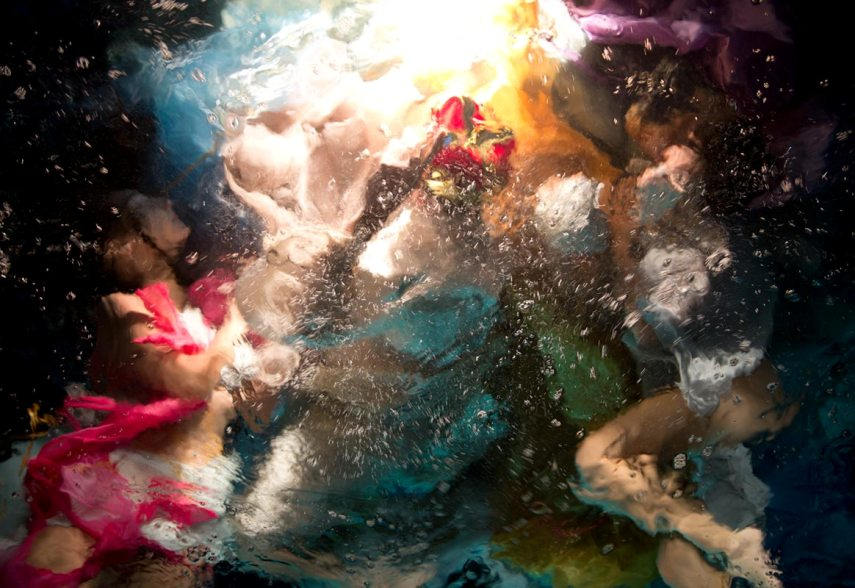 Dualistic Nature of the Universe at Let There Be Art Gallery
The subject of Christy Lee Rogers' recent artworks is the universe with all its elements including planets, constellations, black holes and burning stars. The universe is divided in two contradicting forces such as good and bad, yin and yang. The fusion of the opposites brings Christy Lee Rogers' classical yet futuristic world to life, with double mirror images transport the viewers across time and space barriers. But the artist's appreciation for human figure never leaves the central stage as the artist depicts body and soul, and its connection with the universe. Celestial Body exhibition artworks powerfully depict the beauty and the simplicity as well as the straight and complexity of human beings.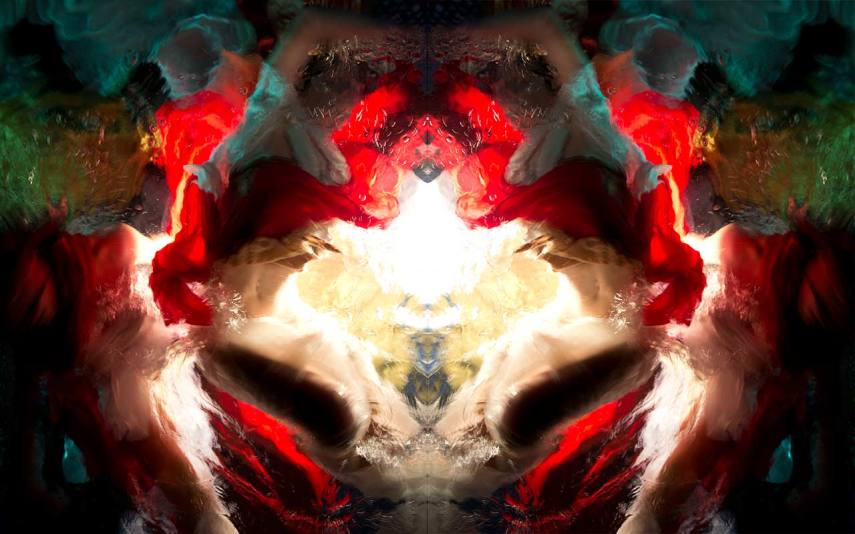 Underwater Universe of Christy Lee Rogers
Heavenly worlds and Celestial Bodies are made with unique technique that merges bodies with water in a magnificent manner. The pictures are created by the skillful use of water, light and human body interaction. The artist creates near her home in Hawaii by submerging models that act on loosely designed scenario. The juxtaposition of water and space makes the models seem indefinitely small as individuals but also incredibly vast as a part of the universe. Christy Lee Rogers is always looking for models and she would like to invite everyone whose interested to contact her in an exclusive statement for Widewalls :
"Widewalls viewers I'm always looking for new models to work with underwater, so if you have something fun to share please email my studio (email address on my website). It's a fun process, a learning and growth process; exhilarating and challenging. After about a year of working on ideas for this newest collection Celestial Bodies I watched the movie Interstellar. This is the point where all the inspiration came together and made sense. All night I was mesmerized by this concept of another dimension where time and space warp and are circular, non-linear and hard to wrap your mind around."
Celestial Bodies at Let There Be Art Gallery in Mexico City
Celestial Bodies exhibition will open on August 7th in Let There Be Art Gallery in Mexico City. The artworks on display at Let there Be Art gallery are lifted into the stratosphere with Christy Lee Rogers's impeccable technique and grand and impressive vision. In her latest work the artist masterfully portrays opposites while equally exploring deepest depths of oceans and furthest corners of outer space. Christy Lee Rogers remains busy during the summer with two exhibition opening on two continents within few weeks. Her other works are currently on display at The Eternal Aquatic solo show at Art Labor Gallery in Shanghai, China. Celestial Bodies exhibition in Let There Be Art gallery in Mexico City will last till September 6, 2015.
Art lovers and future art models sign up for My Widewalls for FREE and we'll show you earthly and celestial worlds of art.
Featured Image: Christy Lee Rogers- Explosion of the Heart
Images courtesy of Christy Lee Rogers