For young French artist Charles Leval, better known as Levalet, street art is a tool that spreads out humor as one of the most effective ways to talk easily about the most sensitive topics. "[It] can reduce the unbearable and highlight the absurdity of the most common situations.", he recently shared in an interview for Widewalls and we can't help but be absolutely mesmerized by his ability to transform public space of Paris and other cities into a kind of theater. Levalet's curious characters were created to interact with the location they inhabit, and for his upcoming solo exhibition at OPEN WALLS Gallery, his first ever in Germany, this location will be the little box, as an object and as a symbol.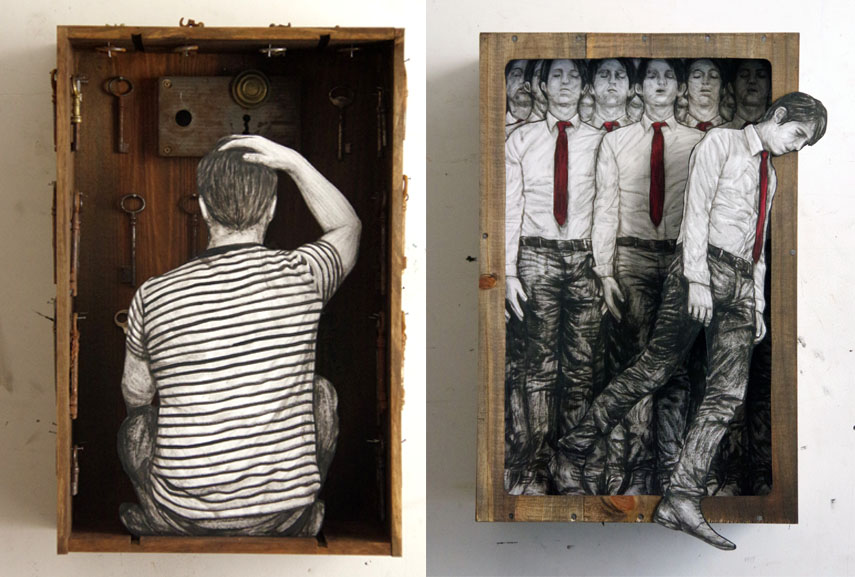 Little Boxes
Entitled Little Boxes, Levalet's show will feature thirty miniature scenic spaces, designed specifically for this occasion. These objects will stand as the symbols of the confined areas in between which we navigate through life without even noticing or paying too much attention. From within the walls of our homes we go into our cars which we then leave to enter our office, other people's homes, different kinds of buildings. Have all these structures begun to define us too? We are confined in a variety of forms, be it labor, technology or time, which describe our world as one in a tension between fantasy and social reality. The artist evokes this through the three-dimensionality of his new artworks which house his trademark drawings, purposely leaving the fourth wall open for the viewer's interpretation and, subsequently, imagination.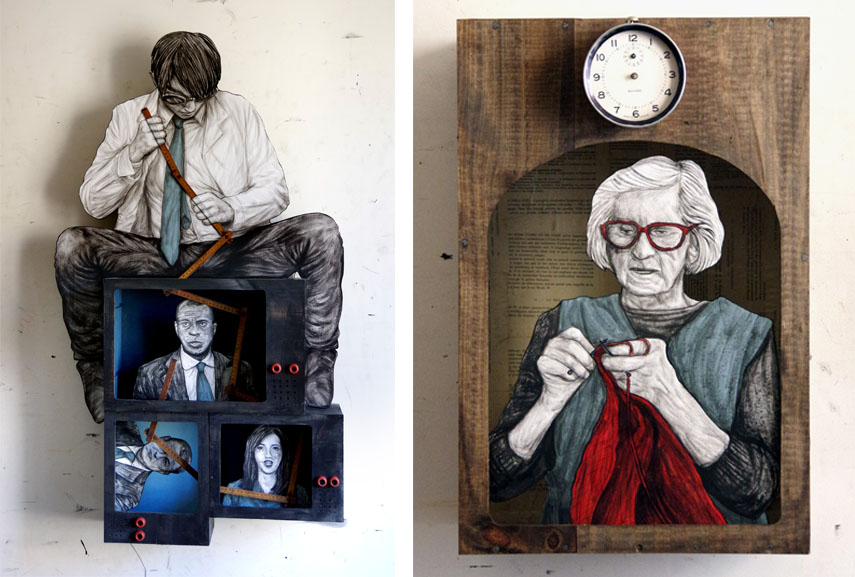 Exploring Dimensions in Space
Because his narratives are as important as the locations he chooses to tell them at, Levalet often challenges our perception, guiding us towards fresh perspectives with his humorous wheat-pasted collages and drawings. Within gallery as in his street art, he studies and exploits the possibilities of space and all its dimensions in order to tell a story, sometimes creating artwork floating somewhere in-between drawings and sculptures. These pieces defy gravity and logic, turning into installations that employ many different media, allowing the artist to diversify his visual vocabulary and expand on the interactivity between his works, objects and the space holding them together.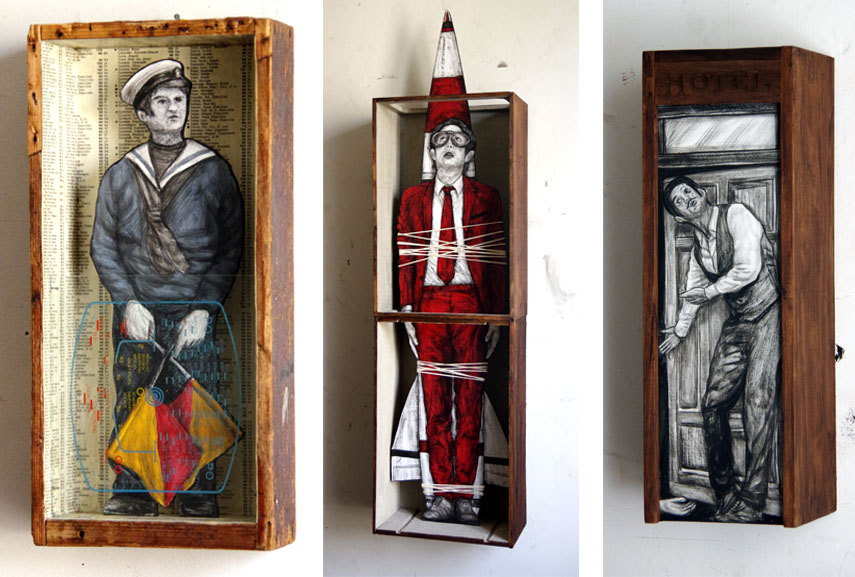 Levalet Street Art Exhibition at OPEN WALLS Gallery
With his latest pieces, Levalet invites us to explore numerous little universes and delve into the particularities in the stories of everyday people and extraordinary individuals, and even welcomes us to reflect upon our own selves in the process. Little Boxes, an exhibition of works by Levalet, will be on view at OPEN WALLS Gallery in Berlin, Germany, from November 4th through December 17th, 2016. The opening reception is scheduled for November 3rd from 6pm to 10pm and the artist will be present! We invite you to RSVP via Facebook and join the Vernissage at Schröderstrasse 11.1.
Featured images in slider: Levalet - Les limites de la pensée, 2016; Sauve qui peut, 2016; Transition, 2016; En attendant la retraite, 2016; Left: De la profondeur de la superficie, 2016 / Right: Expression, 2016. All images courtesy OPEN WALLS Gallery.