Since its invention in 1839, photography has tackled all kinds of topics. In the first hundred years, it reflected the development of the society it lived in, where there was almost no mention of sexuality.
Wilhelm von Gloeden was one of the first photographers who had taken male nudes at the beginning of the century. In the following period, artists gradually started taking more liberty. Berenice Abbott was a self-proclaimed lesbian whose work portrayed the urban landscape of New York in the 1930s.
The development of technology and contemporary art avant-guards introduced many boundary-pushing photographers. The groundbreaking portraits Diane Arbus made of marginalized groups, including transgenders and gay people, gave a new look at the underground lives and experiences, free of any kind of judgement.
Duane Michals, although not gay himself, took gay-themed photographs during the 1960s. Robert Mapplethorpe, an American photographer whose perfectly executed black and white portraits and male nudes expressed an open and honest fascination with homoeroticism.
Many photographers documented the cross-dressers meetings and transgender performances, works of immense value as part of queer visual history.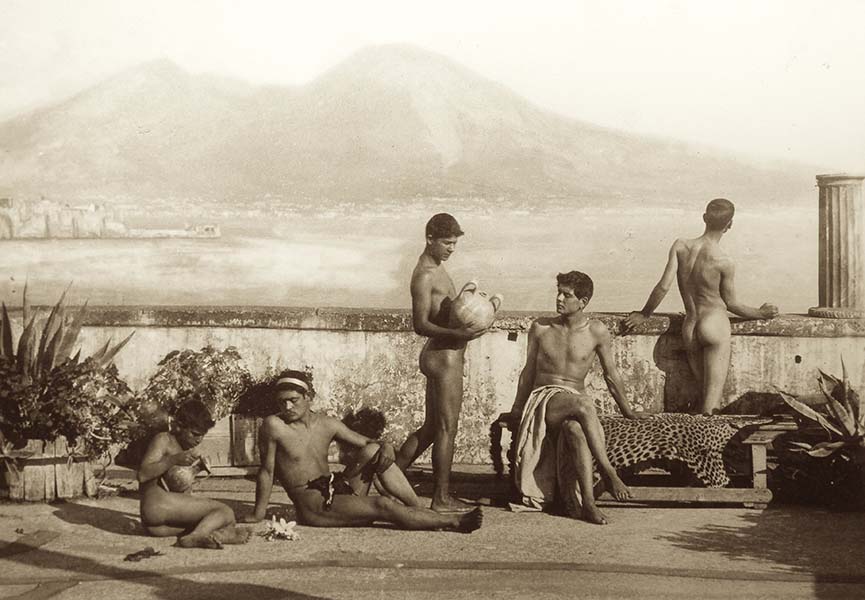 The AIDS Outbreak
During the AIDS outbreak in the 1980s, photography was a powerful tool. To fight the crisis, activists created camera-ready images by organizing actions and memorials, like die-ins and the AIDS quilt – images that would easily convey the enormity of the illness and the urgent need for a response.
One of the most significant artists of the period, David Wojnarowicz, incorporated personal narratives from his own life and others to create alternative histories depicted through his art. His work continued to be affected by both his struggle with AIDS as well as his political activism until his death in 1992.
Photography and Homoerotic Desire - School of Visual Arts New York
The New Era
The new generation of artists also follows the steps of their older colleagues and highlights the community's issues in a more contemporary manner.
The strong compositions of Adi Nes, an Israeli photographer, explore the subvert themes of masculinity. David LaChapelle's color explosions and stereotypical glittery open a new world of imagination, calling on sexual freedom and the rejection of gender categories.
Laurie Toby Edison is a portrait photographer, famous for three series of nude environmental portraits of fat women, a very diverse cross-section of men and women living in Japan. Annie Leibovitz is one of the world's leading female celebrity photographers. One of her works is a collection of portraits dedicated to writer Susan Sontag, with whom she was romantically involved, taken over a period of fifteen years.
Catherine Opie creates shocking photographs of sadomasochist leather subculture of Los Angeles and San Francisco, while Zanelle Muholi, a South African photographer addresses lesbian and gay issues in Africa.
The inexhaustible fight for equality still continues to produce valuable works in regards to everyday life. Artworks exploring own self, gender transition, backlash, struggling of youth, stereotypes, but that also portray couples and families, prides, parties and initiatives are crucial in the attempt to reach tolerance and respect.
And while the LGBT community faces far less serious problems than even just twenty years ago, it is certain that its artistic legacy helped establish their identity, and photography has played a big part in the process.
 Editors' Tip: Art and Queer Culture
A comprehensive survey covering 125 years of art that has constructed, contested or otherwise responded to alternative forms of sexuality. The book traces the rich visual legacy of art's relationship to queer culture, from the emergence of homosexuality as an identity in the late nineteenth century to the pioneering 'genderqueers' of the early twenty-first century.
Featured image: Gilbert & George Retrospective, Tate Modern by Kirsteen via Flick.