It's an exciting weekend for the California based C.A.V.E. Gallery since they've announced two exhibition openings! Artist that got the opportunity to present their latest works are Canadian born artist Li-Hill, famous for his constant exploration of the global tension between man and nature and John Park, one of Los Angeles' most recognized contemporary artists. Besides sharing the same opening day, these two artists also share backgrounds in design, the interest in a man's internal journey, the struggle within ourselves, as well as undeniable talent. Li-Hill with his Carbon series and John Park presenting The Hero's Journey will share with the Californian audience visually rather different artworks, but both very worth seeing…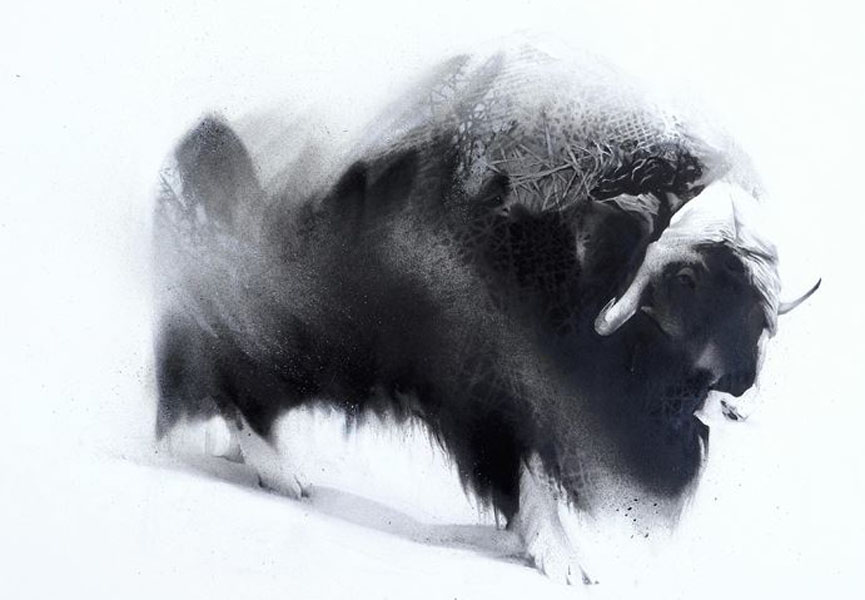 Li-Hill's Carbon Series
Li-Hill's fascination with the relationship between man and nature is still a driving influence in his work (Li-Hill recently participated at SCOPE Miami, check it our here). In the new series, the Brooklyn based artist portrays a distinct selection of animals that are threatened with extinction as a result of industrialization, especially carbon producing industries (read more on Li-Hill's work here). Carbon, as the series is called, obviously references the cycle of life and death as it serves as a reminder that all matter is made from carbon, and it's the first and the last element in the process. New works also follow the effects of carbon emissions on climate change and the critical and drastic consequences that it has on habitats and the natural world. The C.A.V.E. Gallery exhibition includes a series of 10 monochromatic animal portraits created with graphite and spray paint – both highly carbon concentrated materials. By cleverly using an ephemeral aerosol technique, Li-Hill subjects appear to dissipate - reflecting the inevitable breakdown of all matter to molecules of carbon.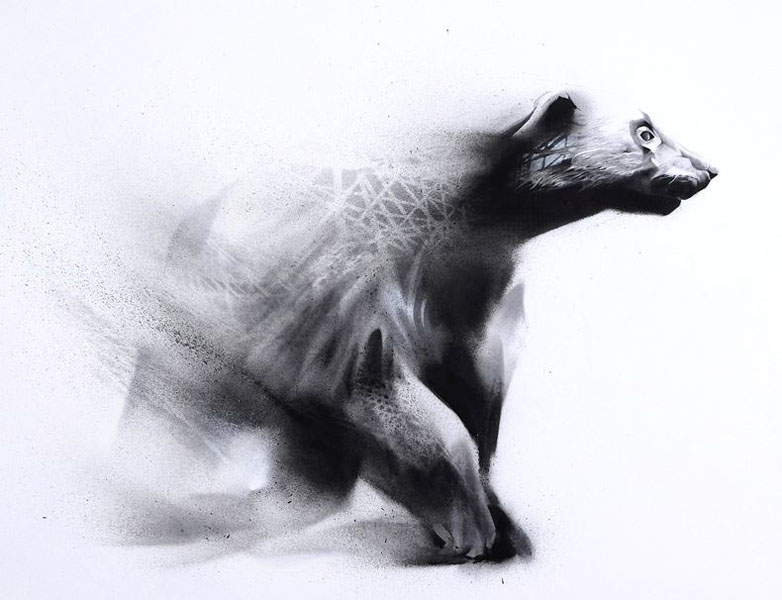 John Park's The Hero's Journey
Also opening on Saturday, February 7th, is the latest works by one of LA's most promising artists. Taking advantage of his background in classical training, he uses it as his starting point and then explodes convention to develop a rigorously stylized urban aesthetic that is full of meaning and technical skill. Park's elaborate layering of forms and text makes fantastic, unique and abstract structure even though each piece is a methodical evolution of complex forms and ideas. After receiving his training at the Rhode Island School of Design, Park felt constrained by the traditional and disciplined style of classical realism that the art school insisted on. In 2008, Park began to live paint at various venues across Los Angeles, including many of C.A.V.E. Gallery's opening receptions, and it was this type of live settings that allowed his to add spontaneity into his work. From this time on, his unique and energetic style emerged. In The Hero's Journey, which is the name of his latest series, Park reflects the archetypal stages through his subjects, referring to Joseph Campbell's famous book of world mythology, The Hero With a Thousand Faces.
Opening
Both Carbon and The Hero's Journey are scheduled to open February 7th, at C.A.V.E. Gallery, which is located at 1108 Abbot Kinney Boulevard, Venice, California. While John Park's The Hero's Journey will stay on view until March 2nd, Li-Hill's Carbon will last six more days, until March 8th, 2015. Be sure not to miss it!
If you want to be the first to know all about upcoming exhibitions at C.A.V.E. Gallery, sign up for My Widewalls today and FREE of charge!