Freedom can be many things and we usually take it for granted. During the months of confinement, many activities and habits that we performed mechanically and believed to be acquired and guaranteed forever, became suspended overnight. Forcing us to rediscover the inner dimension of our freedom, the confinement made us realize how constitutive it is of our humanity.
However, it also gave us the opportunity to focus on another aspect of freedom - the freedom of expression. This is the very subject of the current exhibition at Galerie David Pluskwa. Titled Liberté chérie, the exhibition brings together works by a diverse group of artists who perfectly illustrate the theme - JonOne, Jef Aerosol, Katrin Fridriks, Eric Liot, LENZ, Jerome Revon, Luke Newton, Saype, Rose Madone, Babeth Montagnier, Clement Verdiere, $kunkdog, and RedLips.
JonOne, Jef Aerosol, Katrin Fridriks, Eric Liot, LENZ and Jerome Revon
A French-American artist, JonOne is known for uniquely balanced yet dynamic works that combine freestyle, hand-painted aesthetics with a sense of repetition akin to textile patterns. On the other hand, Jef Aérosol is best known for his compelling portraits created in his signature colors - black, white, and gray, immortalizing both famous people and the ordinary ones.
Known for her abstract paintings and prints, Katrin Fridriks has been exploring the notions of human experience such as growth, speed, movement, energy, and gravity, for more than a decade now. Displaying a taste for craftsmanship coupled with a sense of perfection, Eric Liot creates wooden assemblages that are records of life during his many travels.
The French contemporary artist LENZ is well known for his graffiti and LEGO-inspired art, while Jerome Revon builds and conceives his works around architecture and photography, capturing streets, buildings, walls, and roofs.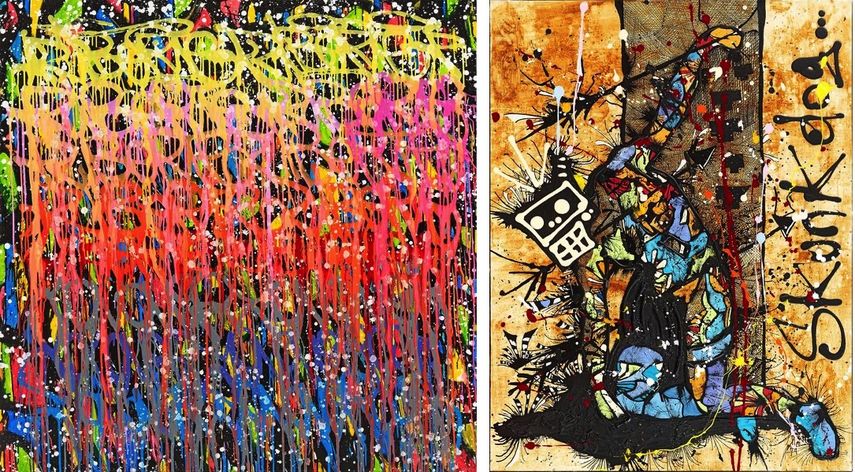 Luke Newton, Saype, Rose Madone, Babeth Montagnier, Clement Verdiere, $kunkdog and RedLips
A British contemporary artist, Luke Newton shares his views of contemporary society through his artworks inspired by the small things in daily life. On the other hand, Saype is known for both large-size land paintings on grass and the compositions he makes on condensed glass surfaces.
An avid observer, Rose Madone creates works that reflect the feelings, emotions and difficult moments of life in an allegorical, poetic and minimalist way. A French photographer, Babeth Montagnier focuses on things that no one ever notices, recreating harmony, beauty, gentleness and cheerfulness.
Often dominated by the color blue, the works of Clement Verdiere capture the traits that symbolize the whirlwind of life. $kunkdog produces figurative works characterized by bold strokes of color, filling up every inch of his canvas and making it the space of his imaginary projections. Finally, RedLips is attracted by beauty and feminine body language, attempting to transcribe in her portraits the way she sees women in their daily life.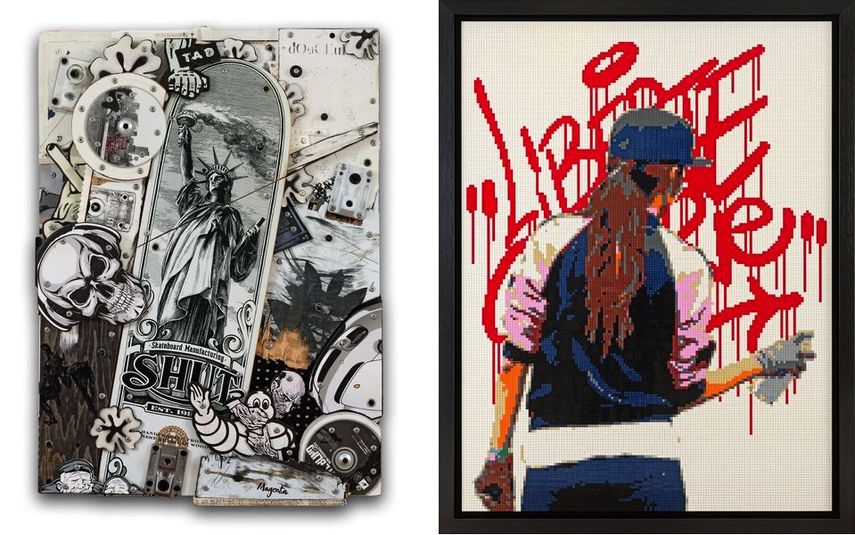 Liberté Cherie at David Pluskwa
The exhibition Liberté chérie will be on view at Galerie David Pluskwa in Marseille until April 17th, 2021.
You can also visit the show virtually, by clicking here.
Featured image: LENZ - Liberte cherie (detail), 2021. All images courtesy Galerie David Pluskwa.