Imagine an entire city lighting up with art installations for a full week. Imagine it all accompanied by music, performances and good vibes. Well, you don't have to imagine it anymore, and if you live in Baltimore, MD, your wish just came true. It's the Light City Baltimore festival, the first ever edition of the event that aims to become a force to be reckoned with in the world of large-scale international light festivals in the United States. Free and open to the public, it aims to celebrate ideas, ingenuity and creativity through the works of multi-disciplinary artists from around the world. In addition to that, there will be an innovation program of a series of seminars and conferences, led by speakers from the city and across the states.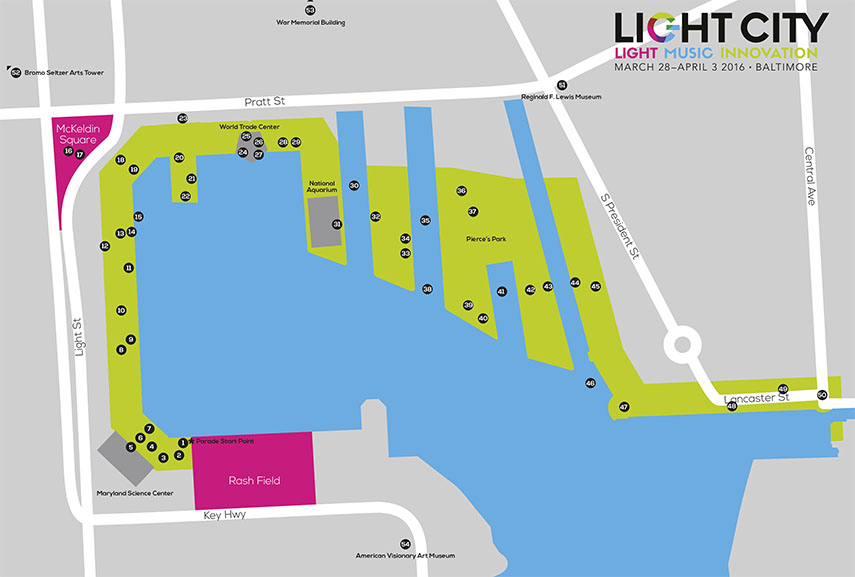 Light City Baltimore - The Streets Shining Bright with Art
Every night from March 28th to April 3rd 2016, from 7pm to 11pm, the streets of Baltimore and its Inner Harbor will be bathing in light coming from some 50 illuminated structures and art installations, as part of the 1.5 mile BGE Light Art Walk. Announced as the integral part of the festival, the Walk will offer free musical performances, street theatre, interactive activities for the whole family and concerts, beginning at the Maryland Science Center on March 28th at 7pm.
Innovation Conferences
As an important part of Light City Baltimore, there will be seminars and conferences focusing on four key themes: sustainability, social innovation, creativity and health, to be held at the Columbus Center and City Garage. The talks come at a time when the country is engaged in a dialogue about justice and change, and Light City U seminars aim to contribute to the efforts of innovation.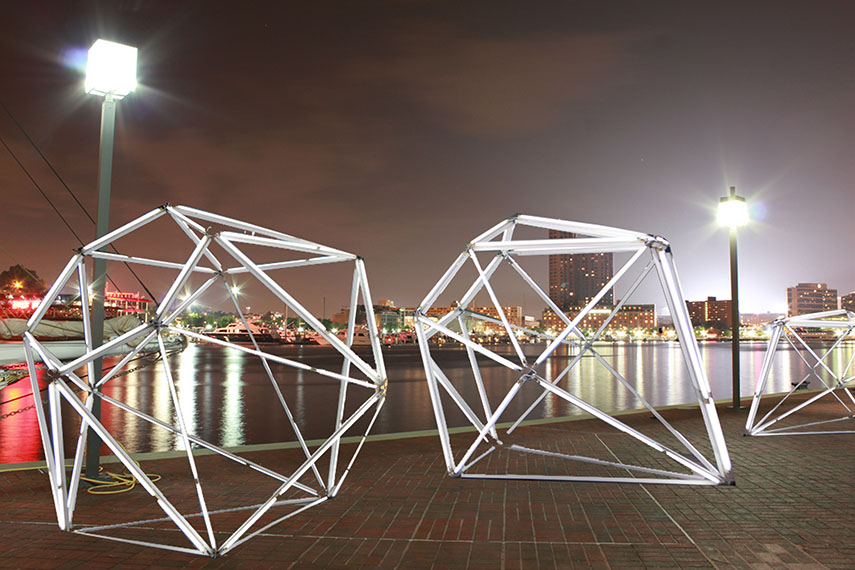 Artworks and Artists on View
More than 20 artists will participate in the event, with artworks ranging from video and installation to performance and sculptures. Among the artists, there will be Aether & Hemera, a duo from England who are bringing Voyage, a collection of 300 floating paper boats carrying LED lights which reflect on the waters of the Inner Harbor; Jen Lewin from Colorado with The Pool, an area of large concentric circles made of interactive circular pads; Radiance, composed of locals Erin Barry-Dutro and Kyle Steely, who will suspend an interactive LED canopy entitled Pixel Promenade, above the pedestrian bridges connecting Piers 4 and 5. Along the way, you can also see Glacier, a breathtaking large-scale, multimedia installation by Riki K, or the enlightened towers by New American Public Art from Philadelphia, entitled Blue Hour, both changing their aesthetics based on the movement of their visitors.
Also on view, 15 outdoor light sculptures by Korean political pop artist Mina Cheon, aka Kim Il Soon, brought to Baltimore by Ethan Cohen New York. As a result of a commission from the city Mayor's office, she produced Diamonds Light Baltimore, together with artist and architect Gabriel Kroiz, dedicated to the approaching anniversary of Freddie Gray's passing. The works are part of Mina Cheon's social activism project, entitled Glocal.
In addition to the main events, Light City Baltimore will also host Neighborhood Lights, a community arts program that reaches beyond the city's Inner Harbor and to five other parts of the city. The artworks on view in Coldstream Homestead Montebello, Hampden, Greater Mondawmin, Little Italy and Station North Arts & Entertainment District are all created by Baltimore City residents and include large-scale projections, shop window-based installations, illuminated public sculptures and monuments, performances and just creative use of light in general.
Scroll down for a comprehensive program of the Light City Baltimore festival. For more information, visit the official website.
Complete Program of the 2016 Light City Baltimore Festival
Featured images in slider: Aether & Hemera - Voyage; Design Collective Inc - Lightwave: Baltimore's Beacon; Ian Brill - Labyrinth; Jen Lewin Studio - The Pool; New American Public Art - Blue Hour; Nisha Ramnath and Brian Gonzalez - Laser Lotus; Radiance (Erin Barry-Dutro and Kyle Steely) - Pixel Promenate; Riki K - Glacier. All images courtesy of Light Art Festival.