SMUT is a two-person exhibition by Lindsey Mendick and Jamie Fitzpatrick. Their somewhat differing practices have been splendidly mashed together in an assortment of rich pigmented and tactile materiality and highly ornamented, off-scaled figuration. The artists bonded over a mutual love for The Wallace Collection's Romantic and Baroque displays of kissing sculptures.
This exhibition delves tenderly into the complications surrounding sexual stereotypes and outdated traditions within art history as well as contemporary societies.
With our perception of gender roles changing so rapidly, where does this leave us in love, romance and marriage?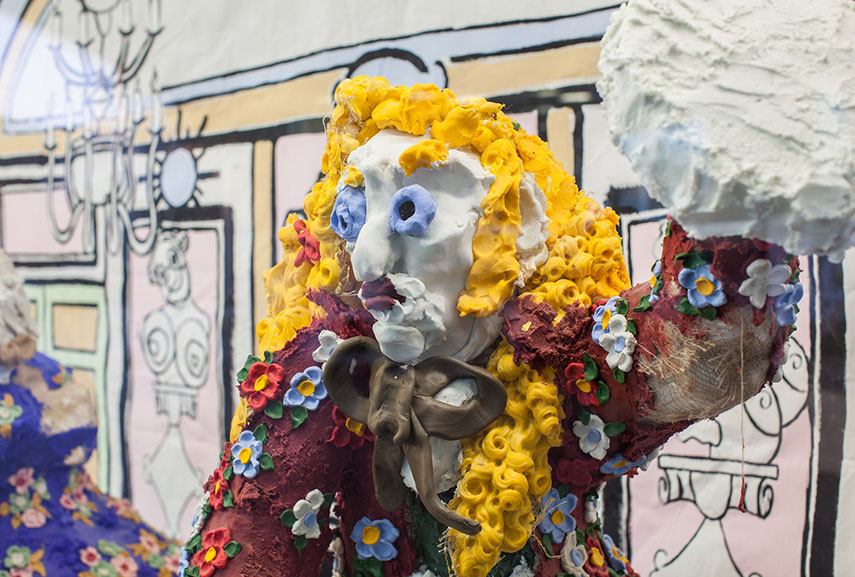 SMUT
In particular, Lindsey Mendick brings to focus her fascination with female gluttony and women being shamed for feasting. Encapsulating this perfectly we find All by Myself, a leggy ceramic Viennetto vase adorned with Rococo bottines.
Alongside this, Jamie Fitzpatrick explores masculinity and its relationship with cultural conditioning and sexual suppression. The Transformative Stag Do is an eccentrically gripping, silent film depicting the artists absurd illustration of a 'stag do'.
Mendrick vs Fitzpatrick
There are also examples of works made in collaboration, for example, the artists' glazed ceramic self-portrait titled Snog.
Mendick's in-situ painting, Me Without You, fittingly made on a loosely stretched bedsheet, is a direct reference to Fragonard's The Swing, which can also be found within the Wallace Collection. In this appropriation Mendick keeps the theatrical backdrop of the garden shrubbery, but takes away the main focus of the swinging woman and her on-looking love interest.
It is important to note that Mendick is a female artist copying this celebrated work by a man. It is, however, impossible to stay focused for too long as the eye is pulled in all directions and towards, for example, Fitzpatrick's oversized male wax busts, which are missing from their female dance partners and placed on wheels so as to have the potential of traveling through the space.
It is rich experience for the viewer as even our noses are hit with the sharp smelling camembert that was installed within the piece titled The Spectre at The Feast by Mendick during the opening.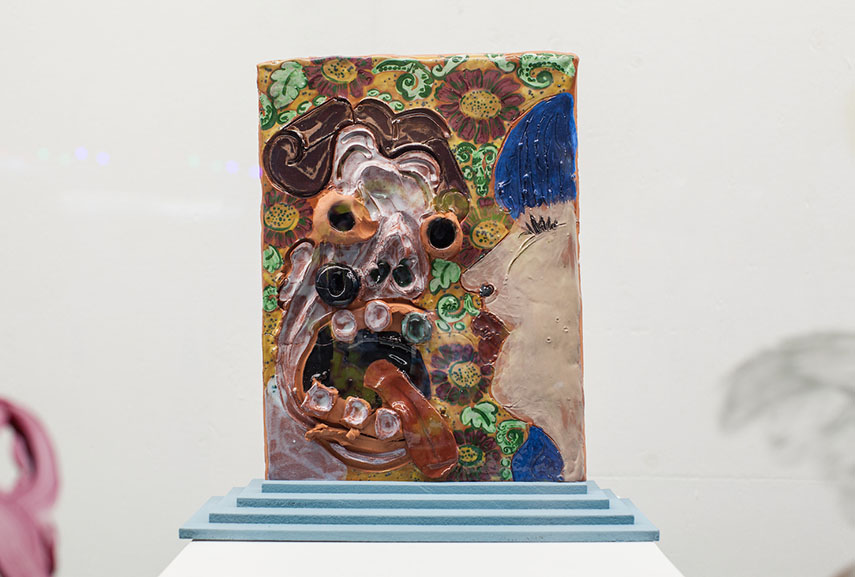 At VITRINE Basel
Every piece exhibited is crying out for attention from the viewer, as if they are lonely and desperate for love, and every corner of the space is filled with flamboyant florals, fluid curves of golds and pastels and almost unidentifiable juicy materials.
SMUT is on view at VITRINE in Basel until September 2nd, 2018.
Written by Claudia Dance-Wells.
Featured images: Jamie Fitzpatrick and Lindsey Mendick, SMUT, Installation View, 2018. VITRINE, Basel. Photographer Nicolas Gysin.