In a bright new series, a Norwegian artist Line Osmundsen, exudes intense vitality fused with inner calm, while she renders universal and everlasting topics. Her paintings and prints share a delicately feminine palette, without giving excuses to the unapologetic, yet optimistic content. Women prevail in Line Osmundsen's iconography, standing as symbols of ethereal, worldly and transient, as they dwell in surreal, abstracted surroundings made of landscape suggestions, flattened geometry or deep, hazy clouds. Entitled Beautiful Crazy, the exhibition is scheduled to open on August 1, running through August 30, 2014.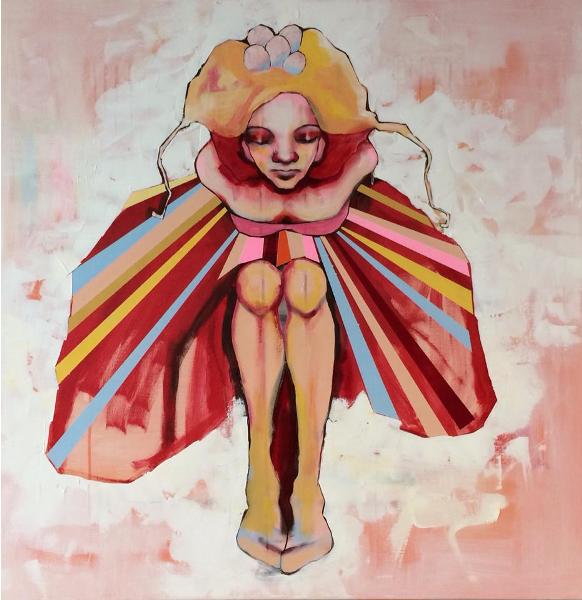 Line's Women
One of the interesting pieces is Motherhood Mary, where the artist tackles one of the oldest subjects in art - mother with child - in a completely contemporary way. Mother does not hold her infant, but rides it in a basket attached to her bicycle, an old, but increasingly popular environmental vehicle. This picture embodies our age and the way of living, delivered through a simply, but well composed timeless scene. The World Inside evokes the most excruciating wishful thinking, while Ghost can be read as a depiction of one being in touch with their spiritual side. Fugl Fonix has the final say in the series, as the ascending soul, the crown of life, and the promise of a beyond.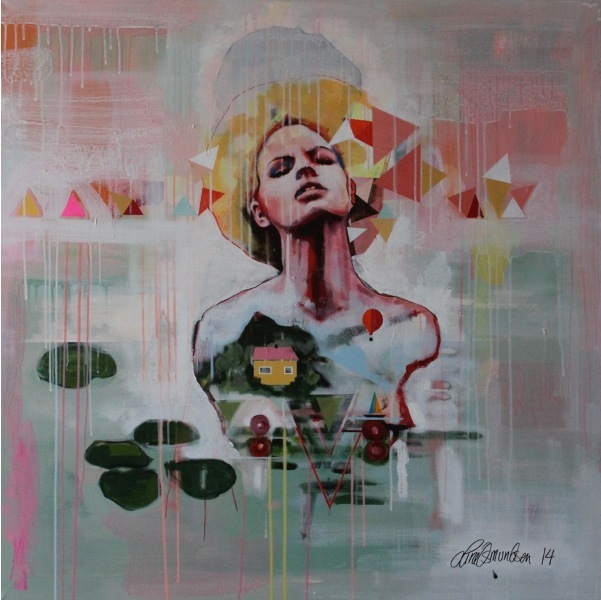 Beautiful or Crazy Influences
Women Line Osmundsen depicts are archetypes borrowed from various heritage pools. They are mother, sister, lover, phoenix, any one of us, any spirit that haunts our mind. Beauty is what connects them all, as all of the projections of the mind usually share the same trait. Stylistically, these characters are composed from a mix of influences, counting in urban art and modernism alike. We see influences of Egon Schiele in the drawing, David Choe in the rendering of the floating female figure, but we must not oversee the flat triangles, stenciled details, nor the drippings of pastel paint, which unequivocally allude to graffiti. Background washes of color provide crucial element to the general atmosphere of Osmundsen's work, which is a delightful walk down the lane of memory and yearning, imbued with a little pain and nostalgia.
The opening night of Beautiful Crazy will offer exclusive limited edition prints of the exhibited works as well.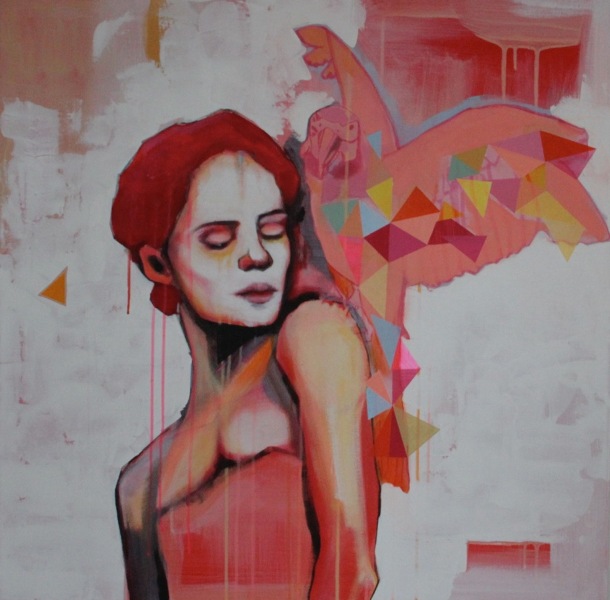 Reed Projects
Situated in a Norwegian town of Stavanger, Reed Projects was established to make use of the numerous artistic connections made through organization of Nuart Festival, of which another chapter is coming this fall. With over 20 years of experience, the gallery hosts and supports exhibitions and public art projects, and it focuses on discovering local and national talent, while showing the established names of the global urban art scene.