Passionate fans of Lionel Smit's work will surely appreciate our re-pointing to his exhibition "CUMULUS" at Rook & Raven in London. This brand new body of work features a selection of original paintings and etchings, alongside a collection of bronze sculptures. Primarily a painter and sculptor, Smit's main subject is the portraiture. He is devoted to the deconstruction of the portrait through monumental canvases and sculptures. Smit paints anonymous people, most often the Cape Malay women, making their faces memorable. For him, identity formation is similar to exposing the anatomy of the canvas. Cumulus runs until April 30th. Widewalls has some new photos from the opening night we thought you'd appreciate. Voilà!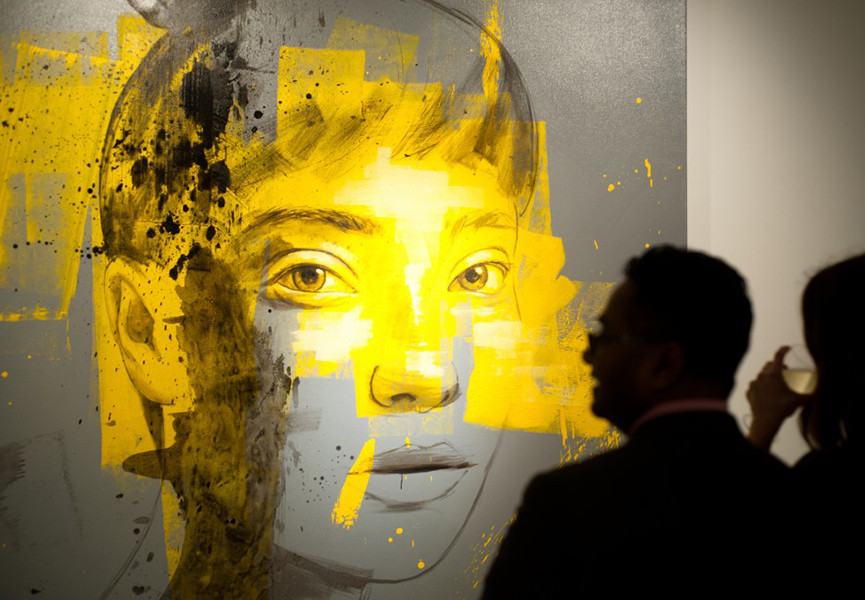 Models on Canvas
Taking this as a starting point, Smit handles his portraits through the formation of disparate layering and an overlapping of textures. Such as one person is made up of a plurality of faces, his models appear on the surface of the canvas underneath many layers of wide brushstrokes. However, subtle design is still the undisturbed basis of the painting.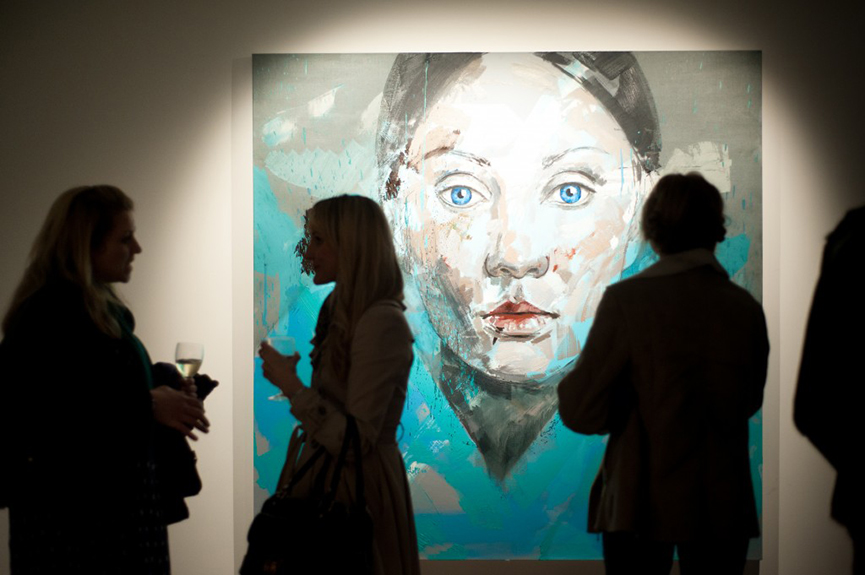 Paintings and Sculptures
The same painterly style Smit extends to the sculpture medium. His paintings and sculptures are monumental in scale and looking for a distance quite striking. But upon close inspection of Smit's canvas, the viewer loses oneself within the abstracted surface. The picture plane begins to disintegrate. The viewer is only able to decipher bold brushstrokes and colors as indicative of an individual artist's identity. The face is interrupted by bands of solid color and gestural swathes of paint. However, Smit's paintings retain ties to figuration.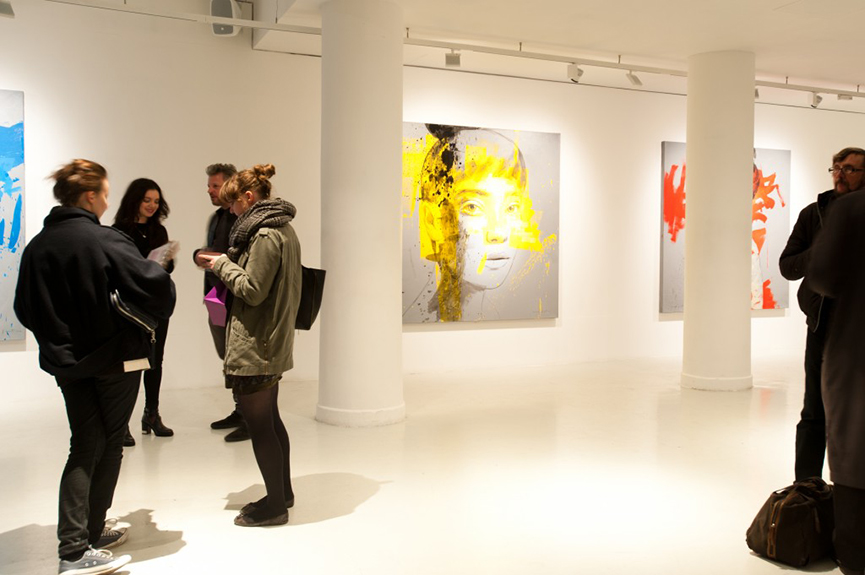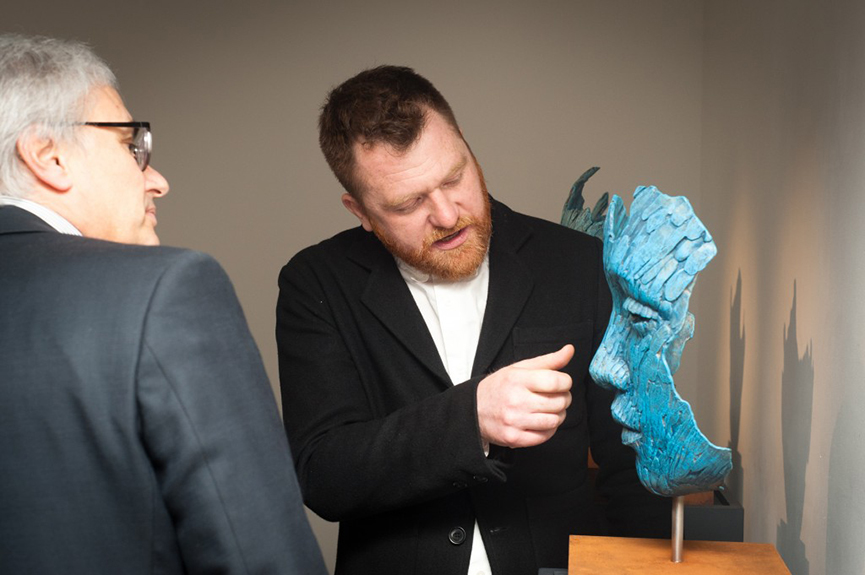 About Lionel Smit
Born in Pretoria, South Africa, Lionel Smit began exhibiting soon after graduating art school at Pro Arte Alphen Park. He has established a substantial global following in recent years, with a succession of sold out exhibitions, strong auction results, and his inclusion in this year's National Portrait Prize. His works now adorn many high profile public and private collections, including the Graff Estate and Standard.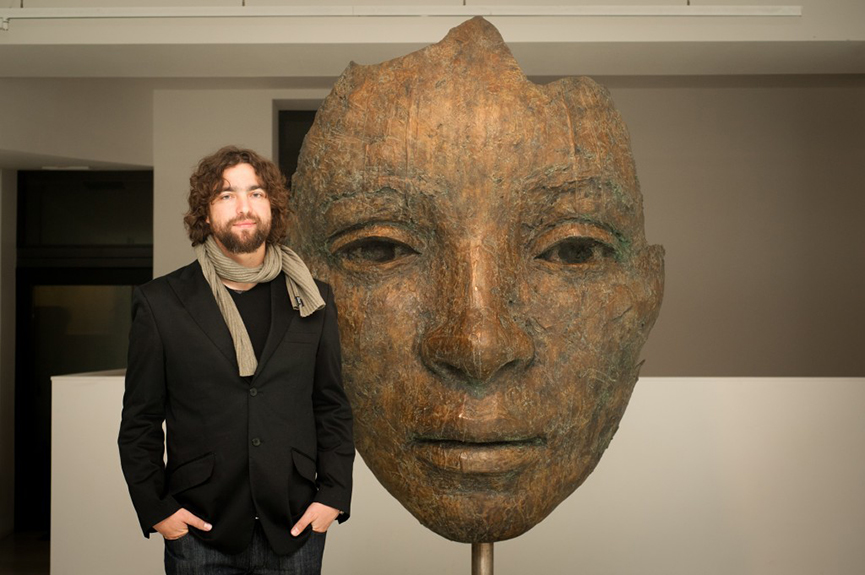 About Rook & Raven
Rook & Raven is a gallery, publisher of fine art prints and books, and creative portal situated in the heart of London's Fitzrovia district. Rook & Raven Gallery was founded in 2010 by Richard Grindy and Rachelle Lunnon, to encourage alternative artistic practice, forming a bridge between commercial and progressive art forms from both emerging and established international artists.