Located in the heart of Vienna, Galerie Lisa Kandlhofer has been a vibrant meeting place for artists, curators and collectors. It has been presenting both Austrian and international artists working in various media from painting, sculpture, drawing, photography and installations to a series dedicated to contemporary video works.
The gallery is currently hosting two concurring exhibitions - a solo exhibition of the artist James English Leary and a group show bringing together works by Delphine Hennelly, Kathryn Kerr, Leigh Ruple, Nathalie Shepherd and Faye Wei Wei, curated by Leary. Titled Small Fishes Swim Around Inside of Large Fishes, the solo exhibition puts on display a suite of works which continue the artist's interest in the transposition of painted space into shaped grounds. On the other hand, the group show titled The Picture is a Forest brings the juxtaposition of spaces and scales.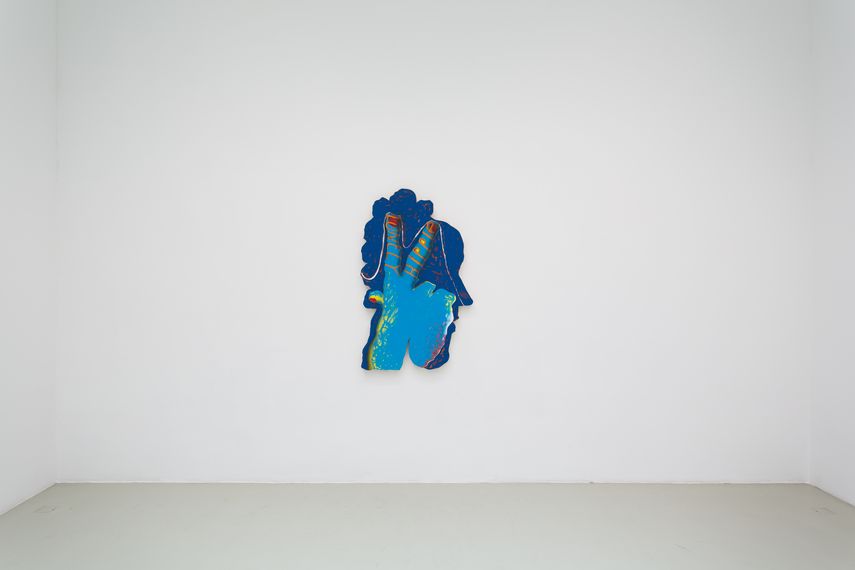 Small Fishes Swim Around Inside of Large Fishes
An artist, filmmaker and teacher, James English Leary is known for constructing his paintings out of the medium's component parts such as a stretcher, fabric, color, satirize follies of the mind and body. The resulting image-objects invoke metaphors that nurse camp-psychological states in the viewer. This way, the artist engages the problematics of how to read a painting.
In his second solo exhibition with the gallery, Leary presents the latest body of work which takes up the subject of the body at odds and converging with itself - the rhyming motifs of head-on-hand and hand-on-head.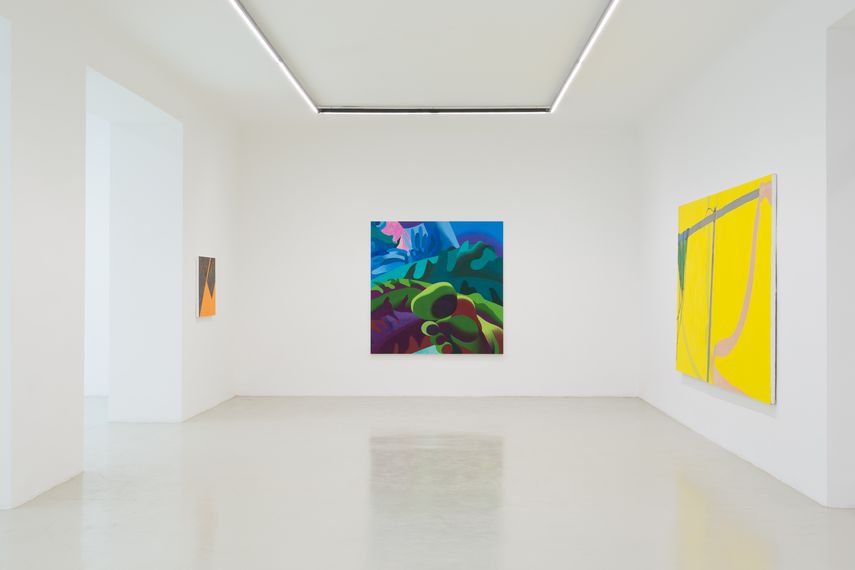 The Picture is a Forest
Coinciding with his solo show, James English Leary is also organizing a group show which exemplifies painting's unique disposition to engage strategies of scale and space in the conjuring of intimacies and immensities. As the artist explains, painting is "space, but it is odd space, personal space, invented space, impossible, contradictory, wackadoo, and yet deliberate space" and most importantly "a juxtapositional space — space as metaphor."
The works of Leigh Ruple invoke figures that are simultaneously too close and too far; Delphine Hennelly's works dissipate (or coalesce) up into atmospheres of pop-Rococo scenery; Kathryn Kerr combines ropes, boards, lashings, stones, and figures with insurmountable bogs and sunbursts of pure abstraction; Nathalie Shepherd's romantic works invoke the quixotic aspirations of a dreamer; while Faye Wei Wei presents works which depict life as an intimate pageant, part dream, part stage play, emphatically social yet wholly personal.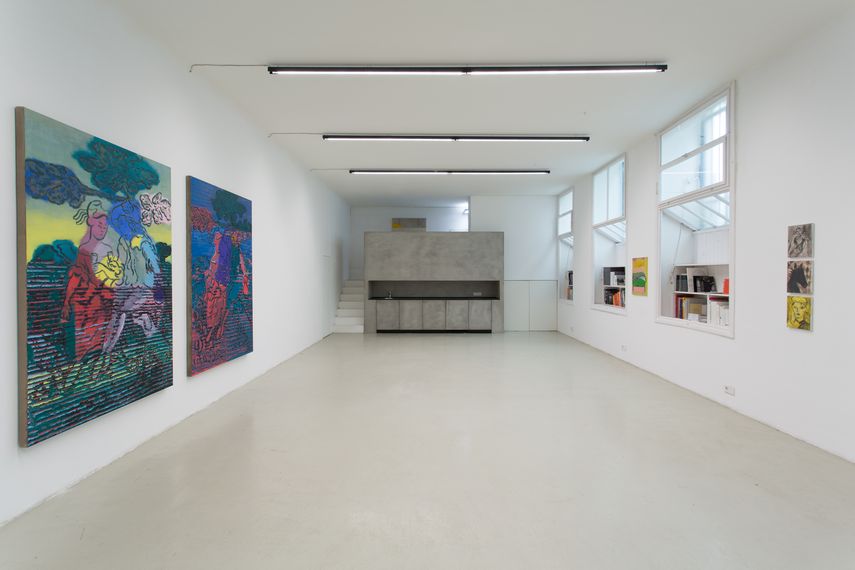 Exhibitions at Galerie Lisa Kandlhofer
The exhibitions Small Fishes Swim Around Inside of Large Fishes and The Picture is a Forest will be on view at Galerie Lisa Kandlhofer in Vienna from May 24th until June 19th, 2019.
Featured image: James English Leary, Small Fishes Swim Around Inside of Large Fishes, Installation View. All images courtesy of Galerie Lisa Kandlhofer.