For all of you art lovers and travel enthusiast who are eagerly awaiting our next destination, we are happy to introduce the next stop on our artistic journey. After Barcelona and Berlin, we are continuing our route through Europe and making our way to Lisbon, Portugal, one of the oldest cities in the world and a perfect destination for urban art admirers.
Once home of the great explorers, and the capital of a colonial empire, Lisbon is widely known for its glorious architecture, landmarks and monuments that can be traced back to almost any important historical period of European history. In spite of its beauty and historical significance, Lisbon has stayed on the margins of European tourist destinations and it was one of the last cities to experience a cultural blooming. This can mostly be explained by cultural stagnation and economic throwbacks first caused by the years of dictatorship in the 20th century and then the recent financial crisis that was especially troublesome for Portugal. Luckily, in the last ten years things are changing for the better, and it looks like Lisbon is experiencing a cultural resurrection. Due to the recession and employment cuts, younger citizens of Lisbon were left off with lots of spare time that many of them saw as an opportunity to self-organize and release their creative potentials. As a result, one of the most vivid and thriving alternative cultural scenes was born in the city of Lisbon, currently highly popular tourist destination for travelers devoted to the exploration of contemporary and urban art which can be found almost anywhere, from the city walls, to many galleries and cultural platforms.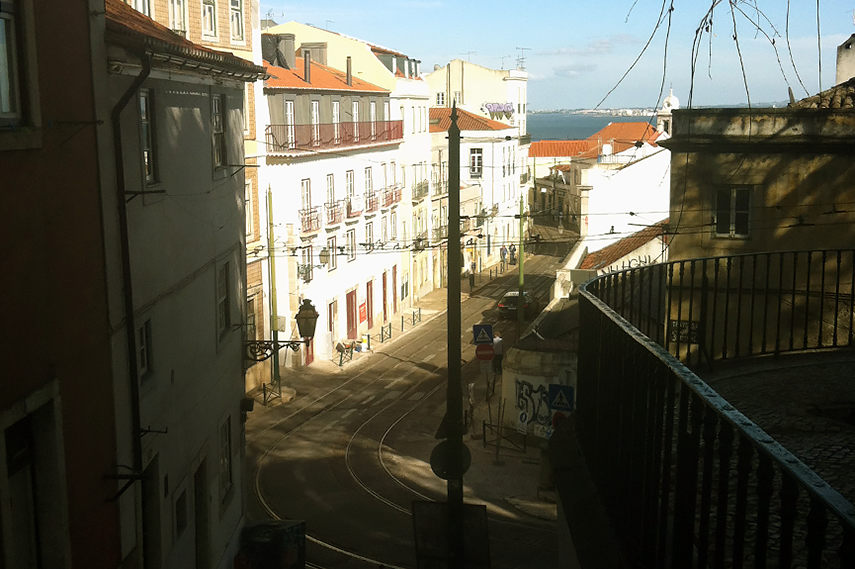 Lisbon: City Covered in Art from its Pavements to the Rooftops
The interesting thing about Lisbon is that art and craftsmanship were used to enhance the look of the city's public space for centuries. Simply by walking through the streets, one of the first things you will notice are beautify decorated mosaic pavements, and colorful tile designs on the facades of many buildings. During the years, as this praxis were falling out of fashion, the spirit of public space enhancement through art continued in numerous mural paintings and street art projects. In Lisbon, art can be found practically anywhere in the outdoor areas. However, if you are mostly interested in gallery spaces and contemporary art, Lisbon also has a lot to offer in this field. There are many art museums, independent galleries and exhibition rooms where you can find the best works of some of the leading Portuguese and international artists. Most famous galleries with permanent collections of works from 20th and 21th century are Berardo Museum and Centro de Arte Moderna, but if you want to get in touch with contemporary Portuguese art production you should try visiting Sao Mamede Gallery mostly focused on modern and contemporary Portuguese artists or Alecrim 50, gallery that promotes young and emerging ones. If you like art fairs, Arte Lisboa in one of the highlights of Lisbon's cultural life, bringing together collectors, art critics, local and international galleries and audiences.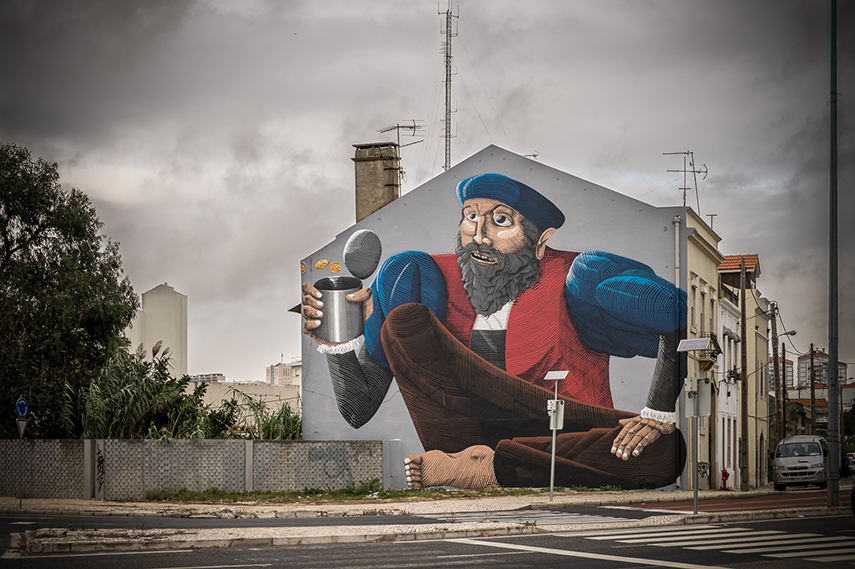 Journey Through Lisbon's Urban Art Scene
For our urban art tour of Lisbon, we had a perfect guide providing us with many inside information about the street art scene in this city. Recently, Pauline Foessel from the Underdogs Gallery joined us in a podcast interview and shared many interesting things about the development of the urban art scene and the work and the aims of the Underdogs platform. As we found out, the recent boom in the graffiti and mural works can be traced back to the years of the revolution when public space was used to communicate political messages. It is also a part of the history of Portugal to have paintings on the wall, due to the sensibility of Portuguese people to see and support artworks in the streets and public spaces. This support of the people quickly turned out to be official support of the government and the city council formed GAU or Galeria de Arte Urbana, a government division dedicated to the promotion of street art. GAU holds the wall in Bairro Alto district, with the ongoing exhibition by Portuguese urban artists.
Lisbon Street Art Tour
For a city that supports and promotes art in public spaces, where authorization for urban art projects is mostly easy to obtain, it comes as no surprise that urban art pieces can be seen practically behind every corner. That being said, you can choose your route randomly and be sure that you will catch many of them. However, the district of Alcântara is particularly interesting for the urban art admirers, as many great works by can be found there, including the Wall of Fame and many pieces created by Vhils, who just might be the capital's most favorite street artist. The Underdogs platform is going through some great efforts in promoting Marvila neighborhood, where some of the works by Olivier Kosta Thefaine, Okuda, Nunca and Clemens Behr can be found. While in Lisbon make sure you also visit the area around Marques de Pombal square and take a look at some exceptional works of Arm, Vhils, Boris Hopek, Momo, Akay and Brad Downey made in 2011, during the Crono project.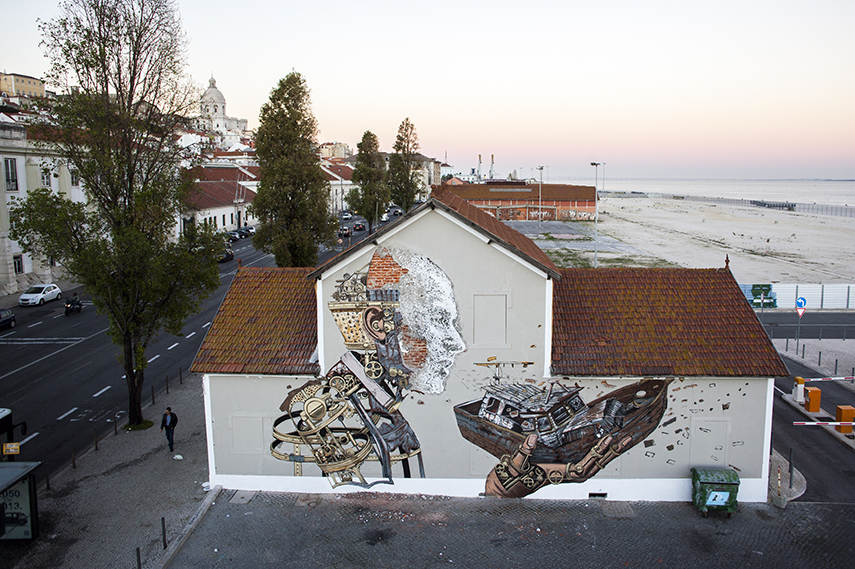 Mixing Art with Leisure in the Magnificent Portuguese Capital
In the end, when you get tired of sightseeing, gallery showings and walking through decorated streets of Lisbon, you are probably wondering what is more in Lisbon that can provide you with a unique artistic but more relaxing experience. We have a couple of ideas that you might like. There is an interesting project going on in one of the parking buildings. Chão do Loureiro is one of the parking silos that has been transformed into a dynamic urban art gallery with a terrace on top and a magnificent view over Lisbon's skyline. For those interested in the nightlife scene, there are some interesting actions going on in the industrial district Alcântara near the old port where many unused industrial complexes have been transformed into alternative cultural hubs. LX Factory is widely considered to be one of the main spots for artists, intellectuals and creatives in general, and the same concept of reinvention of the old factories is used in the making of Fábrica Braço de Prata, also one of the liveliest cultural venues.
Since its rediscovery as a cultural capital of Europe, Lisbon has been attracting people from all over the world. Wheatear you are a history enthusiast or you enjoy contemporary artistry, Lisbon is a place where you can certainly experience some of the greatest art to date.
Continue to travel FREE of charge through the art capitals by signing up for My Widewalls!