"Nowadays everything happens at once and our souls are conveniently electronic (omniattentive)", John Cage noted in 1966. One of the most influential and longest-running international contemporary art galleries in the world, Lisson Gallery first opened its doors on Bell Street in 1967, a year after this famous pronouncement on the changing conditions of contemporary existence. Now celebrating its 50th anniversary, the renowned art space is hosting an ambitious group exhibition inspired by Cage's words. The gallery is partnering with The Vinyl Factory to bring together half a century of artistic endeavor under one roof. Titled Everything at Once, the exhibition will present new and historical works by 24 contemporary artists, out of 150 who have had solo exhibitions at the gallery since its inception.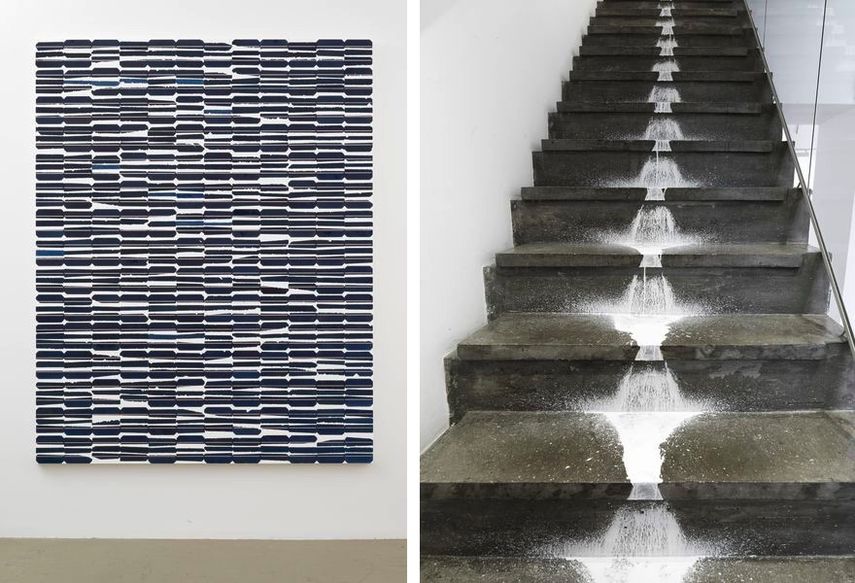 The All-at-Once Age
The words of John Cage resonate with our current anxiety-ridden age of ceaseless communication. As the artist predicted, we now increasingly live in an all-at-once age. Just like life, contemporary art assaults us simultaneously from all angles and from anywhere on the globe, echoing multisensory visions of an accelerated world. Taking this as a starting point, the exhibition will serve as an interconnected journey incorporating 45 works exploring experience, effect and event, invoking immediacy and immutability. Ranging from text to installation, painting, sculpture, performance and sound, the selection presents some of Lisson's leading artists, of both the past and present. The classic and career defining works include Dan Graham's largest-ever pavilion Showing off the Body from 2016, Ai Weiwei's 50-metre long wallpaper installation Odyssey from 2016, Anish Kapoor's At the Edge of the World II from 1998, Richard Deacon's take on materiality and multidimensionality Turning a Blind Eye from 1984, and Marina Abramović's films Freeing the Mind, Freeing the Body, Freeing the Voice from 1975, among others.

Ambiguities and Contradictions
The show also features works by artists who have joined the gallery in the last decade, including Ryan Gander, Wael Shawky, Haroon Mirza, Nathalie Djurberg & Hans Berg and, newly announced this autumn, Laure Prouvost. Referencing its title, the show attempts to explore the multiple ambiguities, contradictions, references and readings contained in individual works. Highlights include Provoust's hallucinogenic road movie Lick in the Past from 2016, Nathalie Djurberg's sensual animation The Black Pot from 2013, Floyer's sound piece Line Busy from 2011, and Cory Arcangel's hacked computer game screens MIG 29 Soviet Fighter Plane and Clouds from 2005, among others. New commissions include Richard Long's 60-metre long mud work, a new piece by Lee Ufan, and a new suite of paintings by Stanley Whitney.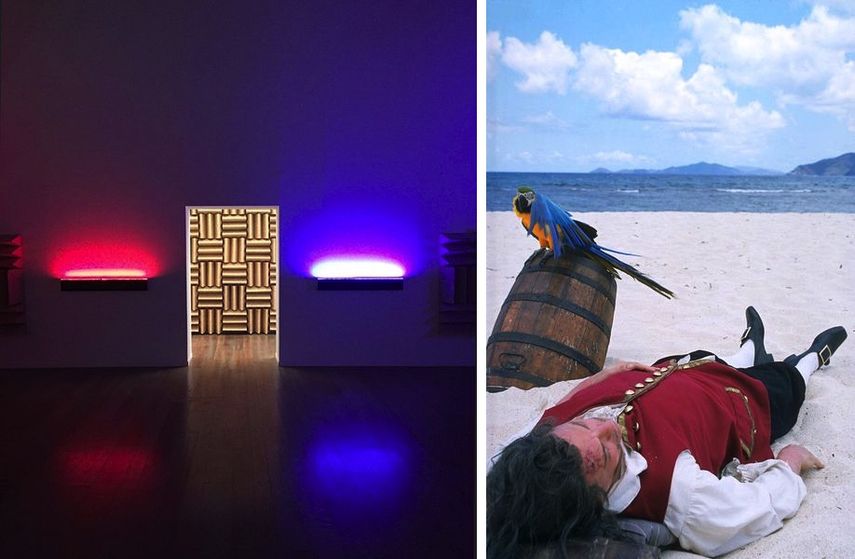 Everything at Once at Lisson Gallery
The show Everything at Once will telescope gallery's original aims into an unknowable future. It will be on view at Lisson Gallery in London from October 5th until December 10th, 2017. It has been co-curated by Greg Hilty and Ossian Ward of Lisson Gallery in partnership with The Vinyl Factory. The show will be complemented by the first in a series of ambitious Vinyl Factory commissions at Store Studios, 180 The Strand: Ryoji Ikeda's Test Pattern no.12, a site-specific audio-visual experience comprised of visual patterns generated from sound waveforms in real time.
Participating artists are Marina Abramović, Ai Weiwei, Allora & Calzadilla, Art & Language, Cory Arcangel, Tony Cragg, Richard Deacon, Nathalie Djurberg & Hans Berg, Ceal Floyer, Ryan Gander, Dan Graham, Rodney Graham, Susan Hiller, Shirazeh Houshiary, Anish Kapoor, Lee Ufan, Richard Long, Haroon Mirza, Tatsuo Miyajima, Julian Opie, Laure Prouvost, Wael Shawky, Lawrence Weiner and Stanley Whitney.
Featured images: Dan Graham - Two V's Entrance-Way, 2016; Two-way mirror glass, perforated steel, 235 x 827 x 508 cm © Dan Graham; Courtesy Lisson Gallery; Susan Hiller - Channels, 2013. Video installation with sound; Dimensions variable; Photo by Oh Dancy © Susan Hiller; Courtesy Lisson Galler; Ryan Gander - What a force for good you run (Dramaturgical framework for structure and stability), 2017; Stainless steel, brass, aluminium wire, plastic sleeving, 141 x 65 x 95 cm, 55 1/2 x 25 5/8 x 37 3/8 in © Ryan Gander; Courtesy Lisson Gallery; Marina Abramovic - Freeing the Memory, 1975;(performance) 1; Single channel video artwork, black and white with sound; Footage from the 1.5 hour performance in 1975, at the Daci Gallery, Tubingen; Photo by Ken Adlard  © Marina Abramovic; Courtesy Lisson Gallery; Haroon Mirza - A Chamber for Horwitz; Sonakinatography Transcriptions in Surround Sound, 2015; Custom audio visual device, LEDs, speakers, foam; Dimensions variable © Haroon Mirza; Courtesy Lisson Gallery; Cory Arcangel - MIG 29 Soviet Fighter Plane and Clouds, 2005; Hacked Nintendo Entertainment System game cartridges, Nintendo Entertainment System game consoles, artist software, variable multi-channel presentation; Dimensions variable © Cory Arcangel; Courtesy Lisson Gallery; Ceal Floyer - Things, 2009; CDs, CD-player, speakers, cables, wood; Dimensions variable © Ceal Floyer; Courtesy Lisson Gallery; Ceal Floyer - Taking a Line for a Walk, 2008; Line making machine and water-based marking paint on floor; Width of line: 12 cm, length: variable; Width of line 4.7 in length variable © Ceal Floyer; Courtesy Lisson Gallery; Ai Weiwei - Detail of 'Odyssey', 2016; Wallpaper; Dimensions variable © Studio Ai Weiwei; Courtesy Lisson Gallery.