Through December 23rd 2016, the visitors of Klein Sun Gallery in New York will have the chance to enjoy the art of Liu Bolin, and not just through his renowned photographic works. The prominent Chinese artist has taken an exciting direction toward Post-Internet art, introducing installations in various media such as neon art. But what could perhaps be considered the highlight of the Art Hacker show is the remarkable way in which Liu Bolin appropriated classical masterpieces like da Vinci's Mona Lisa or Picasso's Guernica, using the very technique that made him famous: the complex, time consuming, highly detailed and hand-painted act of camouflage. Following the idea to remind us of Mona Lisa being stolen from the Louvre a century ago, as well as relive the history of the Spanish civil war by making a plea for humanity and freedom, the artist asks the viewers to delve into what is beneath the surface. In these works, we can examine our relationship wth the past and the present, reality and illusion.
We had the opportunity to talk to Liu Bolin about the incredible process captured in the photographs that has turned him into a creative of international fame. What started in his homeland China as a revolt against the oppressive government took the whole world one image at a time, proving that he can become invisible and blend in just any kind of background. By disappearing into his own pictures, Liu Bolin highlights a variety of issues and topics at stake, better than pointing at them directly ever could. Read our interview below.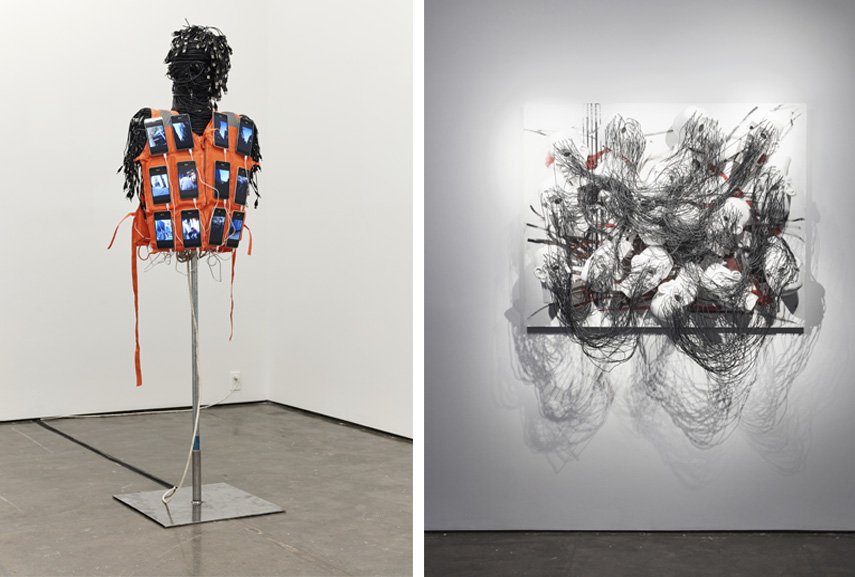 Liu Bolin - Hiding in The City
Widewalls: How did the idea of "Hiding in the City" come to be? What was the very first photograph you made?
Liu Bolin: "Hiding in the City began as a performance art, protesting the destruction in Suo Jia Cun, Beijing in 2005. On November 16th, 2005, the Chinese government forcibly demolished Suo Jia Cun, which had been named the largest artist workspace in Asia. I was working there at the time, so I began this series, protesting the atrocities of the government. I wanted to use my work to show the fact that artists and their living spaces were unprotected. The stillness of my body during the production of the work is a silent protest. The insistence of my body and its resistance to movements in my surroundings are both reflected in my work. I'm fighting for freedom and equality for many artists through using my body. It is my choice that it is covered and erased in my work; it is a statement by me as an artist to counter the political regime and propaganda by the Chinese government. I choose to camouflage, merging into the environment so that people will pay more attention to the background, and hopefully the issues hidden in the social background and our society.
Widewalls: Have you noticed a particular change in the Chinese identity since the time you started tackling the topic to today? How strong is the need to still talk about it?
LB: In the present, it is surprising to learn how many pressing issues are actually ignored, and many of us are unaware of them. With China's booming economy and rapidly expanded urbanization, there are many conflicts emerging which causes dissatisfaction towards Chinese society among people in China. There are many issues to resolve, the constant transitional society in China also causes confusion.
Widewalls: What about the status of contemporary artists in the country? Your art also addresses this issue. Has it got any better?
LB: Since the Chinese avant-garde art movement in the 80s, there has been a revolution in artistic forms and mediums in the Chinese art scene. Many contemporary Chinese artists began to experiment with new mediums during the time, such as video art and many other forms of conceptual art. In addition to that, many artists began to have assistants work with them. Artists developed concepts for their works while the production can be done with the help of assistants. Although politics and economy play an important role in shaping the contemporary art scene in China, and the contemporary Chinese art has been prospering, they also play an important role in reflecting people's conflicted desire in contemporary Chinese society.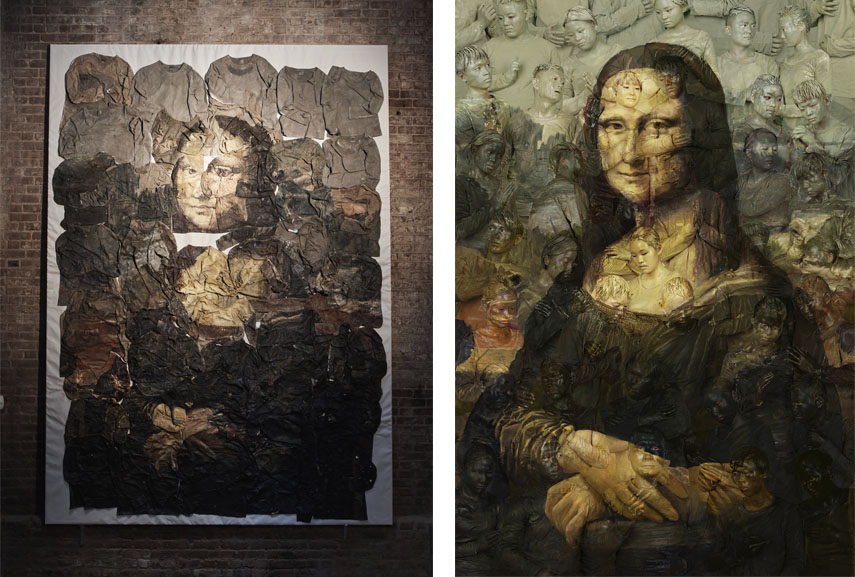 The Art of the Invisible Artist
Widewalls: Can you tell us about the process behind a typical photograph? How long does it take for you to "blend in"?
LB: When I was working on "Hiding in the City" series, my whole body would be painted with the help of my assistant. People would look at me strangely and stop as they would pass by. They were curious about what I was doing. I enjoyed the moment when people would stop and be curious about what I was doing, some people would nod to me when they understood my work, which to me was a way for me to interact with the public. To finish one photograph, it usually takes about 3-4 hours.
Take my series of Disappearing in New York, which developed into an exhibition at Eli Klein Fine Art. I stood in front of the World Trade Center, my assistants trained as realism painters, covered myself with colors similar to the background. I would have some photos of me taken to test it and then make some adjustments. I then marked where my feet were. Once the paint had dried, I went back into the marked spot and my assistants would complete all the details.
Widewalls: Who are the people you collaborate with in the group photographs we encounter? What do they represent?
LB: People who appear in the works shown in this exhibition are all my old friends. I invited them to collaborate with me. I have made these photographic works for years and I always think that working with them is very delightful and meaningful to me.
Widewalls: What does a place you choose for the image need to have, in order for you to "become a part of it"?
LB: To me, why I camouflage is more important; the process of hiding myself into the background somehow takes away part of your individual identity. And how to show the process of my critical thinking in the process of hiding myself is the most important concern.
Widewalls: Because you took your practice around the world, does it carry a different idea for each of the cities you pick as your background?
LB: This questions can be explained through my work "Hiding in the City," which is a series that represents the interdependent relationship between the human body and the environment. The reason that I choose different cities is because I want to show different issues in different regions in relation to the development of human beings.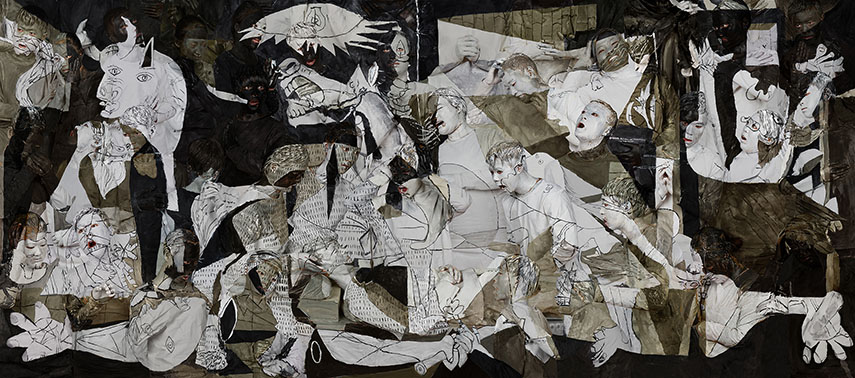 All the World is a Stage
Widewalls: The very notion of working on the streets to create artworks brings your work very close to the one of street artists. You even posed in front of a few street pieces, including JR's "Eye". Is this something you would consider doing more often in the future? Are there other artists you admire and would collaborate with?
LB: I admire JR and his work. I'm thrilled that I have had the opportunity to collaborate with him. JR primarily focuses on the lives of ordinary people through his works. In one of the series by JR incorporating eyes, his concept for this series is to search for things with the eyes, while my work incorporates the idea of trying to hide into the background. In this way, our concepts are in opposition to each other. What I wanted to express is that there would always be something that people couldn't find out, although they put tremendous effort into it. I think the work is a great collaboration both conceptually and artistically between the distinctive ideas from both JR and I.
Widewalls: What can we expect from you next? Will you stick to the idea of disappearing and invisibility? Will you perhaps approach it in a different way? Different medium even?
LB: Many people read my work as a way of me vanishing or disappearing into various backgrounds as a symbolic way, however I think my works are more concerned with the human body, which is an entry point for me to delve into certain social issues. In many of my works, I focus on issues of pollution, tainted food and forced demolition in China, which are all harmful to our bodies, whether physically or mentally. And I will continue to try to use my own body to question these issues and ultimately to scrutinize them in our society.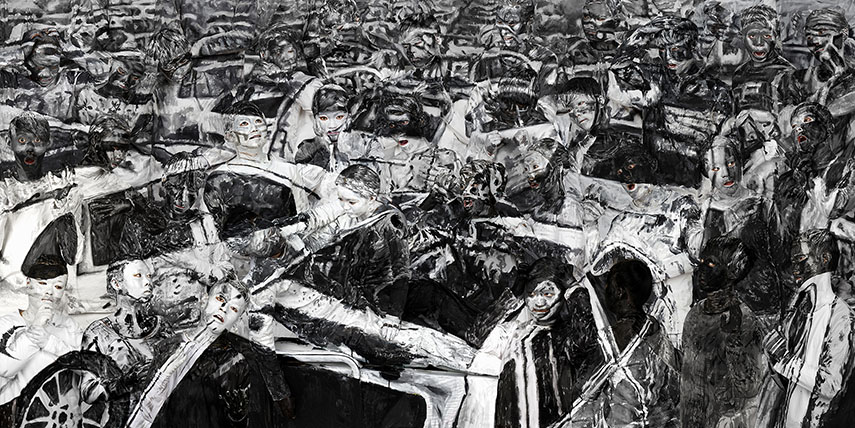 Featured images: Liu Bolin, Art Hacker installation shots at Klein Sun Gallery, New York 2016; Liu Bolin - The Way to Future No.2, 2016. Neon lights, dimensions variable; Liu Bolin - The Way to Future No.6, 2016. Neon lights, dimensions variable. All images Courtesy Klein Sun Gallery, © Liu Bolin.