Despite the fact that the majority of societies has emancipated in regards to LGBT acceptance, the global rise of right-wing discourse is taking its toll so anyone making queer lives visible at the moment is of great importance. Therefore, art projects which somehow articulate queer memory in the public sphere are quite important for better understanding of the community and its history.
A good example is an immersive exhibition by artist and designer Liz Collins of suggestive title Cast of Characters displayed at The Bureau, New York City's only queer bookstore. As a matter of fact, it is a site-specific interwoven of works by a huge number of queer artists of different generations and backgrounds and can be seen as an extension of her ongoing interest in the intersection of fiber arts and installation.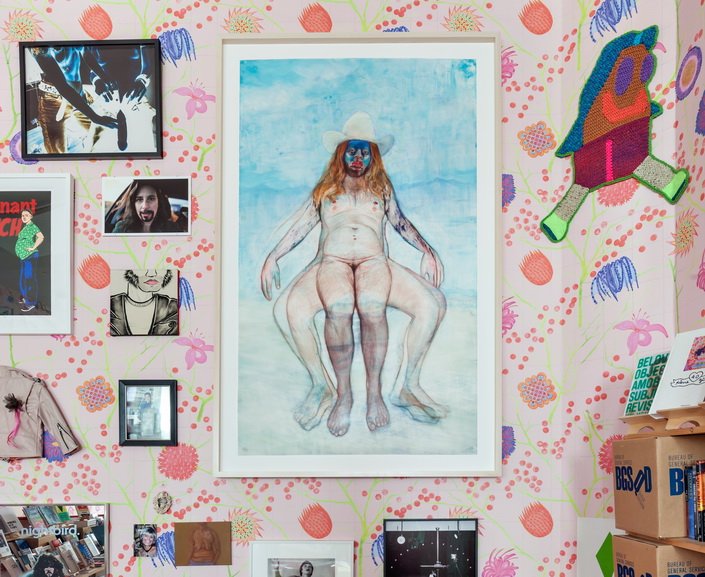 A Place of Queer Memory
Liz Collins has always been quite fond of this bookstore, so the installation should be perceived as a reflection of her memories of various exhibitions dedicated to NYC avant-garde drag scene, AIDS artists, and lesbian archives. By emphasizing personal and collective experiences from the past and the present, she creates a specific narrative of solidarity. Liz Collins explains her process:
I wanted to convert this store into a warm, bright reading lounge filled with vibrant colors, patterns, and textures, and an eclectic exhibition of contemporary Queer life and people through portraits by LGBTQ artists. I was inspired by the Victorian-era study/salon/library, where one's special possessions were on display and the size of one's library was a representation of one's intellectual life. The layers of pattern and colors function as a dynamic foundation to the portrayal of life through images and objects from a diverse cast of characters- which is how I imagine my community to come together in this show.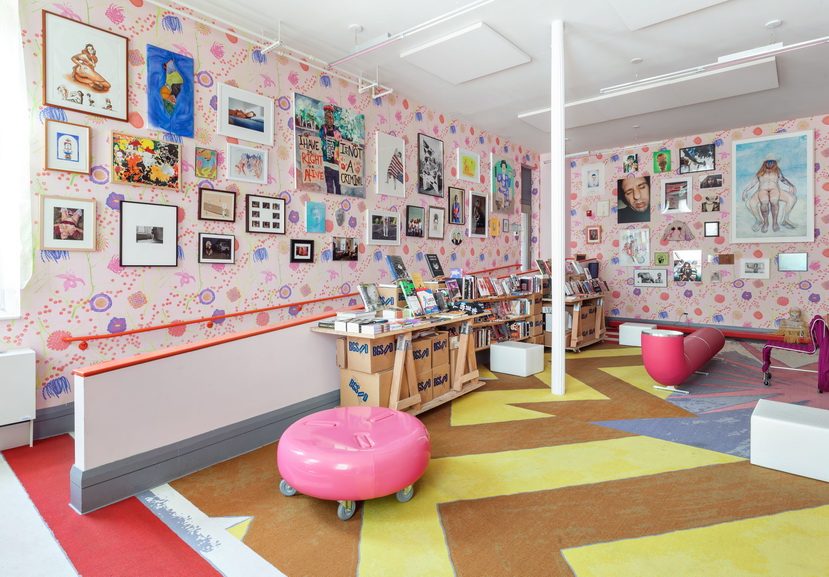 The Artists
In order to gather works of queer artists for the installation, Collins started asking her friends to participate. After some time she realized that the works of other artists so fond to her should be there as well, along with people from queer art organizations in NYC such as Queer Art and Fire Island Art Residency.
It turned out that photography is the dominant medium, so the decisions to expose as much as possible portraits of queer bodies came somehow natural and in accordance with the concept. Collins emphasized the selection process by stating:
For the most part, I asked people to propose what they would like to show, based on the premise of the project and then picked that work. Sometimes it was very hard, like when Zanele Muholi's gallery sent me a 20-page pdf of dozens of her stunning portraits and asked me to pick one. I loved some of the sculptures that people surprised me with: Avram Finkelstein's ceramic cup with a broken handle piece; Troy Michie's coat piece; Midori's vagina made of animal teeth; Anna Parisi's rust piece.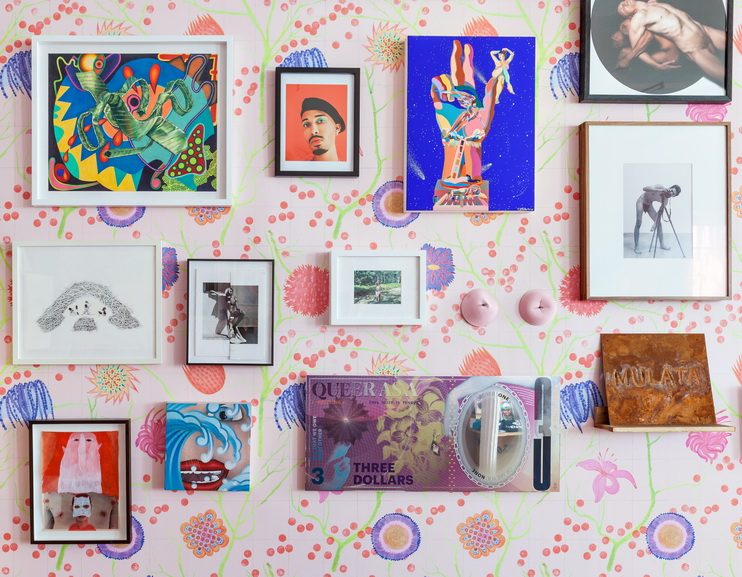 Cast of Characters at The Bureau of General Services
This particular immersive installation/exhibition is of great importance for the empowerment of the young LGTBQ people, as well as a really good survey on the representations of gender and identity. It should be perceived as an educational platform, as well as the space for contemplation and dialog.
Liz Collins has devotedly created this piece in order to accentuate that:
It portrays a robust cross-section of powerful, engaged artists who are looking at ourselves and others through many different lenses. The show is a joyful celebration, an assertion of queer identities, a reflection of an era, and a picture of a beautiful, diverse community through its artworks.
Cast of Characters would not be possible without a grant from The Kors Le Pere Foundation and by individual donations to the Cast of Characters Kickstarter campaign. It will be on display at The Bureau of General Services—Queer Division and The Lesbian, Gay, Bisexual & Transgender Community Center in New York until 16 September 2018.
Featured image: Cast of Characters, installation view. All images by Regan Wood Studio, courtesy Liz Collins.