Riding on the weird horse, LOOK entered Ultraland in all of his glory. While hailing numerous oddities extracted from the oneiric realm of his childhood, this German street artist created a surreal canvases around the series It was all green instead.., bursting with color, strange characters and post-post-apocalyptic spirit. New works by LOOK the Weird are to be exhibited at Epicentro Artspace in Berlin, presenting his latest canvases, drawings and prints. Numerous influences intertwining in depictions of Ultraland, evoking unexpected juxtapositions of Magritte, lush natural setting of Henri Rousseau, or inverted figures of Baselitz. Entitled Meanwhile in Ultraland, the solo exhibition of LOOK the Weird promises exotic painterly solutions spices up with visual fun.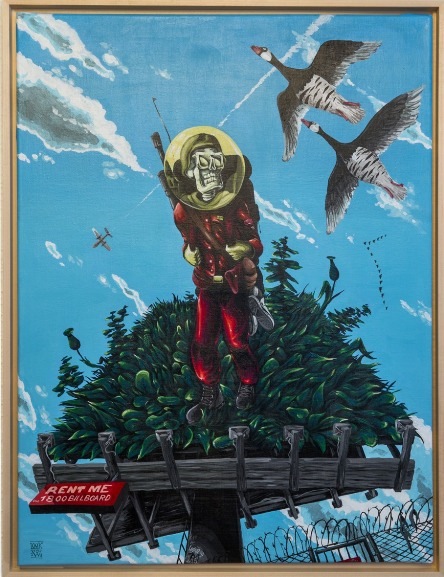 LOOK
Lars Wunderlich was born in 1981 in Mecklenburg, former East Germany. Drawn to the act of painting and drawing in early childhood, the creative drive never left him, especially after he discovered graffiti in 1996. Fascinated by all the aspects of aerosol, graffiti became the favorite technique and expression channel of LOOK, remaining so to date. The artistic path led LOOK to applied arts study he commenced in Greifswald in 2001, to continue his schooling in Berlin. Moving to Berlin marked a new era in LOOK's career, because it was the Capital where he met Vidam, with whom he initiated a design collective PEACH BEACH. Their studio is still active, participating in various campaigns internationally. Recent LOOK's artwork and activities unveil increased number of group and solo exhibitions, as the artist progressively develops himself as a visual artist. Still, his graffiti origins and passions are not forgotten, as he engageds in many wall painting activities, seasoned with traveling and collaborative work.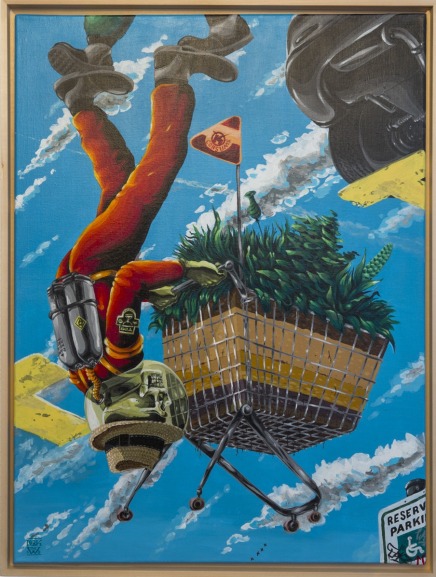 The Weird Crew
LOOK The Weird is the full moniker of Lars Wunderlich, referring to his attachment to an Austrian-German graffiti company - The Weird Crew. LOOK is a founding member of the collective that gathers 10 artists from both German-speaking countries. Working together, the crew developed a style oozing pop art influences, surreal scenery, odd characters and artificial palette, painted across the world, followed by wild n' weird celebrations and partying. The full namelist of The Weird Crew includes Cone, DXTR, Frau Isa, Herr Von Bias, Low Bros, Nychos, Vidam, Rookie and LOOK.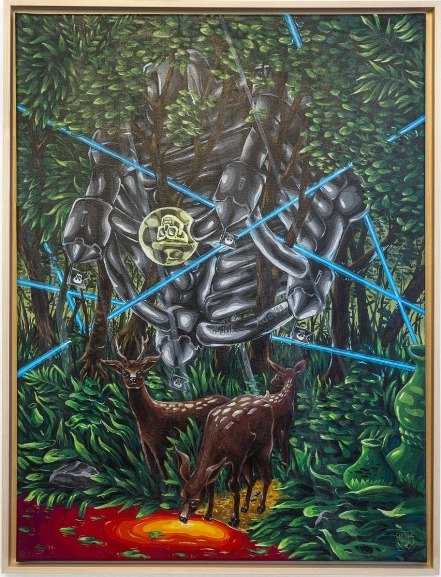 Meanwhile in Ultraland
Opening on October 12, LOOK's solo exhibition will showcase the style of LOOK, perhaps allowing it to be easily recognized in the large group murals he continuously paints. Leading back to a strange dream LOOK had as a teenager, entire series revolves around his surreal experience of sinking into the fluid ground and seeing the blurred world from below. The vision has proven itself haunting for the artist, as he engaged in reminiscing and depicting of the same scenery his mind experienced long time ago, which influenced the whole of iconography LOOK builds his expression on. Observing his pieces, we encounter curious creatures, robots, leftover parts of big machines alluding that the apocalypse is long gone, while the remainder of the Earth is taken over by wild flora and mutated humanoids, while animals, although drinking from the fountain of doom, appear unaltered. The thought provoking show Meanwhile in Ultraland will be on view at Epicentro Artspace in Berlin, running through October 26, 2014.
Various post-apocalyptic visions are detected in works of  Bom.k from French DMV crew, the maker of machined butterflies - Ludo, magical lands of Jesus Benitez Dhear, violent outbreaks on works of Cleon Peterson, and even on the latest photographs of the celebrated fashion and art photographer David LaChapelle.