By the late 1970s, performance art was still not fully recognized as an autonomous discipline despite the fact the artists such as Chris Burden, Gina Pane, and Marina Abramović already became critically recognized and their works were shown internationally. However, looking from a contemporary stance, any list of renowned performances indicates both men and women as authors, but most of them white, making one wonder: who are the leading Black performers active at the time?
The most illustrious example is the multimedia practice of Lorraine O'Grady, the notable art figure who explored racism, sexism, and institutional inequities on the verge of conceptualism, feminist art, and performance. Although best known for an elaborate alter ego Mille Bourgeoise Noire, for four decades this artist has managed to maintain a well-versed socially-charged agenda by subverting the stiffness of the art world and wider social structures.
This March, a long-awaited Grady retrospective titled Lorraine O'Grady: Both/And will take place at Brooklyn Museum with a selection that includes all of the artist's most important projects, a wide selection of archival materials, and a debut of a new work titled Announcement of a New Persona (Performances to Come!).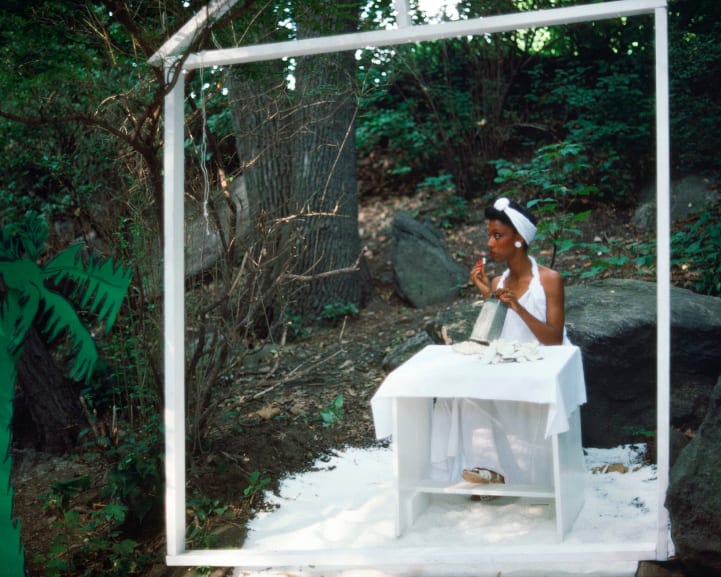 The Applied Critique of Segregation After Lorraine O'Grady
Lorraine O'Grady was raised in a Boston-based, middle-class Jamaican immigrant family and educated at Wellesley College. Before she started practicing art at the age of forty-five, O'Grady worked as an intelligence analyst for the United States government, a translator, a rock music critic for The Village Voice and Rolling Stone, and a literature instructor at the School of Visual Arts.
In the late 1970s, she encountered the Just Above Midtown (JAM) gallery that had an essential role in the start of her artistic practice. The electric atmosphere of this venue and the presence of artists of color inspired O'Grady to question the omnipresent segregation in the art world, but also to articulate Black female subjectivity through her early performances.
To point out this self-reflection, along with the oppositions such as black and white, museum and individual, self and other, West and non-West, this exhibition will present the artist's work as a response to the contradictions and inequalities that stand at the core of Western thought.
The exhibition is jointly curated by Catherine Morris, Sackler Senior Curator Elizabeth A. Sackler Center for Feminist Art, Brooklyn Museum, and writer and critic Aruna D'Souza, with Jenée- Daria Strand, Curatorial Assistant, Elizabeth A. Sackler Center for Feminist Art, Brooklyn Museum. Morris underlined the importance of the upcoming survey:
A Lorraine O'Grady retrospective is long overdue. For forty years—from the moment she bravely launched herself into the New York art world via the critically astute and unflinching character Mlle Bourgeoise Noire in 1980— Lorraine O'Grady has utilized the tools of the avant-garde to make work prioritizing and valuing her own lived experience as a diasporic subject. We are proud to present the first comprehensive survey of such an important and long underappreciated artist. In addition to holding an important work by O'Grady in our collection, the Brooklyn Museum has featured several of her compelling projects in two recent groundbreaking exhibitions, We Wanted a Revolution: Black Radical Women, 1965–85 and Soul of a Nation: Art in the Age of Black Power. We are so pleased to have this opportunity to further our support of Lorraine's extraordinary vision and to build her legacy at the Brooklyn Museum.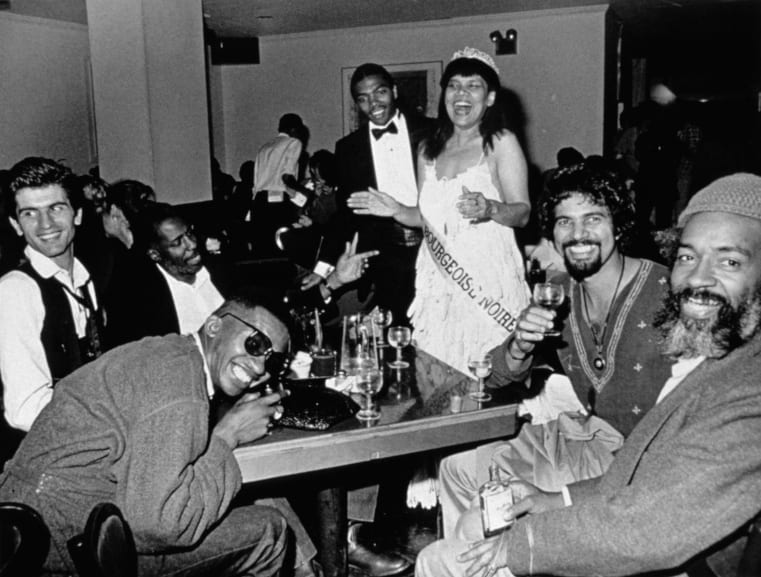 Thematic Sections
Lorraine O'Grady: Both/And will be installed around six sections of which three sections will be located in the Elizabeth A. Sackler Center for Feminist Art, and the other three will be inserted into the museum's collection (in the European Art, Ancient Egyptian Art, and Arts of the Americas galleries) to underline the consistency of O'Grady's institutional critique. As mentioned, her art projects will be followed by a rich selection of materials from the artist's personal archive that will unravel her creative process.
The sections in the Elizabeth A. Sackler Center for Feminist Art will encompass O'Grady's Rivers, First Draft, a one-time performance staged in a secluded corner of Central Park in front of several spectators; this piece spoke of her own life transition from childhood to artistry in a manner reminiscent of both contemporary theatre, Dada cabaret and West African Vodun symbolism. The same gallery will include the original collages from Cutting Out the New York Times made by O'Grady in 1977 in the aftermath of a medical crisis (twenty-six personal poems were written from words and phrases extracted from the headlines of the Sunday edition of the New York Times); as well as a recent series called Cutting Out CONYT (2017), that is a remix of the 1977 work.
The second section will accentuate O'Grady's critique of cultural assumptions in the art world, and the institutional structures that support them. It will include the three projects, Mlle Bourgeoise Noire (1980), Art Is... (1983), and The Black and White Show (1983), that underline the exclusion of Black artists and audiences. This body of work made during that period was centered on her performative persona, Mlle Bourgeoise Noire (Miss Black Middle Class), an aging beauty queen dressed in an evening gown made from 180 pairs of secondhand white gloves; as a persona, O'Grady used to appear in groundbreaking guerrilla performances at both Black and "mainstream" (white) venues in New York City.
The final section will feature photo collages from the 1992 series Body Is the Ground of My Experience, including the diptych The Clearing: or Cortés and La Malinche, Thomas Jefferson and Sally Hemings, N. and Me that is considered as O'Grady's most controversial work as it suggests that the most intimate relationships between Black and white people are infected by the deep history of racism and colonialism. The Ancient Egyptian Art galleries will feature Miscegenated Family Album which is one of O'Grady's best-known works; Landscape (Western Hemisphere) (2010–2012), the 18-minute video installation will be installed in the Arts of the Americas, while a new body of work entitled Announcement of a New Persona (Performances To Come!) will be presented in the European Art galleries.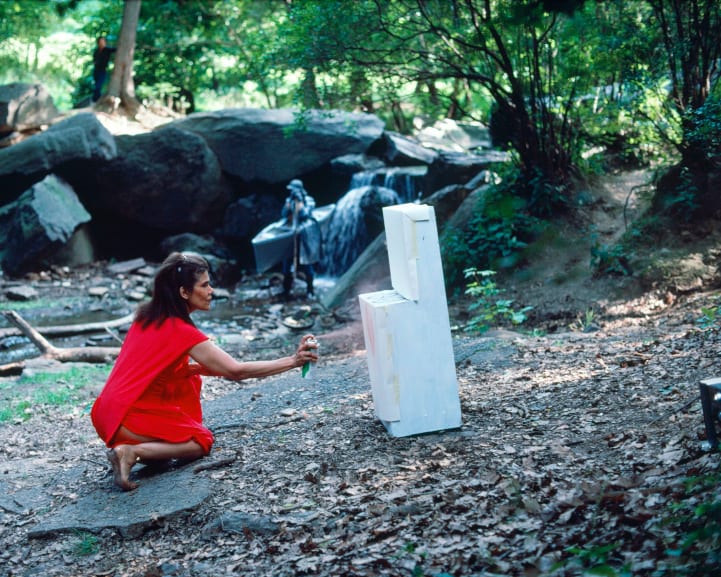 Lorraine O'Grady at Brooklyn Museum
Paying closer attention to the work of this artist, who has been ahead of her time, is a mandatory intervention into the canon not only of American art but beyond that. The same will also give an important insight into what the struggle for equality in the art world meant in the past and what it means today, given that certain mechanisms have still not changed.
The exhibition will be accompanied by an all-encompassing publication with essays by acclaimed scholars and the curators themselves, as well as by a volume of the artist's collected writings, Writing in Space: 1973–2019, edited by D'Souza for Duke University Press.
Lorraine O'Grady: Both/And will be on display at Brooklyn Museum in New York from 5 March until 18 July 2021.
Featured image: Lorraine O'Grady - Miscegenated Family Album (Sisters I), L: Nerfnefruaten Nefertiti; R: Devonia Evageline O'Grady, 1980/1994. Cibachrome photographs, 26 × 37 in. (66.04 × 93.98 cm). Edition of 8 + 1 AP; Miscegenated Family Album (Sisters IV), L: Devonia's sister, Lorraine; R: Nefertiti's sister, Mutnedjmet, 1980/1994. Cibachrome photograph, 26 × 37 in. (66.04 × 93.98 cm). Edition of 8 + 1 AP. Courtesy Alexander Gray Associates, New York. © Lorraine O'Grady/Artists Rights Society (ARS), New York. All images courtesy Brooklyn Museum.