Lou Chamberlin combines two of her greatest passions - photography and street art - into a nicely curated Instagram profile, but also a total of five books of her pictures worth having. This Australian-based artist has been traveling the world documenting the "word on the street", and her latest publication is coming out under the title Urban Scrawl. It pays a nice visual homage to text-based street art in its variety, covering everything "from formal typography to angsty scrawl", from established artists to anonymous creators.
Spanning artworks in 54 cities across 22 countries, the photographs inside this book give a great overview of the street production today, drawing out a spectrum of feelings and reactions. We sat down with Lou Chamberlin to discuss the book, as well as her now fifteen-year-long career as a successful street art photographer.
Defining Street Art
Widewalls: Where does the love of 'the word on the street' come from? How did you start photographing it?
Lou Chamberlin: I've loved watching art move into the streets for all sorts of reasons. The easy accessibility and the possibility of personal interpretation are two of my favourite qualities. While these obviously apply to imagery, they also apply to 'the word'. The fact that 'written' street art is sometimes large and highly visible and at other times so small that we can walk over it without noticing, makes it a wonderful - and highly rewarding - subject for urban exploration.
I began to photograph 'writing on the wall' about 20 years ago, in Melbourne (my home base) and on my travels. It always seemed to be a very local response to the world that I was visiting. Political slogans, social comments and messages of frustration could be seen in quiet corners and in very public places. The messages intrigued me – and still do.
Widewalls: What is your definition of street art? And graffiti? What is their purpose?
LC: They're such big questions, and the answers are changing with time and usage. Street art is literally art on the street and for some, this includes graffiti, which can be complex and visually exciting. A couple of years ago I would have used the word 'text' as part of the distinction between street art and graffiti, as in graffiti uses elements of fonts and text and street art is imagery, but that is no longer true.
If I had to define them now, I'd probably still say that imagery is the most important element in street art, and that it is painted to communicate with the viewer, whether a passerby or on screen; while graffiti is a way for 'writers' to display their skills to other writers - it's all part of their identity.
Widewalls: Do you have your favorites among the art, the artists, the styles?
LC: If we're talking about 'the word', I love the way it is incorporated with great subtlety into monumental imagery by artists such as Ricky Lee Gordon and Axel Void. At the same time, the gentle messages of Hayley Welsh make me smile and the irony and wry humour of TeneT, MaisMenos and JPS allow me to chuckle, although it's not always PC to do so! As often as not, the writers are anonymous and the words are scrawled with chalk or pen onto footpath or wall.
In short – I love it big and I love it small. It's always the message behind the text that does it for me.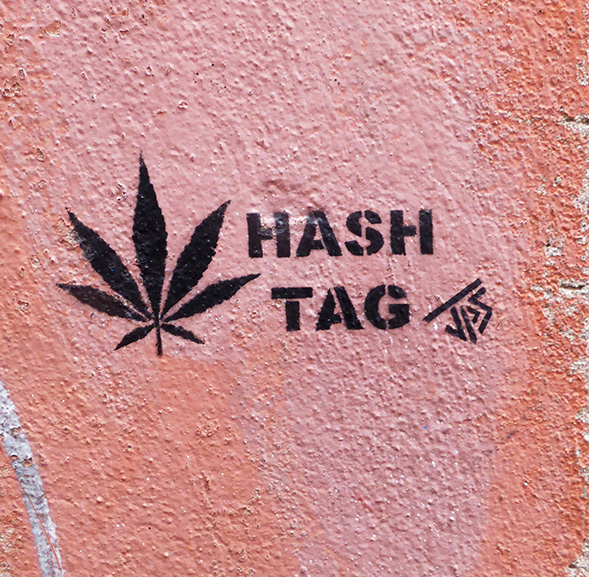 The Art and Photography of Lou Chamberlin
Widewalls: You are also an artist yourself: could you tell your readers about your practice?
LC: My practice is very different to street art – it's small and personal. I work with dry media and watercolour, most often in the format of artists' books. I create panoramic landscapes a couple of metres wide when I go on long distance walks, and I paint the detritus of everyday living when I meet it on the streets. That being said, I DO have a couple of stencils up my sleeve for when the time is ripe…
Widewalls: You have quite a following on your @streetartaustralia Instagram account. What can the users see there? What is their response to the works?
LC: I only post street art on @streetartaustralia, so that's what users will see. I'm based in Melbourne, so there are always photos of what's going up here. At the same time I travel as much as I can and street art is often the focus when I'm in other cities and countries. On any particular day, there's a good chance that you'll see a photo of street art from NYC or Denver, Amsterdam or Christchurch. Comments from users are generally positive. My favourites are the ones where someone is grateful for having been introduced to a 'new' artist. It's great to share what I love in this way.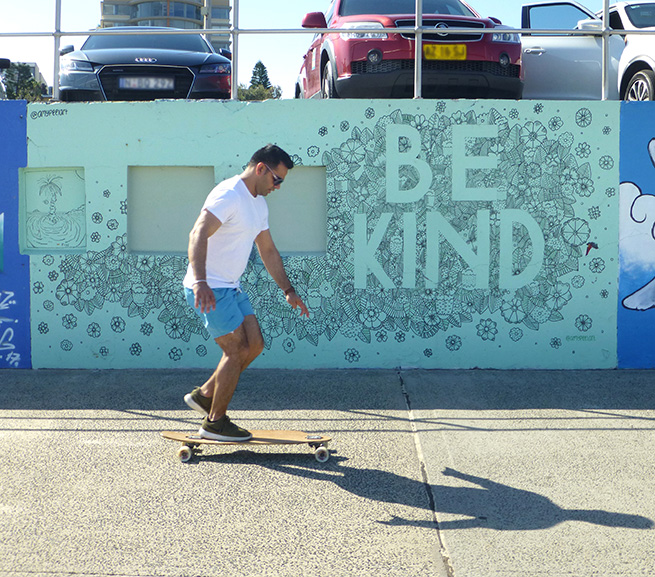 On 'Urban Scrawl'
Widewalls: 'Urban Scrawl' is your latest book; how does it differ from your previous ones?
LC: My earlier books have been about street art in general, rather than being focused on text. Most of them have been more local, showcasing work from Down Under. Urban Scrawl is my second book to include street art from around the globe - it contains images from 54 cities in 22 countries. I can tell you that all that travel was a labour of love. I have the best job ever!
Widewalls: How would you describe the process of putting this book together? How do you choose the images and their layout?
LC: I love this part of the publishing process. It started with taking stock of the thousands of images that I had filed away, looking for connections and themes. The chapter headings cover a very broad range of subjects and ideas, including 'Words of Wisdom', 'Love and Hate' and 'Dissent and Defiance'. It's all there on the street. Then I collated photographs into these broad themes before selecting the images for each double page spread.
This is a slow process of balancing the colours, sizes and messages of hundreds of images so that they're visually cohesive while at the same time honouring each image and artist. There remain hundreds of other photos that could have been included – the difficult part is what to leave out.
Widewalls: What's next for you?
LC: More travel. Yeay. I'm compiling a wishlist of cities, art and artists at the moment. I love meeting fellow street art documenters when I visit new cities.
One of the strengths of Instagram, as with any social media platform, is the ability to form virtual friendships. I consider myself to be very fortunate in that many of these friendships have been cemented by seeing their cities through their eyes in real time, often with them beside me. And I love visiting grittier places and sharing different situations to those experienced by most travellers.
I do have an idea for a new book but I'll keep that under wraps for now...
 Editors' Tip: Urban Scrawl: Street Art Text in the City
Urban Scrawl documents some of the world's most interesting street-art words and typography, from formal typography to angsty scrawl, presented in a small-format hardback that's perfect for any gift or self-purchase. Lou Chamberlin has travelled from Warsaw to London, Tokyo to New York, Cape Town to Santiago, and within her home country of Australia, in search of the world's most interesting and intriguing street art. Her photographs capture these works at a moment in time, documenting and celebrating the ever-changing street art scene.
Featured images: Self-portrait of Lou Chamberlin in front of a wall by Steve Cross, Melbourne; Lou Chamberlin - Rats Crossing stencil by anonymous in Greenwich Village, New York, 2013. All images courtesy Lou Chamberlin.