A London-based painter, sculptor and muralist, Louis Masai seeks to highlight the 6th mass extinction, climate change and species equality. While he focuses on animals in his works, he always strives to find a human reference to juxtapose an element that might not be previously obvious.
The artist's recent body of work will soon go on view at Vertical Gallery in Chicago. Titled MEAT my Friends, the exhibition brings together 13 new paintings of varying sizes, all on reclaimed wood, alongside a series of hand-embellished vintage lithographs.
These works are accompanied by a custom-built chicken-coop installation titled What came first?. Developed by Louis in collaboration with artist and creative engineer RoboJ, the installation features webcam-enabled, remote-control chickens, allowing viewers to explore the exhibition from the comforts of home.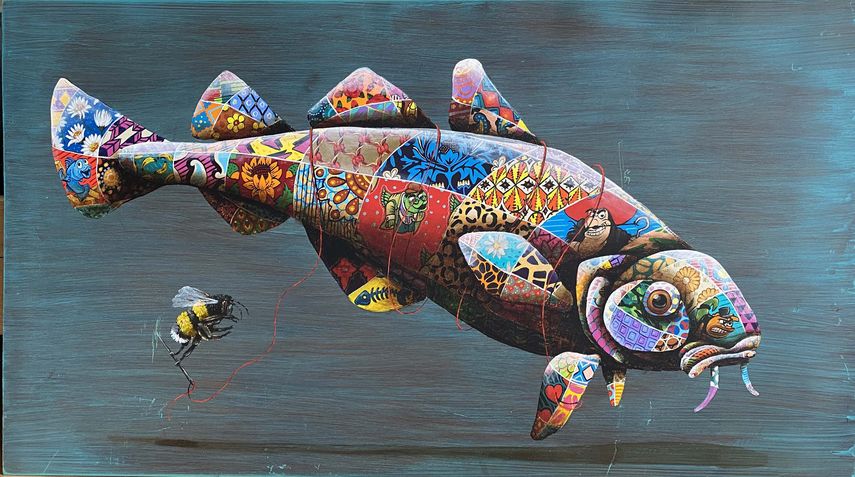 An Environmentally Conscious Work
A profoundly proactive and environmentally engaged artist, Louis Masai addresses poignant endangerment issues, questioning relationships between humans, wildlife and the planets biodiversity.
The recent body of work is a continuation of these concerns, contemplating on humankind's relationship to the myriad creatures who share our planet, and endure great pain and suffering to keep us fed. Focusing on the animals human use for food, Louis rendered a menagerie of cows, chickens and even exotic animals as images he calls "patchwork quilt toys". Presented on pieces of disassembled vintage furniture, wood that Masai lovingly restores with varnish and beeswax, the animals are covered in brightly colored, dazzlingly intricate patches, Inspired by world fabrics and popular culture. These patterns make them appear as stuffed animals that require a big hug, while underlining the artist's commitment to conservation and his distaste for mass consumerism.
As the artist explains, the animals in his works are not considered living beings, but something else, which he finds very troubling as an artist and as a human being.
It's my warning: if you don't conserve and look after these species, there won't be any rhinos anymore. All that will be left is a toy — a souvenir, or a relic.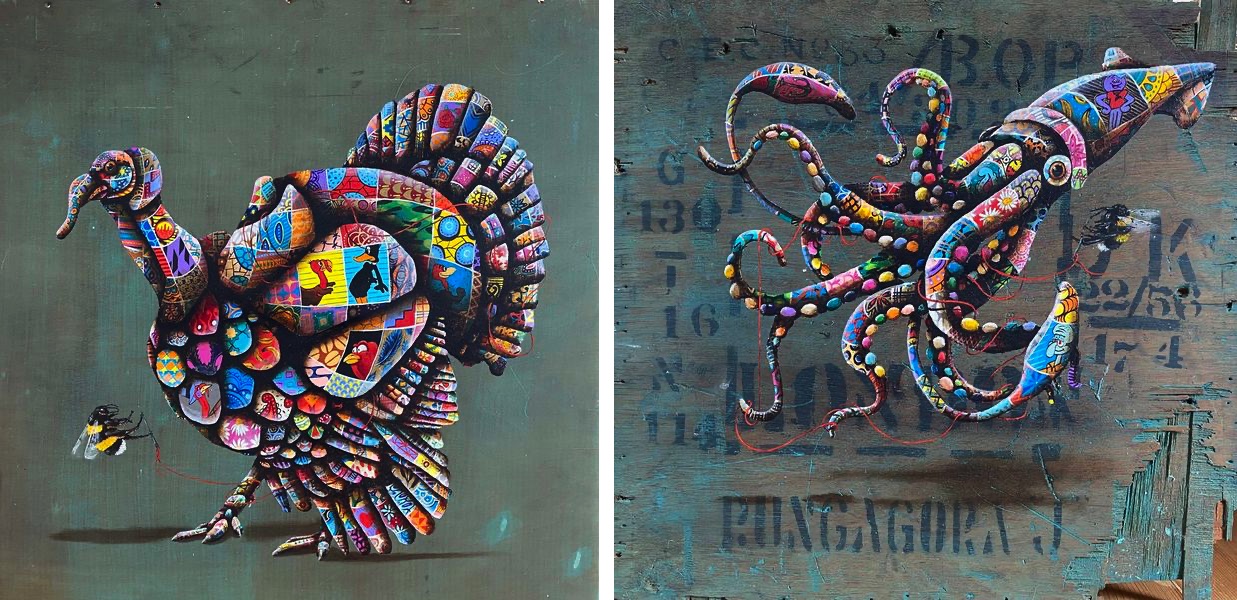 MEAT My Friends
In addition to paintings, the exhibition in Chicago also features roughly a dozen lithographs culled from the pages of a vintage picture book on wildflowers, each illustration newly embellished with paintings of bees.
A species becoming increasingly endangered, bees have been a recurring motif in Masai's practice. As the artist explains, he can paint a bee in less than an hour, allowing him to do it quickly in some pretty illegal spots.
Everybody can appreciate the connection between bees and humans, and everybody knows that bees are under pressure from pesticides. They're nature's slaves, and nature doesn't function without pollinators. If the bees are gone, we're fucked.
Made of papier-mâché fabricated using broken-down blue cardboard egg boxes, the installation What came first? features chickens dwelling inside a wire cage with mirrors on three of its sides. The viewers are invited to look inside to experience what the artist describes as "an eternal battery-farm chicken coop," and consider the difference between a battery-farm chicken egg and a free-range chicken egg.

Louis Masai at Vertical Gallery
The exhibition MEAT My Friends will be on view at Vertical Gallery in Chicago from May 1st until May 22nd, 2021. The opening reception will take place on Saturday May 1st, from 11a.m to 6 p.m.
Due to the pandemic measures, the exhibition will also be available online, creatine a unique interactive experience. The artist explained:
Inside the eyes of the chickens are webcams. You can be invited into the gallery via the internet, and you can look through the webcams into an infinite chicken cage. There also will be wild, free-range robotic chickens. These robots can be manipulated by somebody sitting at home on their computer. You'll get a login code, and you'll be able to move the chicken around the gallery.
Featured image: Louis Masai - Osso Bucco, 2021. All images courtesy of Vertical Gallery.