The idea of the intersection of life and art was initially proposed by the avant-garde movements during the second and the third decade of the 20th century. That meant that the personal experiences of artists were directly connected with the formal and conceptual possibilities of a certain artwork. However, such a connection somehow remains insufficiently explored until the early years of the post-war period when more and more artists, and especially the female ones, started articulating their social position differently.
Take for instance Louise Bourgeois, who started producing art already in the late 1930s, but did not gain fame until the 1970s. One of the most prolific artists and the first woman to have a retrospective at the New York Museum of Modern Art managed to create an impressive oeuvre by investing her own emotional roller-coaster in it, as well as exploring her role as a woman and an artist.
Bourgeois is now best known for her Spider series, although her practice is populated with other equally interesting works. A small, yet exciting selection of her sculptures was mounted to be on display at the Rijksmuseum garden, honoring her domains.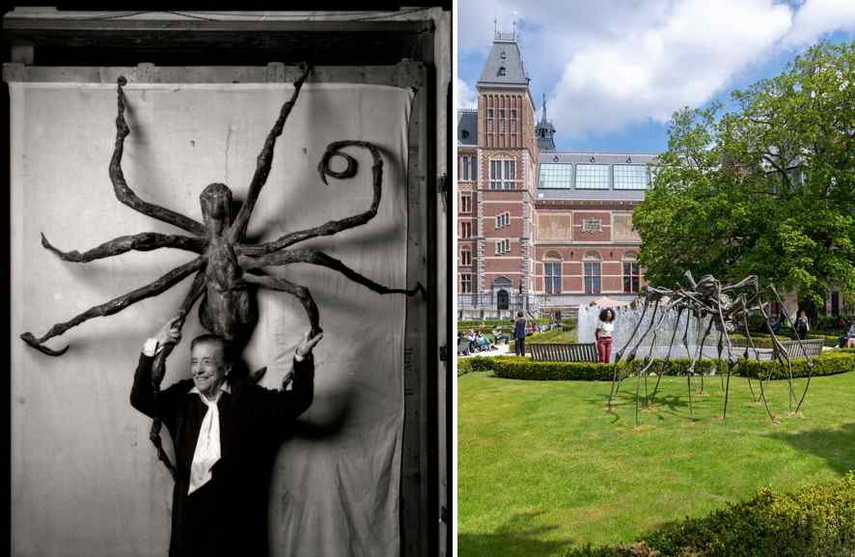 The Outdoor Exhibition
The current show is organized in cooperation with Easton Foundation in New York and is curated by the former director of the Centre Pompidou in Paris, Alfred Pacquement who decided to expose twelve impressive sculptures made by Bourgeois.
The selection has a retrospective undertone since it features the iconic spiders, large-scale eyes, and aluminum spirals in a majestic wingnut tree made from the 1940s until 2003, many of them on view in the Netherlands for the very first time.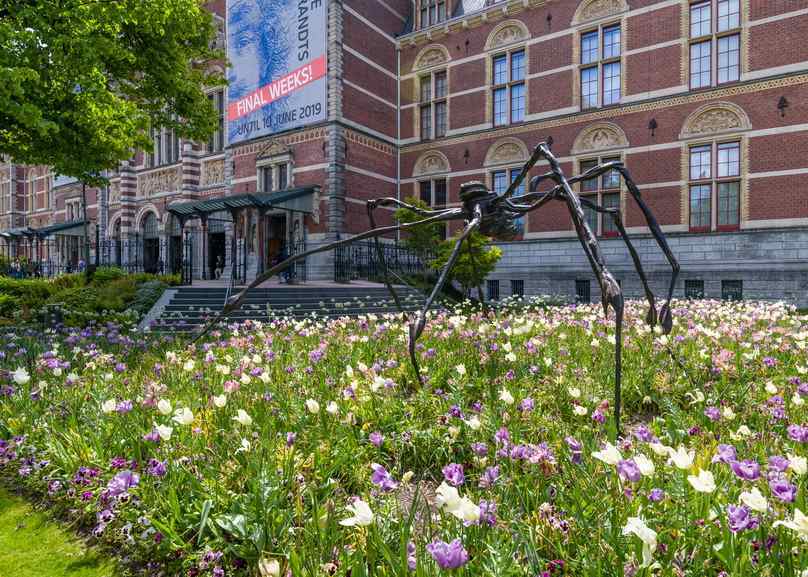 The Works
All of those sculptures reflect not only Bourgeois's masterful skills in craftsmanship, but also raw explorations of the personal experiences. Namely, of them will narrate recurring themes in the life and work of the artist such as motherhood, childhood, fear, youth, the human (women's) body.
The seminal monumental works such as Spider (1996), Spider Couple (2003) and Crouching Spider (2003) play an homage to the artist's protective weaver mother, while aluminum sculptures of Untitled (2004) refers to her father's habit of storing chairs by hanging them on roof beams in the attic of their home.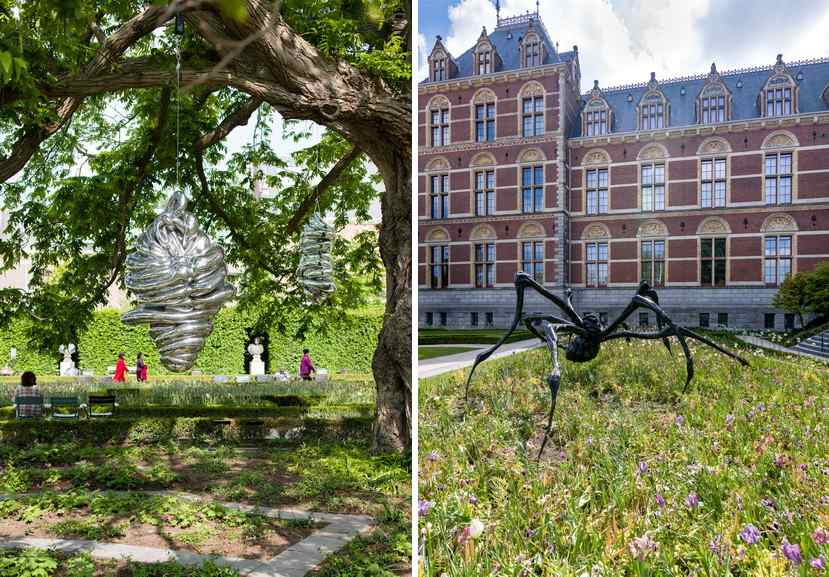 Louise Bourgeois at the Rijksmuseum
The current installment is the seventh in a series of annual outdoor exhibitions at the Rijksmuseum. Since 2013 previous editions were devoted to the work of Henry Moore, Alexander Calder, Joan Miró, Giuseppe Penone, Jean Dubuffet and Eduardo Chillida. The bilingual catalog written by the curator Alfred Pacquemen will accompany the exhibition.
Louise Bourgeois in the Rijksmuseum Gardens will be on display at the Rijksmuseum in Amsterdam until 3 November 2019.
Featured image: Rijksmuseum - Louise Bourgeois - In and out #2', 1995-1996. Courtesy of Easton Foundation. Photo: Antoine van Kaam © The Easton Foundation/Pictoright, Amsterdam. All images courtesy Rijksmuseum Amsterdam.